Mid season break, tactical accidents, mechanicals and busting for a nature break, all part of life for Belgian based Llewellyn Kinch, full-time rider for Terra Footwear – Bicycle Line
Apparently, the article I thought I'd written two weeks ago doesn't actually exist; meaning it's now a month since my last article. I've been dreaming quite a lot lately (too much cheese available at French stage races), so I'll blame thinking I'd written it on a dream.
Since the last article, I've had a long weekend in Budapest, followed by a couple of cobble and berg ridden Belgian classics, a few kermesses and another stage race in France. Getting away from Belgium and seeing mates from home for a weekend was great. You need a well trained liver to be a good cyclist right? To be honest, when cycling full time, it's really easy to justify some time off in the middle of the season as without it I would definitely blow before it's over.
As the guys I went with are now earning money, I decided to tell one of them he was getting the drinks in. To my surprise he replied 'yeah ok'. He then ordered 'a beer and one of the most horrible shots you have please', before turning to me looking very smug. We did do a bit of being cultural while we were there too, a sit down and a beer was needed to recover from that. There was nearly a collapse on the steps to the castle. 'I've been cycling to work and everything though guys'.
After Budapest, I had two tough Belgian classics; IWT Oetingen and Het Neuiwsblad(for under 27 riders), both ranked UCI 1.2. Oetingen had one of the toughest finishing cicuits I've ever ridden, 15km long and 25% cobbled! I accidentally went in a two up attack for 40km before we hit the finishing circuit and we got caught on the cobbles. I blew.
Tactical failure followed by legs failure.
At Het Neiuwsblad, I had a puncture near the start and got a wheel change but my gears weren't working too well. Finally my chain jumped off and got jammed between the wheel and cassette as we hit the Molenberg. I was in the front group but my spare bike was on the team car 5 minutes behind. Race over.
With tactical, legs, puncture and mechanical failures all done, I figured that should be bad luck out of the way for the kermesses planned the following week. It sort of was. I got 13th in Melle pro Kemis, which Lars Boom won, and finished with a Terra 1-2 in both the normal kermesses. At Kruishoutem, I took second, winning the breakaway sprint behind Doug Dewey, who won with a well-timed last km attack.
Then, a few days later, I won at Wachtebeke with Bjorn De Decker second. That was a particularly sweet victory as I punctured out of the break 60km in and with no following cars in kermesses, I thought it was race over. Remembering that Brent had spare wheels 2km further, I rode a flat and sorted it in time to join the bunch. I then followed attacks for a few laps before soloing back across the 30s gap to the break and taking the win with an attack with 1km to go.
Tour Deux Sevres went very well for the team. We took first team prize on two stages, second team overall, polka dot jersey for a couple of stages and Doug Dewey and Bjorn De Decker getting 3rd and 4th on GC . As I'm a lightweight climber, it was obviously me in the polka-dot jersey but it was lost when I missed a breakaway in the first 2km on stage 4.
From then on, I took up domestique duties to help out Bjorn and Doug as well as making sure I didn't lose time as I was third placed in the team and counted towards the team prize. Come the end of the final stage, there apparently weren't showers available. It wasn't hot and we didn't have a 600km drive to do so we smelt fine by the time we got back!
Our DS tends to be on a mission to get home so stops tend to be minimal. If you've done much riding you'll know there's a tendency to need to pee quite a lot after post-race rehydration so this really isn't ideal …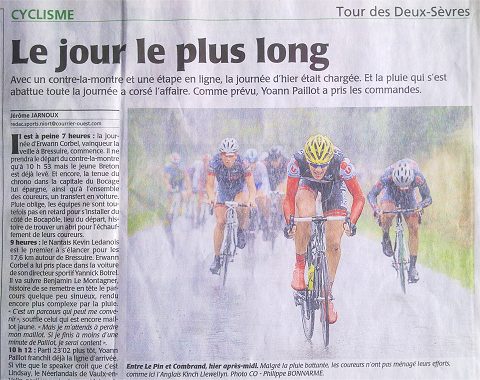 Not just Brad that gets his name and picture in a French newspaper …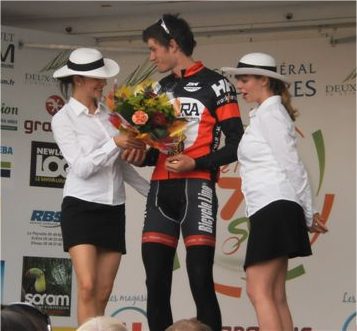 No words necessary ….
---
Other Results on VeloUK (including reports containing results)

---
Other News on VeloUK