Young Shropshire cyclist is celebrating a host of race wins after training hard with The Paramount Performance Cycling Racing Team 
Press Release
A young Shropshire cyclist is celebrating a host of race wins after training hard with The Paramount Performance Cycling Racing Team throughout the racing season.
Josh Williams, 21, of Whittington, near Oswestry, won the Peter Biddle Memorial Trophy for the last South Staffordshire and Shropshire Cycling Clubs Road Race League (SSSCCRRL) race of the season at Huntington. He was the first affiliated rider to cross the finish line and came third overall.
Overall in the SSSCCRRL, he been placed in fifth position for the season. "It felt great to win the trophy as I've never won one before," he said. Josh also won the league's last Thursday night road race at Charlton near Eaton Constantine – thanks to help from his team mate Dave Griffiths. "He led me out and I won. Dave told me what to do because I've never been led out like that before."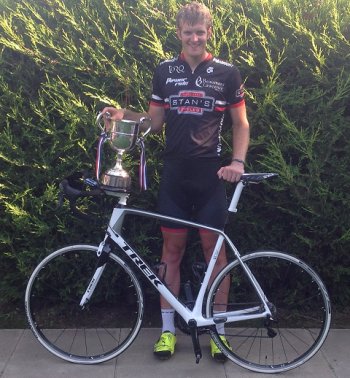 "With a mile to go, he was in front with me behind and then it was up to me to sprint to win. It was a perfect race and I know Dave was really happy with it. It was my first road race win."
Josh, who works in the building trade, followed that success by winning the Friday night Oswestry 10 mile time trial from the Queen's Head to Gobowen and back in 21 minutes 14 seconds. "I won by about two minutes and it felt really good," he said. Josh's success during the season hasn't stopped there.
He also won the Shropshire Cycling Clubs Association Championship 25 miles time trial from Berriew, Welshpool, to Four Crosses and back in 55.08 minutes. He said: "It was my first time doing a 25 mile time trial so going into it, I didn't know how I would cope. It's a lot more distance to cover than 10 miles when you are going hell for leather."
It is only Josh's second road cycling season and he praised his coach and fellow members of the Paramount Performance Cycling Racing Team for helping him get to his peak condition. "Hats off to my coach who has got me on form for the just the right time of the season. This time of year a lot of people get tired because they have been racing since March."
For the rest of the season, which finishes in September, Mr Williams will take part in time trials. "I've really enjoyed my cycling this season," he said. "That's the key – I want to enjoy it as well as to do well. When I first started last year, it was just a bit of fun but it's a bit more serious now and I want to do well at it."
With Josh Williams, the Paramount Performance Cycling Racing Team is made up of Elliot Jones, 18, Chris Wilkinson, 20, Rich Watson, 42 and Dave Griffiths, 36. He began cycling when he was 18-years-old and was selected to join the prestigious performance squad after joining the Paramount Performance Club.
Ben Lawrence, managing director of insurance broker Beaumont Lawrence and Co, which sponsors the team, and who is the racing team manager, said Josh's talent was quickly spotted when he joined the club. "Our aim is to encourage our young riders and we saw Josh had the talent to do really well and this season, he has certainly proved us right."
"He's a young rider and is learning new tactics all the time. It's great to see everything he has learnt coming together for him and he's really pulling in some great wins.
"We'll definitely be watching Josh with interest as he goes into his third season next year."
For more information about the Paramount Performance Cycling – Team see https://www.facebook.com/ParamountPerformanceCrt
---
Other Results on VeloUK (including reports containing results)

---
Other News on VeloUK