Dave Mellor Cycles in Shrewsbury has a large selection of cyclo-cross bikes including the disc equipped Focus Mares 2 for £949.49
On Friday, I stepped inside Dave Mellor Cycles (Shrewsbury) for the first time and was faced with two floors packed with bikes and upstairs in a cyclo-cross section was the Focus Mares AX 2.0.
Dave is organising the round 5 of the National Trophy at Shrewsbury, rides cross himself as well as having younger members of the family also taking part although not this season for the eldest, Luke. With Dave's many many years in the sport, the former GB manager and prolific organiser, picked out the bike for us to feature on the site. Dave Mellor Cycles is a great example of a LBS, or Local Bike Shop with room after room of bikes, accessories and clothing and staff on hand who have been there and done it in the bike racing world.
Located on the other side of the river to Shrewsbury, there's a car park a short walk from the shop and all around are historic buildings in this very pretty part of the world.
The advertising blurb says the German bike is a pro-race proven design that comes with a special tapered cyclo-cross carbon fork with integrated cable mounts for optimum handling. With color matched components and a mid-level drivetrain spec of Shimano 105 and FSA Gossamer cranks, the bike is one of many models from Focus.
Listening to riders at National Trophy, the disc brakes are said to give you greater braking power than cantilever ones and another important consideration based on how many broke rear mechs I see at cross events is the replaceable rear drop out hanger for the derailleur.
Rear hanger on the 105 equipped Focus.
FSA cranks with toeclipped pedals only for customers to go for a ride!
Color matched components
Cabling along the top tube away from the mud!
Handlebars and Stem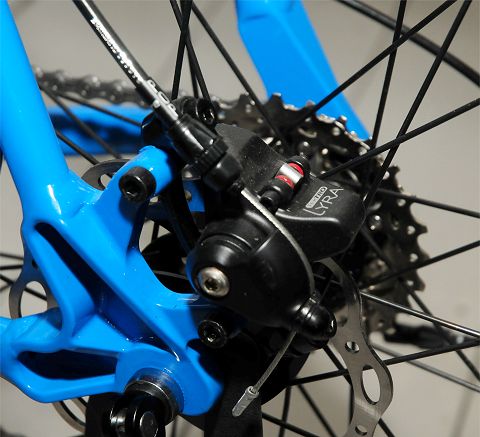 Rear disc brakes…
Front disc brake
A specialist cyclo-cross bike from Focus.
Specification is:
Frame: Cyclo Cross alloy triple butted disc
Fork: Mares Cyclocross carbon disc
Wheelset: Concept SL disc
Tyres: Continental Cyclocross Race
Shifter: Shimano 105
Brakes: Tektro Lyra mechanical disc brake, 160mm front / 140mm rear
Brake lever: Shimano 105
Handlebar: Concept EX
Stem: Concept EX
Seatpost: Concept EX
Saddle: Concept EX
Cranks: FSA Gossamer
---
Other Results on VeloUK (including reports containing results)

---
Other News on VeloUK