Chris Opie, winner in Canary Wharf, made it two in the series with a thrilling victory at the end of such an exciting race in Aylsham (Norfolk). Team UK Youth sealed the overall team win with yet another faultless performance
Report – Tour Series
Double victory in Aylsham for Team UK Youth – Individual win for Chris Opie as Tom Scully wraps up IG Sprints Jersey
Team UK Youth enter the final day of the 2013 Pearl Izumi Tour Series in Ipswich with a 15 point lead following their seventh win of the season in Aylsham, Norfolk on Thursday night.
UK Youth took their fourth double team and individual victory of the season, as Chris Opie grabbed his second win in a week, followed up by Yanto Barker, Niklas Gustavsson and Marcin Bialoblocki all in the top ten.
The win also sees Team UK Youth equal Endura Racing's record of seven team victories in one season, set in 2012, with two opportunities at the Grand Final in Ipswich on Friday night to surpass that figure.
One competition that won't be decided at the final round is the IG Sprint Jersey, which Team Raleigh's Tom Scully sealed with second place behind Dean Downing in the evening's IG Sprint competition.
Scully finished the evening second on the road behind Opie, as five riders fought it out for the honours in Norfolk. Initially Scully, Downing and Node4 Giordana's Roman Van Uden had gone clear of the original quintet, but Opie and Rapha Condor JLT's Kristian House battled back to the lead group with two laps remaining.
House immediately went on the attack, but was reeled back in, setting up the final dash to the line, with Opie coming out on top. In the space of a week the Cornishman has won at the SweetSpot organised Series' most diametrically opposite circuits, in Canary Wharf and Aylsham.
The Team UK Youth rider also grabbed the Costa Express Fastest Lap on the final tour of the race.
Highlights of Round Ten will be shown on ITV4 at 10pm on Friday 14th June, with a repeat at 9.55am on Saturday 15th June. The final round of the 2013 Pearl Izumi Tour Series, organised by SweetSpot Group, take places at Ipswich on Friday 14th June.
The Grand Final features a double-header race day, with a Team Time Trial at 3pm before the final criterium of The Pearl Izumi Tour Series at 7.30pm. Spectators in Ipswich will also have a chance to see the professionals take part in the new Suffolk – Most Active County – Sprint Challenge at 5.30pm.
Nigel Mansell, himself surrounded by fans wanting pictures and autographs, was again very proud of his team and the way they performed. "Tonight has surpassed my expectations" the legend from Formula 1 explained.
"I thought they would could get in the top three tonight, that was my expectation, and then Chris was left behind before making a superhuman effort to get back and to win the race was just awesome."
"The group behind backed him up fabulously so to win the team award, I'm amazed, I'm actually quite shocked but delighted at the same time."
"We have system going and it's not broken so we're not trying to fix it. We're turning up very focused and being as professional as we can and we know we can do better. There is a lot we are learning and we're up against some fantastic teams we have been watching for the last three years and we have learnt a fair bit from that."
"I'm happy it's coming to fruition now and the boys are doing a sterling job."
Nigel, who gets out on the bike himself, said "cycling is an incredibly healthy sport as long as you don't fall off and hurt yourself! You are the engine and there is no where to hide and its wonderful for children and those of an older age as well."
"The sport is a brilliant way to get a message across and inspire people. The team inspire UK Youth which is a charity where we reach a million children in any one year so the whole thing is for me is a win win situation."
Photo Report
Chris Opie (UK Youth), rested from Woking got straight back into winning ways with a sensational victory in Alysham beating Tom Scully of Raleigh (left) and Dean Downing.
Chris Opie was also understandably happy with the way he rode on the night especially after having had a round out being rested and given the opportunity to go home. "A major part of this win is that I grew up in Holland doing these races and it's almost identical to these circuits. It brought back loads of memories."
"Eleven years ago I met my fiancé and was doing exactly this sort of race and I feel like I am in my element. Little town, tight circuit … It is a really hard circuit and if you accelerate hard at the front, it's exaggerated if you go back a few wheels and it makes it tough so it was easier being in the first five or six all the time."
"If you're not in there, you really start to feel it as you're not getting the recovery. When the five of us escaped, Dean, Scully and myself were keen to work and were feeling good while Roman and Kristian were not as keen perhaps."
"We (Kristian and & Chris) drifted off the back and tried to bluff each other and I thought Jon Mould was coming across to us but was then told the peloton were after him and not to bother. We worked hard; fair and even, to come back and then he (House) attacked with a lap to go before it came together and we then had a big sprint from the far corner."
Asked if it's sunk in, Chris replied, "no, two in a row. I cried when I watched Canary Wharf, it was really really special to me. I watched it with my son on my lap and that win was really special. It was in Canary Wharf, head office for UK Youth and also my first Tour Series win."
"This one felt good and I'm really pleased but it won't be until Saturday morning when the Tour Series is over we can relax and it will sink in. We do feel a lot of pressure to win this especially with Nigel here."
Chris was also overwhelmed by the comment by Ed Clancy that he was waiting for 'Chris Opie' to come past him when Clancy won at Woking. "That was a massive compliment. Coming from Ed, that is huge who is not only one of the nicest bike riders you could meet, he's also one of the best. So when I read that, I was really touched and it was nice to hear."
On the team performance and how they backed him up perfectly, Chris says "they were fantastic. We have got it worked out. We have Pov (Manager Dave Povall) in the pits telling us what to do and we were working for each other the whole time and really have it sussed."
The final round is in Ipswich tonight, Friday, June 14.
The riders relax as the minutes countdown to the start in Aylsham with the rain all gone and the sun starting to come out.
Even the pace of the neutralised laps was quick
Niklas Gustavsson (UK Youth) went on the attack early on in the race and straight away the toughness of the circuit could seen as the race split all over the place.
Whilst the early rain kept the crowd away from the women's race, they came out of the shelter to bang the boards for the men's race as the sun made an appearance.
Tom Scully wins an early sprint to add more points to his lead in that series sponsored by IG
After a break of five escaped, it split into two as Tom Scully (Raleigh) put the hammer down and left Kristian House and Chris Opie (UK Youth) a few seconds adrift for a good few laps.
The chase varied from lined out especially after Jon Mould (on the front here) Â went clear on his own to chase the leaders, to cruise mode across the road (below).
After catching them with over a lap to go, Kristian House blasted past them and Tom Scully (Raleigh) dragged the rest back to him before Opie (UK Youth) won the sprint to the line.
Dean Downing was hunting his first win in the series and yet again, made the podium (sprinters winner as well) but not yet getting the hands in the air.
Chris Opie won the fastest lap competition in Aylsham
Winner of the Sprints was Dean Downing
Leader of the Sprints overall however is Raleigh's Tom Scully.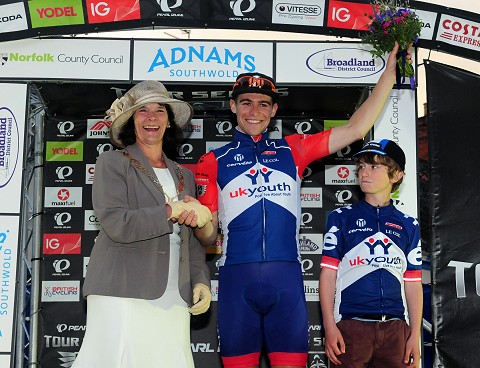 Winner of the race was Chris Opie (UK Youth)
Winner, yet again in one of the the most dominant team displays ever in the Team Series, eclipsing that of Endura racing last year, UK Youth have been sensational.
Provisional results from The Pearl Izumi Tour Series in Aylsham
Round Ten Aylsham, Individual Result
1. Chris Opie, GBR, Team UK Youth
2. Tom Scully, NZL, Team Raleigh
3. Dean Downing, GBR, Madison Genesis
4. Roman Van Uden, NZL, Node4 Giordana Racing
5. Kristian House, GBR, Rapha Condor JLT
6. Yanto Barker, GBR, Team UK Youth
7. Niklas Gustavsson, SWE, Team UK Youth
8. Liam Holohan, GBR, Madison Genesis
9. Alex Peters, GBR, Madison Genesis
10. Marcin Bialoblocki, POL, Team UK Youth
Round Ten Aylsham, Team Result
1. Team UK Youth
2. Madison Genesis
3. Team Raleigh
4. Rapha Condor JLT
5. Metaltek – Knights of Old
6. Node4 Giordana Racing
7. Team Hope Factory Racing
8. MG Maxifuel
9. Team IG Sigma Sport
10. Spin Rotor – Primal – C-Originals
Team Standings, post-Round Ten
1. Team UK Youth, 93pts
2. Team Raleigh, 78pts
3. Madison Genesis, 76pts
4. Rapha Condor JLT, 72pts
5. Node4 Giordana Racing, 67pts
6. Metaltek – Knights of Old, 57pts
7. MG Maxifuel, 42pts
8. Team Hope Factory Racing, 27pts
9. Team IG Sigma Sport, 25pts
10. Spin Rotor – Primal – C-Originals, 13pts
IG Sprints winner Round Ten Aylsham: Dean Downing, GBR, Madison Genesis
Costa Express Fastest Lap Woking: Chris Opie, GBR, Team UK Youth, 1:40.2
IG Sprints standings, post-Round Ten
1. Tom Scully, NZL, Team Raleigh, 87pts
2. Kristian House, GBR, Rapha Condor JLT, 53pts
3. Alexandre Blain, FRA, Team Raleigh, 37pts
Live Photos (internet permitting)
As we do at all events we attend, photos will be uploaded live during the race and you can see them in the slideshow below. We'll also try and add updates as and when we can during the race.
Results
Coming …
Live Text Updates

The Pearl Izumi Tour Series takes place at the following dates & locations:
1 – Round One Tuesday 14th May Kirkcaldy, Fife
2 – Round Two Thursday 16th May Durham, County Durham
3 -Round Three Tuesday 21st May Stoke-on-Trent, Staffordshire
(includes women's Johnson Health Tech GP Series)
4 -Round Four Friday 24th May Aberystwyth, Ceredigion
5 -Round Five Tuesday 28th May Torquay, Devon
6 -Round Six Thursday 30th May Colchester, Essex
(includes women's Johnson Health Tech GP Series)
7 -Round Seven Tuesday 4th June Redditch, Worcestershire
(includes women's Johnson Health Tech GP Series)
8 -Round Eight Thursday 6th June Canary Wharf, London
9 -Round Nine Tuesday 11th June Woking, Surrey
(includes women's Johnson Health Tech GP Series)
10 – Round Ten Thursday 13th June Aylsham, Norfolk
(includes women's Johnson Health Tech GP Series – FINALE)
Round Eleven Friday 14th June Ipswich, Suffolk
The Teams for 2013 doing all ten rounds are: (click for rider list)
— Rapha Condor JLT,
— Team UK Youth,
— Team Raleigh,
— NODE 4 Giordana Racing,
— MG – Maxifuel Pro Cycling,
— IG Sigma Sport,
— Metaltek – Knights of Old Racing Team,
— Team Hope Factory Racing,
— Madison Genesis,
— Spin Rotor – Primal – Coriginals
Note: each round will have a guest team or two. (click for rider list)
Past winners of this unique competition include Team Halfords Bikehut (2009), Motorpoint Marshalls Pasta (2010), Rapha Condor Sharp (2011) and Endura Racing (2012).
Related Link: A look back at the 2012 Tour Series here
---
Other Results on VeloUK (including reports containing results)

---
Other News on VeloUK