Stage 3: The Arctic Race of Norway is more than a Thor Hushovd one-man-show with the Norwegian hero losing the lead in Stokmarnes
Nikias Arndt, a 21 year old German, won the first race of his pro career in Norway and demonstrated that his Argos-Shimano team and his country have more in store in the sprinters' category after the fabulous Tour de France of four-time stage winner Marcel Kittel.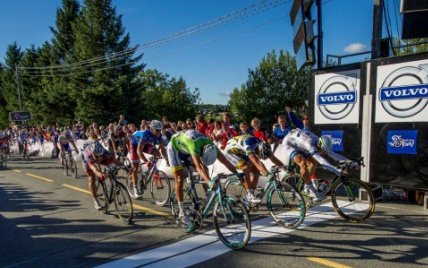 The main breakaway of the day was formed after 35 kilometres of racing by seven riders: Mathias Friedemann (Champion System), Tony Hurel (Europcar), Timofey Kritskiy (Katusha), Fabien Bacquet (BigMat-Auber 93), Sven Erik Bystrøm (Øster Hus-Ridley), Sondre Hurum (Oneco) and Louis Verhelst (Cofidis).
Their first battle at the exit of the Sløverfjord tunnel allowed Bystrøm to win the King of the Mountain prize located at km 63 and five meters above sea level! For young Norwegians, the Arctic Race is a way to expose their talent to Pro Teams and Bystrøm, a double national champion for criteriums, can also climb very well, is one of the most promising of them all.
BMC forced to work a lot
The advantage of the seven breakaway riders went up to 4.35 when there were 115 kilometres remaining. The BMC team of overall leader Thor Hushovd took control of the chase while Friedemann, with a deficit of only 11 seconds on GC, has been the virtual wearer of the blue-orange jersey for a couple of hours. The American squad was forced to go deep into their resources.
With 25km to go, Bystrøm showed more of his talent and split the front group with only Hurel, Kritskiy and Verhelst able to go with him. As the peloton was close to reeling in the leading quartet in, Bystrøm rode offensively again and was followed by Kritskiy. In a similar scenario as the day before, the pack was all together again with 7km to go.
A tight finish with a young winner
Sep Vanmarcke (Belkin) attempted to go solo over the second last bridge as he responded to an attack by Edwig Cammaerts (Cofidis) 5km away from the finishing line. The runner-up in Paris-Roubaix was the last man caught while Argos-Shimano took over from BMC at the head of the bunch with 3km to go.
The slightly uphill finish looked perfect for Hushovd but Kenny van Hummel (Vacansoleil-DCM) followed him closely and Nikias Arndt was perfectly positioned by his team-mate. It was a very tight finish for a thrilling finale that excluded Hushovd from the top three positions awarding time bonus.
Crossing the line in second place behind Arndt, Van Hummel received six seconds bonus and took over the leader's jersey from the Norwegian champion as the race leader. With only one stage remaining, it means the suspense is enormous ahead of the conclusion of the Arctic Race of Norway in Harstad.
Nikias Arndt: "I'm not the new Kittel but I'm proud to win here"
"It was really really hard today", Nikias Arndt said after the finish. "We had a plan for the finish but we changed it with 5km to go and we gave everything. My team was unbelievably strong and gave me a perfect lead out."
"That's why it was possible to beat Thor Hushovd today. I got a bit of luck as well. As we crossed the line, we didn't know who had won. I said that I was in the top 3 for sure but I had no idea at which place. We had to come back to the line and ask."
"As the officials told us that I had won, I celebrated with my team-mates. This is a fantastic feeling. I love racing here, with the view over the sea and sunny weather conditions like this."
"Now I'm asked if I'm the new Marcel Kittel, it's a good question but I don't think so. To sprint against Marcel is something crazy. For now, I'm very proud that I can win a stage at the Arctic Race and maybe I can get a second chance tomorrow."
"At Argos-Shimano, we have a lot of young guys who can sprint and lead out. We'll go to the Vuelta without Marcel or John Degenkolb, but it'll be Jonas [Ahlstrand], Roman [Sinkeldam] and myself."
Kenny van Hummel: "I'm going to defend the lead"
"I chose the wheel of Thor Hushovd with the intention to win a second stage", new race leader Kenny van Hummel commented. "I'm disappointed that I finished only in second place but I'm going to defend the leader's jersey on the last day. I'm very motivated. I love the atmosphere of this race with such a nice weather and beautiful sceneries to watch when we race."
Thor Hushovd is three seconds off the lead of Stage 1 winner Kenny Van Hummel "In the last 30 kilometers, with the tailwind, it was very fast, so it was a lot of work for the team," BMC Racing Team Assistant Director Yvon Ledanois said. Hushovd said he remains optimistic he can regain the lead on the final stage, which includes both mid-race and finish line time bonuses. "The guys had to work a lot so it's a shame that I couldn't keep the jersey," the Norwegian road champion said. "But what counts is tomorrow."
Stage result
1 ARNDT Nikias Team Argos – Shimano  4:40:29
2 VAN HUMMEL Kenny Vacansoleil – DCM
3 MARKUS Barry Vacansoleil – DCM
4 DRUJON Benoit BigMat – Auber
5 HUSHOVD Thor BMC Racing Team
6 KOGSTAD RINGHEIM Jo Team People4you – Unaas Cycling
7 VAN ASBROECK Tom Topsport Vlaanderen – Baloise
8 BLIKRA Haavard Team Oster Hus – Ridley
9 BERGSLAND Jon Oneco Cycling Team
10 WILSSON Edvin Team Joker – Merida
33 DOWNING Russell Team NetApp – Endura
70 THWAITES Scott Team NetApp – Endura
113 BLYTHE Adam BMC Racing Team 2:08
---
Other Results on VeloUK (including reports containing results)

---
Other News on VeloUK