Marcin Bialoblocki, UK Youth, was in awesome form as he rode away from the best riders in Britain to win the Metaltek GP near Melton Mowbray today.
Solo win for UK Youth's Marcin Bialoblock showing he has good form prior to the team going out to do a recce of the Tour of Britain course.
After a fairly together sort of opening lap where the action was at the back and lots of nature breaks, the climb at the end of the lap saw action and in short, a break with the first six riders went away on lap 2 and stayed away for the race.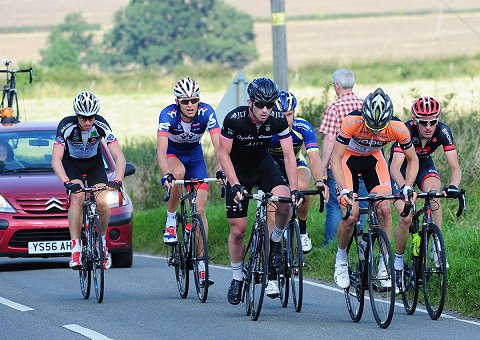 The break! l-R: Tom Stewart (Raleigh), Marcin Bialoblock (UK Youth), Felix English (Rapha Condor JLT), Chris Bartlett (Metaltek KOO), James Williamson (Node 4 Giordana) and Ben Greenwood (IG Sigma Sport).
Marcin was feeling strong going solo for the final lap (why not he said afterwards, it was only 130k!) and the rest of the break crossed the line one at a time at the top of a long climb.
Jon Mould broke away from the chasing group and was the next rider to finish. The reward for team UK Youth was to then do some more miles! LoL
Three chasers early on led by Tommy Bustard (Herbalife), Ashley Cox CC Luton and Mike Smith (Corley Cycles)
The break after three laps getting lively led by Raleigh
A lap later and the only chaser was Yanto Barker who was riding a very nice looking Cervelo S5 2014 model. He wasn't feeling great and went back to the peloton.
The peloton led by Ryan Mullen and Matt Cronshaw (both IG Sigma Sport) with Alex Blain (Raleigh) just visible. 
Chris Bartlett, winner of three races this weekend, also made the break for the sponsors of the race, his team Metaltek-KOO.
Jon Mould leads a chase group with a lap to go and at the end, rode clear for seventh place.
The course's climb was tough enough to see the riders finishing one at a time, James Williamson was second.
Tom Stewart, (Raleigh), 2nd in the Premier Calendar showed that he is adjusting to racing at the highest level after only a few seasons of racing.
Results (Thanks Andy Swain for organising the race and the results afterwards)
1 Marcin Bialoblocki Team UK Youth
2 James Williamson Node4 Giordana
3 Tom Stewart Team Raleigh
4 Felix English Rapha Condor JLT
5 Chris Bartlett Metaltek-Knights of Old RT
6 Ben Greenwood Team IG Sigma Sport
7 Jonathan Mould Team UK Youth
8 Shem Rodger Node4 Giordana
9 Will Stephenson Rapha Condor JLT
10 Rhys Lloyd Metaltek-Knights of Old RT
11 Matt Cronshaw Team IG Sigma Sport
12 Mark Baines Spirit Bikes Race Team
13 Chris Opie Team UK Youth
14 Evan Oliphant Team Raleigh
15 Matt Holmes Team Raleigh
16 Dale Appleby Metaltek-Knights of Old RT
17 Niklas Gustavsson Team UK Youth
18 Nathan Edmondson Node4 Giordana
19 James Gullen Hope Factory Racing
20 Dean Parkes Clay Cross RT
21 Pete Williams Team IG Sigma Sport
22 Yanto Barker Team UK Youth
23 Mike Northey Node4 Giordana
24 Richard Handley Rapha Condor JLT
25 Will Fox Metaltek-Knights of Old RT
26 George Harper Team IG Sigma Sport
27 Alexandre Blain Team Raleigh
28 Andy Hastings Finchley RT
29 Ben Stockdale Metaltek-Knights of Old RT
30 Martin Ford Herbalife Leisure Lakes Bikes
31 Luke Ryan Twenty3C.co.uk – FOCUS
32 Roman Van Uden Node4 Giordana
33 Will Bjergfelt MG – Maxifuel Pro Cycling
34 Ian Wilkinson Team UK Youth
35 Ed Laverack Rapha Condor JLT
36 Graham Briggs Team Raleigh
37 Ben Sumner Beeline RT
38 Samuel Lowe 100% ME
39 Dan Booth Hope Factory Racing
40 James Hedley-Smith Clay Cross RT
41 Glyndwr Griffiths Bristol South CC
42 Rob Partridge Team UK Youth
43 Steven Lampier Node4 Giordana
44 Dan Barry Node4 Giordana
45 Rob Orr Metaltek-Knights of Old RT
46 Kit Gilham Metaltek-Knights of Old RT
47 Tom Neale Spalding CC
48 Ryan Mullen Team IG Sigma Sport
49 Rob Yeatman Dream Cycling
50 Elliott Porter Rapha Condor JLT
51 Andy Marriot Spirit Bikes Race Team
52 Chris Dredge Spirit Bikes Race Team
53 Liam Stones MG – Maxifuel Pro Cycling
54 Mike Smith Team Corley Cycles
55 Jake Hales Team IG Sigma Sport
56 James Moss Team IG Sigma Sport
57 David McGowan Metaltek-Knights of Old RT
58 Colton Jarisch Herbalife Leisure Lakes
---
Other Results on VeloUK (including reports containing results)

---
Other News on VeloUK