With summit finishes and only one, albeit long, time trial, the 2014 Tour de France is said to suit climbers like Valverde and Quintana but which one will lead Movistar?
A look at the course for the 2014 time trial (click here) and the climbers of the World will be smiling even though its said to be one of the easier Tours by some. The Vosges (stages eight and ten), with finishes in Gérardmer and La Planche des Belles Filles, will be the first obstacles in the mountains, while Chamrousse (stage 13) and Risoul (stage 14), the latter one including passages through the Lautaret and the Izoard, will give the climbers plenty to smile about.
Valverde in winning form at the Tour.
The last week will be decisive says team Movistar on their website. With three Pyrenean stages – the first one over 237km (longest stage) with no mountain-top finish and the cols of Portet d'Aspet and Balès (just 22k from the finish), and the next two, short (125 and 145km respectively) yet full of big mountains: Portillon, Peyresourde and Val Louron prior to the finish in Hautacam on stage 17, plus the Tourmalet en route to Hautacam on day 18.
The individual time trial on the penultimate day (54k to Bergerac) may or may not win the Tour but may lose it for those not adept at pacing themselves against the watch on the flat.
Eusebio Unzué, manager of the Movistar team says "The biggest change and probably the most surprising one is having just one ITT (Time Trial), and on the penultimate day. That will certainly make the beginning of the Tour tremendously open and nervous, with the main favourites not able to test themselves until the 9th day of racing. The nerves will be even higher on the cobblestones – it all will be pretty much a matter of survival over the opening eight days."
"Everyone is pointing out that the Vosges will be important and it's true that they might become dangerous as they will be the first mountain block in the race. Although the climbs are short, they will also be hard. Yet, I don't feel like they will be so decisive for the final podium. The Alpine stages don't seem to be so demanding, and the Pyrenees and the Bergerac time trial will be defining for the overall."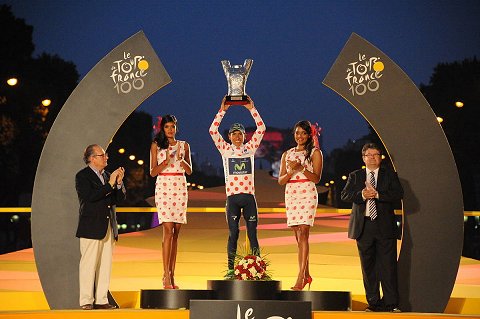 "It's true that only 54k of TT's are maybe too few, but being ridden on a sole day, the last competitive one, with no margin to recover, will turn them into the key factor of this race."
"I don't really know if it will be a Tour suiting us more or less. There's nothing defined on our plans yet – it is now time to sit down with Nairo and Alejandro, and decide which thing is more convenient for us. Nothing is decided at this point, and it's even possible that both could be at the start. We will have to reflect on it further, but the first impression on the race parcours is that as well as Nairo, Alejandro could be fighting for the overall victory."
Nairo Quintana: "I was able to witness it first hand last year, but next year's Tour could be really nervous in its first week. The cobbles could make the race dangerous and difficult. It will be crucial to have a strong team at your side in the first days."
"After that, the first two mountain-top finishes should be good for my characteristics. Both Alps and Pyrenees offer attractive stages. The finish in Risoul brings me good memories from the time I won a stage in the Tour de l'Avenir, in 2010."
"Still, I think the Pyrenean stages will be decisive – also the individual time trial should be a key for success. It's a TT for pure power riders and gaps will be notable. Now it's time to talk to Eusebio and see what's the best choice for me as well as Alejandro, to see which Grand Tours we should be riding."
Alejandro Valverde: "I couldn't examine the route deeply since I'm in Japan but it seems like a route that suits me well. Not only because it has just one time trial and it is on the penultimate day. Though it will be flat, the last TT always relies on how much energy is left in your tank at the end of the Tour."
"Otherwise, it seems like a balanced route. The depart from England is good for me, I guess – good luck will be crucial on the cobbles, with all sorts of punctures and crashes bound to happen. We know almost everything on the Alps and the Pyrenees and there will be little room for surprise, but the Tour is more than that – we know it's decided day by day, any stage can turn into a decisive one."
"There's nothing decided yet on my race schedule – we'll see if I ride the Giro or the Tour. I like the Tour best, but we have to see what's best for the team's needs and make a choice based on that."
---
Other Results on VeloUK (including reports containing results)

---
Other News on VeloUK