A ride to test your climbing and descending amongst some of the most spectacular scenery and of course the famous Col De Rates – 37 miles of fun, strudel and goulash! 
As the training season is well underway, Nozard from valued VeloUK sponsor Cycling Holiday Spain thought it would be a good idea to expose one of his favourite routes here in Southern Spain.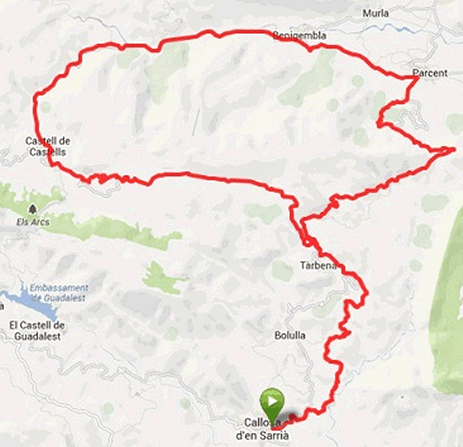 It is relatively short. Around three or so for a good rider but its full of some fantastic climbs and fast descents and not only does it take in the climb up the Col de Rates, but if you like, you can stop off at the Col de Rates cafe for their world famous Apple Strudel or as is often the case, a tasty Beef goulash with a kick!
We start from the base at Callosa and head out towards the village of Tarbena perched high on the top of the mountains. Tarbena is a beautiful village. The road up is smooth and the first 3rd of the ride, you embark upon a few tight hair pin bends which can test your legs and fill them with lactate, but hey that's what training's about!
It's about 12 km to the top of Tabena from the base and if you like, there's a great cafe at the top so you can take little break. I took this shot from that very cafe with a team that was visiting. Needless to say they were stoked to see Saxobank cruise on by!
Here is a video of me descending down Tarbena towards Callosa, using my GoPro hero 3 cam. http://www.youtube.com/watch?v=paAkf3vWmsE
Next stop Castel de castels
From Tarbena, we press on towards Castell de Castels, a mall town with a couple of cafes if you need refreshments but to get to the castles, you have to take a long undulating drag up to a descent into the town. The last part of this drag is a good 15% and a real leg breaker. Fortunately, it's only a short burst so it's one of those grit your teeth and push it out parts!
The swift descent down to Castells is awesome and has three tight hairpin bends to beware of and go slow though or you will end up in the bushes! From here we ride towards Benijembla and Parcent. This stretch is 15 km long and basically downhill the whole way.
A great part of the ride to get some speed up and recovery into the legs because once you reach Parcent, on your right hand side if you look up, like the Great wall of China, you can see the route of the Col de Rates, a steady climb of about 6 % for 6 Km. Its a fab climb, steady, again the first third the most difficult, but after that you can see ahead of you the long climb and focus on it.
Check out this GoPro Video of a good mate of mine Rob Yeatman smashing up the Col de Rates! http://www.youtube.com/watch?v=CW8A8GMBQWc
So for Cafe stop lovers, the Col de Rates cafe has the most amazing apple strudel, the most amazing Beef goulash and without doubt the best views from any cafe around here of the mountains and spectacular scenery. It's a must!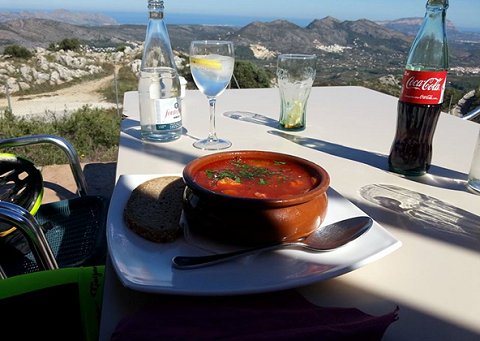 Beef Goulash at the col de rates cafe!
So there we are, almost there. Now just a small matter of getting those cafe stop legs running again and clipping into the pedals. The return leg of the ride takes us on a super descent back to the top of Tarbena where we retrace our tracks and follow the smooth road back to Callosa!
Its a cracking ride for so many reasons!
You can find this route as a GPX file on our website www.cyclingholidayspain.co.uk
Happy riding guys!
---
Other Results on VeloUK (including reports containing results)

---
Other News on VeloUK