Talking to Sharon Laws, who in the form of her life in 2012 was denied a Olympic spot and then won the British RR Championship before a crash destroyed her 2013 season
One of the nicest and consummate professionals you can meet, Sharon Laws, has signed for US team United Healthcare in 2014 and after the disappointments of 2012 and 2013, is looking to get back to the top of the sport. Sharon agreed to do a Q&A with VeloUK.net from her base in South Africa where she is one busy lady!
A major victory in her career on the road – the 2012 British Road Race Championship
Asked about what it was like to sign for a new team, Sharon replied, "I'm really excited to be racing with UHC next year. I think the addition of a Women's team to a Men's team is the way to grow our sport and a model that works."
"It is an extremely professional team with some great sponsors and talented riders. I am looking forward to experiencing the race scene in the US and, in addition, taking part in races in Argentina, El Salvador and Canada. We will also be in Italy to defend Mara's Giro title."
I think all the Pro Tour men's teams should have a women's team. It really would be a small part of their budget but would provide publicity and support that we really need.
After the injury problems in the first part of the 2013 season, how did they affect you this year?
Sharon: I crashed at the beginning of March and did not race until the beginning of June at Durango Durango and Bira. I was desperate to race but was still in quite a bit of pain until mid-July. The Giro was a matter of hanging on the best I could and, to be honest, was a very miserable experience.
It was then difficult to get the balance with training and racing; I did a great training block after the Giro and my numbers in training were returning but then I got a really bad cold at Route de France. Worried about the lack of racing, I continued to push myself, when I should have dropped out, and dug myself into a bit of a hole. There wasn't sufficient time to recover before Plouay and Ardeche and I got sick again the day before Plouay started. So the crash pretty much destroyed my whole season.
Despite the obstacles, was there a highlight of the season for you where you felt you were coming back to your best form?
Sharon: Not really, no! In training, I was definitely getting back to the same numbers but the races just came at the wrong time. I still wasn't terrible – I was 19th at Route de France and 21st at Ardeche (I was finally beginning to feel better by the end of the race). These results are obviously way below what I am capable of but it's not as though I was coming last and couldn't finish with the peloton.
What was the race you enjoyed doing most in 2013?
Sharon: A mountain bike race called Attakwas that I did in January. It's the first time I've done a marathon mountain bike event for years. The scenery was incredible, it was very challenging and made me remember how hard mountain biking is!
Moving to a new team, what are your goals for 2014?
Sharon: I'll be riding for UHC and my main role will be a support rider for Mara Abbot. My goals are to be back in the shape I was in 2012, and to help Mara win the Giro (as a priority) but also the other stage races in the US. Most of all, I want to enjoy racing again after such a tough year.
Where do you expect to be spending your racing season – America or Europe?
Sharon: Our race programme is really exciting. We start in Argentina, then El Salvador and then race primarily in the US and Canada. We will be doing the Giro in Europe and the Worlds Team Time Trial.
You made great strides forward in your racing on the road in recent years – what did you find out about your preparation that worked for you to take you up a level?
Sharon: I got a new coach in 2012 and we focused a lot more on speed work and other specifics in training. He is a guru with the power meter and all my training is now power based. I've also spent the last few off seasons in South Africa. This gives me the opportunity to do some fun races and training on the mountain bike and also spend time with some good friends. Starting the season in a good mental space also really helps.
There has been a lot of talk in 2013 about equality, a women's Tour de France and so on. What issues do you feel need to be addressed in the sport to move Women's racing forward?
Sharon: Where to start! I think the UCI really needs to take some responsibility to promote and support Women's cycling. Ensuring that races aren't cancelled, are safe and well run. I think all the Pro Tour men's teams should have a women's team. It really would be a small part of their budget but would provide publicity and support that we really need.
Getting women's cycling on TV is critical for it to receive adequate sponsorship. This could easily be achieved by linking women's races to the men's races like Flanders, Plouay etc. I think the Women's Tour of Britain is going to be a great opportunity to show what can be done and hopefully it will be the start of many more similar initiatives.
Have you noticed any positive changes to the sport of women's racing on the road in 2013?
Sharon: To be honest, not really. The Tour of Landeoqoc was nearly cancelled and half the teams went home before it started. There was protest at Toscana due to the lack of safety in the race and over half the riders did not race on the last day. Only half of the races on the calendar went ahead. The Giro was shortened to eight days from ten days.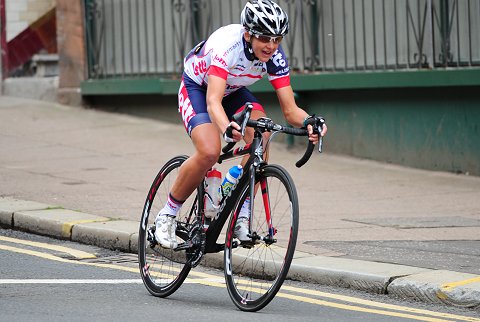 You obviously have a great passion for mtbing … do you manage to do much of that in the season?
Sharon: I don't do any mountain biking during the season – my mountain bike stays in South Africa. I haven't actually done that much mountain biking. At the end of 2011, I did a bit but broke my fibular in a crash so then stuck to the road.
It was really only the end of 2012/beginning of 2013 that I trained on the mountain bike as I was preparing for the Cape Epic. Unfortunately, I did all the training and then wasn't able to race as I'd crashed the week before at the Argus road race so spent that week in ICU (intensive care)!
Do you coach yourself these days or have a coach to help structure your training?
Sharon: I am coached by Ian Rodgers, who lives in Cape Town (South Africa). He is brilliant and I think has really helped me over the last couple of years.
How many hours a week would you train on and off the bike?
Sharon: It really varies according to the time in the season. On average, I'd say riding between 20-25 hours, core stability 45 minutes four times a week which I alternate with arm weights 20 minutes three times a week and I normally swim regularly; for recovery, to maintain total body strength and to strengthen my back post crash.
Do you find intervals and pushing yourself in training difficult without the red mist of competition?
Sharon: Yes! I always get better power results when doing hill repeats when I happen to find other people riding on the same hill. It's always entertaining as the guys want to race but I'm usually only doing a five minute effort and they are left with the whole hill to climb!
I think the SRM helps as you can try and reach the same power for each interval so it is more motivating. I used to train with a really good group in Australia and we'd time trial up a series of hills on a Saturday. It was great training and I really miss those sessions. I do try to do some local sportives or local races as these are also great training without the pressure. You always go faster with a number on your back.
Above: Champion 2012. With Emma Pooley (left) and 2013 champion, Lizzie Armitstead.
What's the hardest thing about being an athlete at the level you race at? The pressure for results, the training, controlling food intake etc?
Sharon: I think the thing I find the hardest is constantly travelling, having to share rooms in hotels, and not being able to eat what you want. It's very hard to plan your life as race schedules change etc. It's also hard missing friends' birthdays, weddings and not seeing family as much as you would like.
If you could change a weakness into a strength, which one would it be?
Sharon: I'm always keen to do the best I can so if I don't reach the power I want in an interval, I give myself a penalty one and I'll probably complete training sessions when I'm tired and should cut them short. I would like to be better at knowing when to take a break, when not to push harder and to relax better.
Do you leave the workings of the bike to the mechanics or do you enjoy getting your hands dirty and tweaking the bike here and there
Sharon: I like the idea of doing bike maintenance but most of my attempts have ended in failure (trying to fix a wheel was a particular disaster – it couldn't be used again!) so I've decided to leave it to the experts!
Early days for Sharon in her road career and competing for GB in the 2010 Road Worlds. 
How will you be spending your winter training? Just enjoying riding or training with a structured programme
Sharon: I have a contract with a South African team from Jan-March 2013 and Oct-Dec 2013 so I have obligations to race at the end of year. I have had a break but now am back in a structured programme. I also start my 2014 season with races in January and February so need to be in good shape much earlier than normal.
Britain has a UCI stage race in 2014 – is that something you would enjoy coming back for?
Sharon: I would very much like to race the Women's Tour but I don't know if it will be possible for our team as it is very close to another stage race in the US. We all have our fingers crossed!
If you had to pick one thing outside of riding the bike you enjoy, what would that be?
Sharon: I love hiking and camping in the mountains. Whenever the season is over, I go to the Pyrenees just to get away from it all; no internet, phone reception etc. Just quiet time and incredible scenery.
My thanks to Sharon who I have always found to be very easy to talk to and agreeable to talking about her career. Good luck Sharon in 2014!
---
Other Results on VeloUK (including reports containing results)

---
Other News on VeloUK