Talking to 2012 Hill Climb Champion Jack Pullar who will ride for Starley Primal 2014 after a season with Madison Genesis in 2013
I remember seeing Jack, wearing the colours of Vanillabikes.com, win a one lap time trial in Beverely (East Yorkshire) against the pros and realise that the potential was there to race professionally himself. The 24 year old started MTB racing at the age of 16 and then road racing at 17.
Riding for a UCI team was his biggest challenge yet in racing. Asked about 2013, he says "In my first year as a professional, it was more about gaining experience and helping out the older riders in the team. I guess every rider has to start somewhere and move up. But I did get my own chances a few times to get results for myself".
Jack has ridden for a number of smaller teams and explains that the differences between them and a UCI one, were support and infastructure. "With a company like Madison, their budget was bigger that most and that showed with things like the big wagon (nicknamed the horse box – you get the idea!) and really good kit. Also, the races we did could only be accessed as a UCI pro team. With a larger and stronger team, it was easier to dictate the outcome of a race being able to control it more where as many smaller teams don't have the strength in depth."
Post road season, Jack went straight into the Hill Climb season where he had six out of seven wins. The one that eluded him was the British Championship but he admits he can't complain after six victories. "My season was good! Not quite last year I don't think as I couldn't finish it off with a national title." Asked why more pros don't do the hill climbs, Jack admits "I'm not too sure. I think more pros are starting to do them. Monsal Hill Climb is a good example of it with the Downings and Briggs etc … Even the nationals this year had a few I think the exposure is good for individuals and it's something to keep going after the season has finished."
Looking back at 2013 as a whole, Jack says the highlight for him was racing in the Mallorca Challenge at the start of the year. "Racing against huge names in the sport in my first pro race was a great experience. This was later backed up by Ride London. The atmosphere of racing round the streets of London was amazing!"
Which race has been the best one to do?
Jack: I'd say Ride London. Racing around the Capital City was amazing and the crowds were the biggest I've seen at any race I've done. No other event comes close for atmosphere!
Do you coach yourself or have a coach to help structure your training?
Jack: I have a coach, Dan Fleeman from Dig Deep coaching. He sets me weekly plans to follow and gives good advice on racing as he's been there and done it himself in the past.
How many hours a week would you train on and off the bike?
Jack: It varies from the time of year. Before New Year, probably around 12-15 then after between 15 and 20. Training camps are overload weeks that can be around 30 hours.
Do you work full time/part time or a full time bike rider?
Jack: I'm a full time bike rider and living the 'Dream'!
What is the best thing about racing bikes?
Jack: The best thing about racing bikes for me is that you get to travel a lot with racing. Even though its mainly in the UK, its still good that your not going to the same place every day or week. It also gives you the chance to meet great people. I'm lucky enough to have met a lot of friends from racing.
And what is the one thing you enjoy least!
Jack: Training. It's the hardest part about racing! You have to do it though. Also rainy days, no body likes the rain when racing. If they say they do, they must be lying!
If you could change one of your weaknesses into a strength, which one would it be?
Jack: Self-belief. I have always been told I lack this. I'm sure its improving, but its defiantly not one of my strengths at the moment.
What type of bike you do ride and what type of groupset wheels does it have?
Jack: In 2014 I will be riding a Starley JKS R1 with Shimano groupsets. It also has Starley own brand wheels that come in a range of depths.
Are you 'geeky' when it comes to the equipment on the bike?
Jack: Oh defiantly. I have a reputation for going mad with my bike for hill climbs. I get joked about drilling my seat and cutting down handle bars. I think it's a good thing caring about your bike though. It shows your doing everything you can to win bike races!
What will you doing training wise during the winter – as little as possible or a structured programme based on getting success in 2014?
Jack: Being on the Scottish Cycling Performance Programme, we have a camp coming up in Girona in December and I think there are a couple planned for early next year. Also, a team camp has been talked about. I'd like to go away as much as possible though. Its good on the mind, as well as the body. Id also like a really good tan to kick off the season with!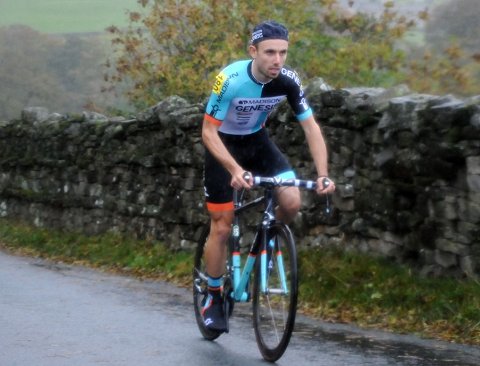 What is the one thing outside of pedalling the bike that you feel you need to learn to be a better bike rider.
Jack: Recovering. I hate sitting around doing nothing, but I guess that's part of being a bike rider. Recovery is key to gaining the most out of training.
What do you enjoy doing when not riding the bike
Jack: Eating. Sleeping. Drinking coffee.
Getting into the nitty gritty though, Jack says the best thing on tele right now is 'Made in Chelsea' and 'The only way is Essex'. "I'm not even ashamed to admit it! I love it!" Asked, if given the chance, where he would go to race abroad, Jack replies "Probably America. They do a lot of criterium races over there and I've never been! I'd like to experience it."
Finally, we talk goals for 2014. The Commonwealth Games is one but what about others? "Being a leader of a team. It's a new challenge for me to take on, but I think I learned a lot last year from some good riders and a good manger so I'm ready for the challenge!"
Good luck to Jack in Starley/Primal in 2014.
---
Other Results on VeloUK (including reports containing results)

---
Other News on VeloUK