Thrilling the crowd at Revolution was the Isle of Man's Peter Kennaugh who's in good form ahead of a big year on the road
It was 2006 when I saw Peter Kennaugh as a Junior win a World title on the track and during his academy days he was touted as a future Tour de France winner. At that time, few, if anyone knew that Bradley Wiggins and Chris Froome were going to win the Tour de France and many eyes were on the youngsters coming through like Kennaugh.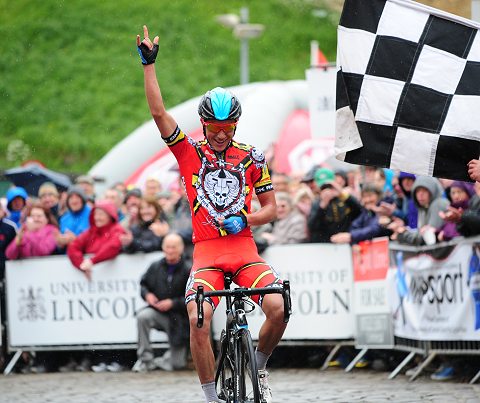 The Isle of Man rider has come close so many times to winning the British Road Race title that he will surely win it at least once. His win last year, in the Isle of Man colours, in the Lincoln GP was a classy victory on home roads and an example of his talent for winning bike races.
Peter has been in Team Sky since 2010 and it is a surprise to me that he hasn't won more. Last year he was part of a winning Team Time Trial squad in Giro del Trentino and the year before was 3rd overall in the Route de Sud. Being part of Team Sky certainly limits his opportunity for winning bike races but he seems to shrug that off saying it's his job to do what the team ask him to do.
He helped Chris Froome win the 2013 Tour de France, a selection which wasn't planned for Peter according to Rod Ellingworth. Making that team though enabled to show the world how well he can climb and how tough he is at coming back from set backs such as the fall in that race.
I spoke to Peter at the Revolution meeting after having seen him lap the field seven times, seemingly playing with them and taking laps at will. Asked if the form was that good, he played it down saying "I just like to race when I get out there. The form is alright, I'm not going to lie, the condition is good for this time of year but I wouldn't say I'm going that well."
"The sort of training I am doing is geared towards that next year. Long zone three efforts which is just below time trial pace. Doing anything from 15 minutes to hour and half efforts on the road in zone 3. I guess from that I have the condition to keep going. The speed isn't that good at the minute though."
Peter spoke about how he finished the season early in 2013 after Plouay. "I'd not recovered well after the Tour so I have had a different winter. I came into the off season earlier and have been a bit more serious in my approach up to Christmas. I went down to Calpe for three weeks in November followed by a team Sky camp in Majorca and then some specific training on the Isle of Man."
"I still had a good Christmas but my winter was more balanced and I feel like I'm ready to go now."
Talking about goals for 2014, Peter explained "I think first it's to generally improve as a whole, to go further into the climbs, to be more consistent throughout the year and improve on my time trialling. Secondly, the goal is to look at a stage race early on in the season, a smaller one like the Coppi eBartali or something where I maybe can have an opportunity for myself."
"Then, I'd like to have good form for the Ardennes Classics and that's the first part of the season covered. In the second part of the season, I'd like to get selected for the Tour de France and after that, recover and have a good go at the Worlds".
"The nationals will be something I think about closer to the time. You tend to have good form at that time of year and so you go and race it and what happens, happens."
Peter says his season will start in Challenge Majorca and if an opportunity for a win presents itself, he'll do what he can to take it but added that it's hard to know how he'll be going in the first races of the season. "I won't be fresh going into that race so I'll be carrying some fatigue into it. After that it will be Rut del Sol and Paris-Nice."
"In Rut del Sol, I'll go there and get some good work from it and if I get the opportunity to go for a result for myself, I'll certainly try and take it. Then Paris-Nice will be the first main objective where I'll probably play a team role."
Asked how he feels about playing a team role and getting that break through to go for big wins like Richie Porte did in 2013, Peter replies "it is difficult but I don't think about it. I just ride my bike and race to the best of my ability. I just train hard and race hard. I'm a professional bike rider who gets paid to do a job and I'll do that to the best of my ability."
Knowing that the likes of Rod Ellingworth have a lot of confidence in Peter, those of us who are fans of the Isle of Man youngster can only hope that this team gives him some room to get results. Dan Martin showed what can be done in the Ardennes Classics and Kennaugh could well follow Martins win with his own.
There's talk of Kennaugh winning in Rio but as good as an Olympic Gold is, seeing the likes of Kennaugh and co win monuments is what the fans want and perhaps in 2014 we'll see another Isle of Man rider show the World what he can do.
Good luck to Peter for 2014.
---
Other Results on VeloUK (including reports containing results)

---
Other News on VeloUK