Mark Cavendish (Omega Pharma – Quick-Step) I just want to have the same level as 2012 — if I can get the same level, I can start winning races again."
 Omega Pharma – Quick-Step Meet the Media
The Omega Pharma – Quick-Step Team met the media in Calpe at the start of a big year for the Belgium squad
After a two hour ride, riders and managers met with the media including CEO Patrick Lefevere. "For this season, we would like to continue the winning mood we had in 2013 and of course try and do even better," Lefevere said.
Training comes first – the team get out on the road before meeting the media. Photo: OPQS/Tim de Waele
"Tom Boonen will be back and I have a feeling he is on the right track to return to his previous level. Tom will also find a group of motivated and strong riders for these kinds of races, for example Zdenek Stybar and Niki Terpstra. Mark Cavendish is in his second year with OPQS, so he knows the riders and the team he has around him."
"He will once again be a leader of the team and for sure he is ready to have another great season after an already outstanding 2013. Tony Martin will be a guarantee for the team in terms of victories and quality of wins. He showed this year he is one of the most consistent riders throughout the season. He will be there once again in 2014 to even improve an already impressive list of results."
"Of course we also have a few young guys who are growing up, such as Matteo Trentin and Michal Kwiatkowski, and we even have some newcomers we will count on to improve our visibility and our impact in cycling. With Rigoberto Uran we improve our potential for the Grand Tours, particularly this year at the Giro d'Italia. We can also count on riders like Wout Poels and Thomas De Gendt who will also be there and strong."
"Of course we also have Jan Bakelants, a guy that showed last year what he is able to do. We definitely have a good team built to perform all season long."
'Cav' all smiles taking to the media. Photo: OPQS/Tim de Waele
Mark Cavendish
Unsurprisingly, Britain's most winning rider in the pro ranks, Mark Cavendish, says "The Tour de France is my biggest goal for the season. As always, I have to go and compete on that stage and win consistently. We've got an incredibly strong team this year for that."
"In fact, we've almost got too many riders to choose from. We're in the best position. We've got so many riders to make a formation of nine from to win at the Tour. I'm excited to go, especially since it starts in the UK again."
"It's the second time in my career that it starts in the UK. In 2007 when it started in London, cycling wasn't even popular and the amount of people out watching the race was incredible. So with the profile of cycling in the UK now, I think with the Tour de France starting there again it will be beyond words. I'm super excited, especially with the first stage finishing in my mother's hometown of Harrogate."
"The finishing straight is a straight I know very well. I spent a lot of time there as a child and hopefully it provides a bunch sprint. I'd like a chance to win the yellow jersey. I haven't yet worn that and it'd be nice to wear that. I'm also super excited to have Mark Renshaw back for my leadouts. He's a really good friend of mine and one of the most gifted leadout men in the peloton."
"I just want to have the same level as 2012 — if I can get the same level, I can start winning races again."
Tom Boonen meanwhile said "I'm very hungry. I've already had a lot of time on the bike since I started in September, so I also had a long winter but it was good for my condition. But that doesn't take away that I haven't raced since July, so I want to start racing again and see where I am in a race situation."
"It's always different in a race than during training so I want to start racing as soon as possible. As for training, it's gone very good. It's sublime. Until now there have been no real worries so that automatically means things are going really well."
"I'm very happy at the moment and can't wait to start my season at Tour de San Luis, a race that brought me luck in 2012 and opened one of my best seasons. However my focus for the first part of the season is on the Spring Classics. Everybody knows what those races mean to me and how I feel about them. I will do my best to be in top condition for those races and once the Classics are done I will then consider the second part of my season."
World TT Champion Tony Martin
"My condition is good," three-time UCI World TT Champion Tony Martin said. "I thought it would take a little bit longer after the surgery on my hand, being off the bike for five weeks. But it came back really quickly and I am already on a good level."
"I'm optimistic for the first races. As for the team this year, we are strong and have riders for every race. We are able to fight for the win in every kind of scenario. We have one of the strongest sprinters with Cavendish, some of the strongest GC riders with Uran and Kwiatkowski."
"We also have me for the time trials and Boonen for the Classics. We have to support all of these guys as a team. Normally teams just focus on one thing but we can focus on four or five things with OPQS. So, it won't be easy, but it also really a nice thing to be able to contest everything."
Tour of Britain Hero De Gendt
A rider well known to Tour of Britain fans for his breakaways stage after stage, Thomas De Gendt told the press "I have to help a guy like Rigoberto Uran as much as I can. The races that are uphill are going to be for a rider like him."
"Maybe some smaller races I can go for myself. Then, I hope to fight for a place on the team for the TTT. The atmosphere for the team right now, for me, is very good. There a lot of riders on the team that I know well. I am liking the atmosphere on OPQS so far for sure."
Thomas de Gendt winning in 2013.
Michal Kwiatkowski – Tour de France White Jersey wearer
"If you look at my race program this year there are some small changes, but my program will mostly be the same," Polish champion Michal Kwiatkowski said. "My first goal of the season will be to be competitive for Tirreno-Adriatico."
"I will also try to be in the best shape as possible for the Ardennes Classics as well. Concerning the Grand Tours, I learned last season that I can do pretty well during three-week races. I have great memories from the Tour de France. I will try to work on it and be better in 2014 and in the future. I will try to prepare for the Grand Tours as much as I can and I will also wear my Polish Champion jersey as proudly as I can."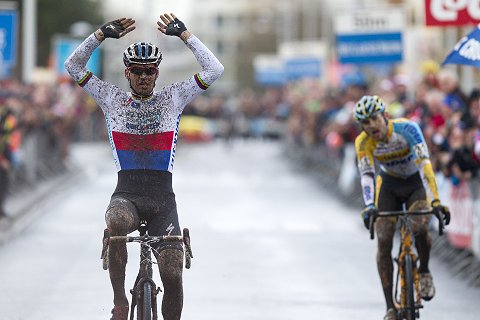 Zdenek Stybar
"The Spring Classics in general are a really big goal for me" Czech rider Zdenek Stybar (above) said. "I love those races and I hope to prepare for them well, not only for me but as a team. I want to help Tom Boonen win as much as possible. A few years ago, I wouldn't think in my first Roubaix that I would have finished in the Top 10. I am really pleased people think I can possibly do well there again in 2014."
"Cyclocross will always stay my first love, so I like to do it in between road seasons for fun, for the supporters, and the familiarity of it. But I am also happy I changed my focus from cyclocross to the road and I am looking very much forward to the upcoming season."
---
Other Results on VeloUK (including reports containing results)

---
Other News on VeloUK