Former winner Wouter Sybrandy heads line up for North Road CC 'Hardriders' 25 on February 23rd at Hatfield
ORGANISERS: Click here to send us info of your event
Entries are building nicely for the classic North Road CC 'Hardriders' 25 mile time trial on February 23rd where organsiers are hoping a lack of roadworks and some decent weather will allow riders to face the delights of Carbone Hill, Darnacle Hill, Tylers Causeway, Cucumber Lane in the first half of the event before the run to Essenden Hill and the last few drags to the finish.
The headquarters for the race will be Queenswood School pavilion on Shepherds Way, Brookmans Park. with the first rider off at 8:01am.
Leading the line up is former winner Wouter Sybrandy with his rivals including Douglas Coleman, Joe Fry (RST/NFTO Racing Team) who was 9th & 1st Junior in 2013, Andrew Hastings (www.twenty3c.co.uk) Liam Maybank, and Ashley Cox (4th in 2013). In the women's race, favourites include Laura Massey and Anna Railton.
EVENT DETAILS
Course F7/25 (Hertford/Potters Bar)
Start: 8.00 am
HQ: Queenswood School Pavilion, Shephards Way, Hatfield, AL9 6NS
Over £1000 in Prizes!
Winner to hold Thistle Trophy for 1 year
1st place £350, 2nd £200, 3rd £125 with awards down to 10th place.
Fastest Vet on CTT target time: £30 with awards down to 3rd place.
Fastest Lady : Subject to number of entries: minimum of £40 rising to at least £100 if more than 10 entries
Prizes for Juniors and Juveniles, 1st and 2nd places, £30 and £10 each respectively.
Fastest Team of 3 riders £30 each.
One rider one prize excepting team awards will apply
Entry fee: £10.50 : cheques payable to North Road CC
Internet entry via CTT Website
Postal entry: send completed CTT entry form and cheque to: Neil Lewis, 40 Old Rd, East Peckham, Tonbridge, Kent, TN12 5ET
Email: northroadcc-hardriders2014@yahoo.co.uk
COURSE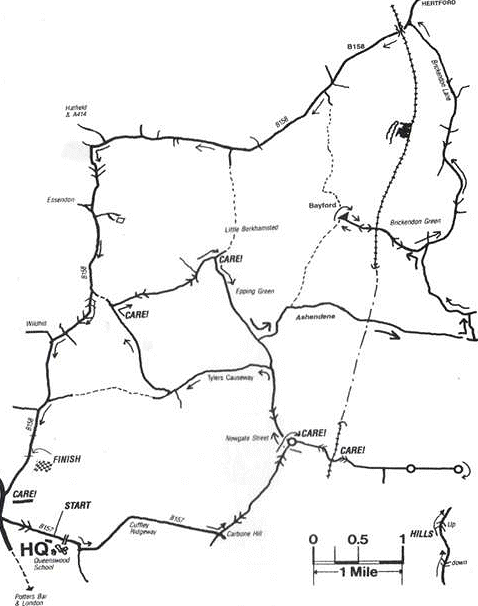 START on the B157 approximately half a mile to the east of the junction with the A1000 – 50 yards east of Ramsey Close at a field gate on the north side of the road.
A white line marks the spot.
Proceed east to junction with Cuffley Ridgeway, B157, where turn LEFT (M). continuing on B157 to junction with Carbone Hill, a cross roads where turn LEFT (M) Proceed to Newgate where at mini RAB turn RIGHT, east, in the direction of Hammond Street (M).
At 2nd RAB TURN (M) and retrace to Newgate Street mini RAB (M) to proceed STRAIGHT and immediately bear RIGHT.
In approx one mile Turn LEFT into Tylers Causeway (M). Take first RIGHT sign posted Essendon (M) Then at Cucumber Hall turn Sharp RIGHT (M) to Little Berkhampstead where turn RIGHT (M). Proceed to Epping Green where at White Stubbs Lane turn LEFT (M). Follow White Stubbs Lane keeping RIGHT at Ashendene (M) to Pembridge Lane where turn LEFT (M).
In 200 yards turn LEFT (M) to Brickendon Green. At "T" Junction turn sharp LEFT (M). Proceed via Bayford Station to Bayford where TURN at junction complex keeping LEFT to circulate the junction in a clockwise direction (M) to retrace to Brickendon Green (M).
Keep STRAIGHT on Brickendon Lane to Hertford where at junction with B158 turn LEFT (M).
Follow B158 through Essendon and Wild Hill to:- FINISH on B158 at a point opposite gateway on right hand side of road approx 600 yards north of junction with A1000. A white line on the gatepost marks the spot.
FORMER WINNERS
Prior to 1955 event promoted by Kingsdale C.C.
1955 R. Gosman Barnet CC 1.19.37
1956 to 1958 promoted by Norion CC
1959 A. Howling Castille RC 1.12.49
1960 I. Moore Zeus RC 1.08.53
1961 J. Bornbas Finsbury Park CC 1.12.14
1962 D. E. Meekins Welwyn Wheelers 1.12.58
1963 T. Nimmo Letchworth Velo 1.05.58 23 miles
1964 S. Lovatt Century RC 1.10.58
1965 B. McKeown Welwyn Wheelers 1.09.19
1966 B. McKeown Welwyn Wheelers 1.08.15
1967 B. Lapworth CC Islington 1.10.28
1968 J. Winstanley Finsbury Park CC 1.08.23
1969 J. Winstanley Finsbury Park CC 1.09.57
1970 C. Kearley Whitewebbs CC 1.07.04
1971 J. MacMillan West London Cour 1.05.56
1972 J. MacMillan West London Cour 1.05.53
1973 R Cary Whitewebbs CC 1.09.08
1974 D. Sheehy Hainault CC 1.09.39
1975 S. Poulter Highgate CC 1.11.58
1976 A. Engers Woolwich CC 1.08.34
1977 R.J Downs VC Olympia 1.06.42
1978 R.J Downs Anglia Sport 1.08.28
1979 S. Yates Archer RC 1.06.46
1980 T. Stevens 34 Nomads 1.03.45
1981 R. Cary Professional 1.10.47
1982 M. D. Pyne CC Breckland 1.02.03
1983 D. J. Webster Manchester Wheelers 1.01.39
1984 D. J. Webster Manchester Wheelers 1.00.38
1985 D. J. Webster Manchester Wheelers 1.02.56
1986 D. J. Webster Manchester Wheelers 1.02.46
1987 D. J. Webster Manchester Wheelers 1.00.29
1988 E. J. Adkins High Wycombe CC 1.04.31
1989 J. Walshaw Professional 1.03.00
1990 T. M. Jackson Invicta RC 1.02.14
1991 C. M Boardman Manchester Wheelers 0.57.20
1992 R. J. Prebble Wembley RC 0.59.08
1993 No event.
1994 S. Dangerfield North Wirral Velo 0.58.00
1995 G. Butler Norwood Paragon CC 1.00.00
1996 G. Butler Norwood Paragon CC 0.58.32 short course
1997 S.Yates Team Clean 0.58.44
1998 M Belfield GS Strada 1.00.20
1999 G. Butler Norwood Paragon CC 1.05.25 28.2 miles
2000 C. Newton Midridge CRT 1.01.57
2001 No event.
2002 J. Ramsbottom Race Scene 1.04.41 27.4 miles
2003 C.Newton Corima RT 0.51.03 22.2 miles
2004 No event.
2005 M. Huchinson Api-Metrow 0.54.23 23.0 miles
2006 M. Huchinson in-Gear Quickvit RT 0.59.14
2007 R. Prebble Pinarello RT 0.59.45
2008 J. Ramsbottom DeRosa RT 0.42.55 18.0 miles
2009 S. Gaywood Team Corley Cycles 0.58.36
2010 M. Bottrill I-ride.co.uk 0.59.30
2011 W. Sybrandy Sigma Sport 0.42.22 18.0 miles
2012 Wouter Sybrandy IG Sigma Sport 56:36 Course record and 25 mile event record
2013 Joe Perrett Team IG-Sigma Sport 0:49:21 22.0 miles
---
Other Results on VeloUK (including reports containing results)

---
Other News on VeloUK