A Shropshire teenager, Tomos Owens, who dreams of becoming the next Bradley Wiggins, is hoping a top Shropshire road cycling racing team will give him the experience he needs to get to the top.
Youngster Aiming to be Next Wiggins
Tomos Owens, 15, from Llanymynech, was chosen as the youngest member of the Shrewsbury-based Paramount Performance Cycling Racing Team. The team is made up of riders hand picked from within the Paramount Cycling Club.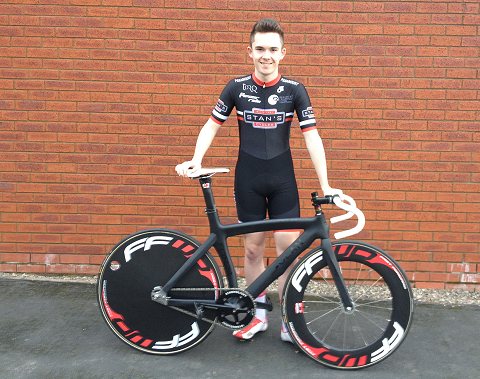 Tomos Owens with his Dolan Forza track bike
While many teenagers are concerned about their social life, or computer games, Tomos' passion is cycling and he has already had huge success in the sport. He has twice been the British Track Omnium champion and Welsh Omnium Champion.
He also won the Welsh Road Championships when he was 10, 11, 12 and 13-years-old as well as the British National Circuit under 12s series in 2011.
While Tomos is too young to take part in road races, he can represent the team in closed circuit racing. "I was chuffed to make the team," the year 10 Llanfyllin School pupil said. "I've never raced in a proper team before."
Tomos is putting in many hours of training before the racing season starts in March. He said: "I'm quite known for getting lost training as I just go out and find some roads and have a bit of fun. "Most times I come back and my Mum says 'we were just coming out to find you' but I always say that would be hard as I don't even know where I am!"
He has been following a training plan, provided by Paramount team member Dave Griffiths. "Training is going really well. I crashed at the start of the winter and was out for a while but now it's really good," he said. Tomos said he will learn as much as possible from other club members.
"That's what the club is there for – to give advice and share knowledge and I'm going to take full advantage of that," he said. While Tomos enjoys the closed circuit races, he can't wait to be old enough for road cycling. "I enjoy it more and it's what I ultimately want to do," he said. "I definitely want to be a professional cyclist. Bradley Wiggins, Mark Cavendish and Chris Froome are doing so well at the moment and it's amazing how well British cycling is doing."
Tomos is determined to keep his focus and show he can get to the top. He said: "A lot of young people stop when they are 16 or 17 and do not make it to pro because they get distracted but that's the only thing I want to do and I just want to keep progressing and getting top results. "At school, it's not a popular sport but my friends think it's cool I've been British champion and they ask how I'm doing."
Rachel Owens, Tomos' mum, said she was very proud of her son. "He's been racing since he was nine or 10," she said. "My Dad said when he was three or four that he was good on a bike. We basically kept going to tire him out and make him sleep at night and that's how he got into it!"
Ben Lawrence, managing director of Shrewsbury-based insurance broker Beaumont Lawrence, which sponsors the Paramount Performance CRT team, and the racing team manager, said: "Tomos is a very talented youngster. "He's not going to be riding senior races with us but he can do circuit based races as a junior. He has a lot of promise and we want to support him at this early stage in his career. "It's great experience for him to be around top racers who can share their knowledge with him."
For more information about the Paramount Performance Cycling Team see https://www.facebook.com/ParamountPerformanceCrt
---
Other Results on VeloUK (including reports containing results)

---
Other News on VeloUK