Wiggle Honda Pro Cycling's Olympic Champion, Joanna Rowsell, took her second rainbow jersey of the 2014 UCI World Track Championships in Cali
News: Joanna Rowsell is World Champion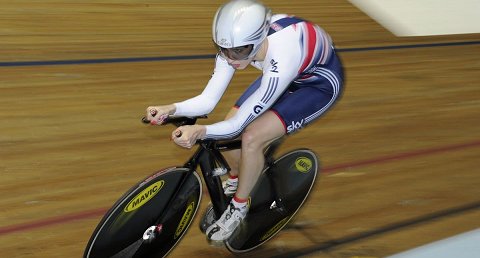 Rowsell beat American Sarah Hammer to take the Individual Pursuit crown. The 25-year-old, who had been part of Great Britain's successful Team Pursuit squad the previous day beat the former five-time champion by more than a second in the three-kilometre event.
"This has been a personal goal for me for a while, I just can't believe I pulled it off!" Rowsell exclaimed afterwards. "I was ill with a chest infection two weeks ago, so I missed three team training sessions, which in hindsight perhaps did me good, it gave me a bit more rest; a bit of a longer taper."
"I woke up this morning feeling good, which is unusual after two Team Pursuits the day before – especially four-k Team Pursuits – but I felt I had good legs on the rollers this morning and thought 'this is a good sign,'" Rowsell added.
"I was really pleased with my qualifying ride just two tenths off my PB, but I can't believe that ride just now, that's a new personal best for me on pretty much an outdoor track, five spoke wheel… everybody else went slower. I can't believe I've done it, I can't believe I went that quick!"
Rowsell had led the qualification round, with a time of three minutes 30.610 seconds, until Hammer – setting off in the last heat – was able to go nine-tenths of a second quicker to set up the Gold Medal match. In the final race, however, Rowsell, whose fast start gets Great Britain up to speed in the Team Pursuit event, managed to open up a lead of just over a second in the very first lap. This lead was up to almost 1.2 seconds after 500 metres, and the British rider still held a full second at the end of the first kilometre.
A fightback from Hammer in the second kilometre could only see the experienced American take back a fraction of a second over Rowsell, and the British rider still held almost all of her original advantage as the two riders began their third.
Despite the unpredictable open air conditions, Rowsell managed to hold onto her early pace to finish in a personal best time of three minutes, 30.318 seconds; Hammer, the World Record holder, was unable to match the British rider's final kilometre pace, and finished in three minutes 31.535 seconds to take the Silver Medal.
Strong qualification rides from Wiggle Honda Pro Cycling riders also saw Great Britain's 20-year-old Elinor Barker – part of the British Pursuit Team – finish in ninth place with a time of three minutes 41.609 seconds, and Italian 21-year-old Beatrice Bartelloni take twelfth place with three minutes, 43.577 seconds.
Result
1. Joanna Rowsell (Great Britain)
2. Sarah Hammer (United States)
3. Amy Cure (Australia)
9. Elinor Barker (Great Britain)
12. Beatrice Bartelloni (Italy)
---
Other Results on VeloUK (including reports containing results)

---
Other News on VeloUK