Triple world champion Francois Pervis saw off the local challenge at Revolution 45 in London while Laura Trott was untouchable in the women's races
Trott & Pervis Dominate Friday Night in London

REVOLUTION PRESS RELEASE – Photos Luke Webber/Revolution Series
World-class track cycling returned to Lee Valley VeloPark in London with a thrilling evening of racing at Revolution Series Round 5 – and double Olympic champion Laura Trott continued her love affair with the venue while Francois Pervis at last got to show who's best in Men's sprinting.
The velodrome was packed and incredibly noisy for the first of three sessions of racing at the iconic ex-Olympic velodrome, part of the new multi-discipline cycling facility at Queen Elizabeth Olympic Park.
A host of Team GB Olympic champions returned for the first time since the London Olympic and Paralympic Games in 2012 – Ed Clancy, Steven Burke, Philip Hindes, Jason Kenny, Dani King and Trott.
Trott won an incredible three out of three in the women's omnium while the Rest of the World team claimed victory from a GB team in a special 'Nations Cup' Madison.
Along with fellow Wiggle Honda riders King and Elinor Barker, Trott brought a huge roar from the crowd whenever she was on track – and particularly when clinching her hat-trick of wins. Trott won the Flying Lap, the Points Race and the Elimination Race in a truly dominant display, helped all the way by her Wiggle Honda team-mates.
The night ended in drama as King and Scottish rider Katie Archibald crashed heavily as the Elimination Race neared its conclusion, leaving Trott alone on the track to claim yet another victory.
French sprinter Francois Pervis won the UCI Keirin – continuing his exceptional form from the Track World Championships in Cali where he claimed three gold medals.
Meanwhile, the continental riders proved too strong for their GB rivals in the Madison which was fought over two races – an Elimination Race and 50km Madison. German Leif Lampater, who will ride for Elite Championship leaders Rudy Project RT on Saturday, claimed a fantastic photo-finish win in the Team Elimination race.
Spanish Madison world champions Albert Torres and David Muntaner also rode strongly and they had too much for the likes of Ed Clancy and Andy Tennant on the GB team. Clancy and Tennant will both be back to ride in the Elite Championship on Saturday. Clancy, riding for second-placed Rapha Condor JLT, will be looking to overhaul Rudy Project's lead.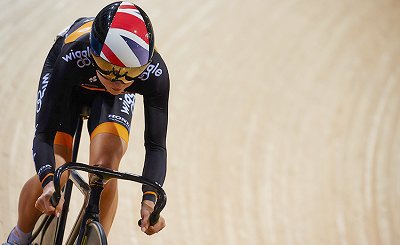 Saturday's afternoon session begins at 1pm and finishes at 4pm. The evening session will see the conclusion of the Elite Championship, HOY Future Stars and women's omnium, from 7pm until around 10.15pm.
Sir Chris Hoy will be in attendance to watch the end of the HOY Future Stars while the destiny of the Elite Championship will be decided with Rudy Project RT, Rapha Condor JLT and Team Sky all in the mix.
Don't forget you can watch both sessions live on YouTube on Saturday! Subscribe to the FACE Partnership YouTube channel here
Limited tickets remain for the afternoon session on Saturday
Results – Friday 14th March
UCI Omnium – Flying Lap (250m) – Women
1 TROTT, Laura GBR 2.847 (1) 8.603 (1) 14.528
2 OLABERRIA DORRONSORO, Leire ESP 2.988 (3) 8.853 (2) 14.894
3 DAVIS, Jenny GBR 2.983 (2) 8.887 (3) 15.023
4 KING, Dani GBR 3.019 (5) 9.008 (4) 15.180
5 ARCHIBALD, Katie GBR 3.002 (4) 9.078 (5) 15.336
6 BARKER, Elinor GBR 3.088 (8) 9.310 (8) 15.561
7 RYAN, Caroline IRL 3.053 (6) 9.276 (7) 15.677
8 TREBAITE, Ausrine LTU 3.057 (7) 9.241 (6) 15.698
9 NELSON, Emily GBR 3.150 (12) 9.363 (10) 15.731
10 JONES, Hayley GBR 3.117 (11) 9.360 (9) 15.761
11 LLOYD, Manon GBR 3.098 (10) 9.398 (11) 15.840
12 ROBERTS, Amy GBR 3.091 (9) 9.424 (12) 16.023
13 ZABLOTSKYTE, Egle LTU 3.151 (13) 9.579 (13) 16.220
14 SPOOR, Winander NED 3.180 (14) 9.675 (14) 16.372
15 INGHELBRECHT, Sarah BEL 3.285 (15) 9.990 (15) 16.887
UCI Omnium – Elimination Race – Women
1 TROTT, Laura GBR
2 KING, Dani GBR
3 ARCHIBALD, Katie GBR
4 OLABERRIA DORRONSORO, Leire ESP
5 JONES, Hayley GBR
6 RYAN, Caroline IRL
7 SPOOR, Winander NED 8 8 109 NELSON, Emily GBR
9 BARKER, Elinor GBR
10 INGHELBRECHT, Sarah BEL
11 LLOYD, Manon GBR
12 ZABLOTSKYTE, Egle LTU
13 ROBERTS, Amy GBR
14 TREBAITE, Ausrine LTU
15 DAVIS, Jenny GBR
Team Elimination Race
1 GRASMANN / LAMPATER T10
2 PIETERS / HAVIK T15
3 TORRES / MUNTANER T9
4 LATHAM / STEWART T2
5 CASPERS / VAN ZIJL T14
6 STROETINGA / STOEPLER T13
7 HESTER / MORKOV T11
8 SCULLY / ROBERTS T12
9 BURTON / LAWLESS T5
10 CULLAIGH / GIBSON T7
11 KNIESKY / LEWIS T16
12 CLANCY / TENNANT T1
13 BURKE / WILLIAMS T3
UCI Keirin – Men
Round 1
Heat 1
1 PERVIS, Francois FRA
2 CRAMPTON, Matt GBR
3 SKINNER, Callum GBR
4 BABEK, Tomas CZE
5 ROTHERHAM, Matt GBR
6 HINDES, Philip GBR
7 LENDEL, Vasilijus LTU
Heat 2
1 KENNY, Jason GBR
2 PRITCHARD, Chris GBR
3 JONAUSKAS, Svajunas LTU
4 LAFARGUE, Quentin FRA
5 MULLEN, Eoin IRL
6 MITCHELL, Jonathan GBR
7 AYRE, Kenny GBR
UCI Omnium – Points Race – Women
1 TROTT, Laura GBR 21
2 OLABERRIA DORRONSORO, Leire ESP 17
3 KING, Dani GBR 14
4 TREBAITE, Ausrine LTU 7
5 ARCHIBALD, Katie GBR 6
6 JONES, Hayley GBR 5
7 INGHELBRECHT, Sarah BEL 5
8 NELSON, Emily GBR 4
9 ZABLOTSKYTE, Egle LTU 3
10 SPOOR, Winander NED 3
11 RYAN, Caroline IRL 2
12 BARKER, Elinor GBR 1
13 ROBERTS, Amy GBR
14 LLOYD, Manon GBR
15 DAVIS, Jenny GBR DNF
UCI Madison – Men
1 TORRES / MUNTANER 26
2 HESTER / MORKOV16
3 STROETINGA / STOEPLER 11
4 GRASMANN / LAMPATER 10
5 LATHAM / STEWART 12
6 PIETERS / HAVIK 7
@ 1 lap
7 CLANCY / TENNANT 12
8 BURTON / LAWLESS 5
9 SCULLY / ROBERTS 4
10 WOOD / EVANS 1
@2 laps
11 CULLAIGH / GIBSON 8
@ 4 laps
12 CASPERS / VAN ZIJL 5 12 -4 5
@ 6 laps
13 KNIESKY / LEWIS 13 -6 0
14 BURKE / WILLIAMS 5 DNF
UCI Keirin Minor Final
7 BABEK, Tomas CZE
8 ROTHERHAM, Matt GBR
9 LAFARGUE, Quentin FRA
10 HINDES, Philip GBR
11 MITCHELL, Jonathan GBR
12 MULLEN, Eoin IRL
UCI Keirin Final
1 PERVIS, Francois FRA
2 PRITCHARD, Chris GBR
3 CRAMPTON, Matt GBR
4 JONAUSKAS, Svajunas LTU
5 SKINNER, Callum GBR
6 KENNY, Jason GBR
UCI Omnium – Women Overall
1 TROTT, Laura GBR 3
2 OLABERRIA DORRONSORO, Leire ESP 8
3 KING, Dani GBR 9
4 ARCHIBALD, Katie GBR 13
5 JONES, Hayley GBR 21
6 RYAN, Caroline IRL 24
7 NELSON, Emily GBR 25
8 TREBAITE, Ausrine LTU 26
9 BARKER, Elinor GBR 27
10 SPOOR, Winander NED 31
11 INGHELBRECHT, Sarah BEL 32
12 ZABLOTSKYTE, Egle LTU 34
13 LLOYD, Manon GBR 36
14 ROBERTS, Amy GBR 38
15 DAVIS, Jenny GBR 48
---
Other Results on VeloUK (including reports containing results)

---
Other News on VeloUK