A look ahead to the first big one of 2014 with Orica-GreeneDGE's Matt White giving an insiders view of Milan San Remo plus words from Mark Cavendish and Geraint Thomas.
Milan San Remo Preview (from Orica GreenEdge with added bits!)
In two days time, the adrenalized and much anticipated start to the spring Classics will kick off in Italy . Over 200 riders will line up in Milan to start the 298 kilometre journey to Sanremo. Milan-Sanremo.
Included in those will be many Brits including former winner Mark Cavendish. "It's always an honor to race at Milano-Sanremo. This year, for me, the race goes how it goes. I might win it, and that's why I'm riding."
"I might get dropped, and I might not. If it comes to a sprint, I'm the best opportunity we have if it comes to that. If I don't race this year, I might regret it. I had a win in 2009 and a top 10 last year, there is always that possibility.""
"There's 200 guys on the start line that can possibly win. It's not like that at any other race. There are so many variables at Milano-Sanremo, and that is what makes it beautiful. It's not an easy race just because it ends in a sprint. Anyone on the start line can win and there is no other Classic or race like that. It's a long race, the easiest to finish, but the hardest to win. I am just really happy to have the opportunity to try."
Mark will not be the only Brit in the race.  Others include Erick Rowsell in Netapp-Endura plus Ben Swift and Geraint Thomas in Sky.  The rider who wore yellow in Paris-Nice before a heavy tumble says "I can still feel my knee and my hip a little bit, so I'm definitely not 100%. But I don't think it'll affect my performance too much".
Thomas added "We haven't spoken about specific tactics yet, but without Le Manie in the race, we're expecting it to come down to a bunch sprint so Edvald [Boasson Hagen] will probably be our strongest rider. The route suits Ben [Swift]'s style as well, so he could have a free role and give us another card to play. It's forecast rain for Sunday so that could make things more unpredictable, so we'll just have to see.
"I'd love to do a strong ride myself, and Milan–San Remo marks the start of a major block of racing for me where I'll be hoping to perform well in every race I enter. I feel like I've got the legs to do something in the next month or so, but these races are really unpredictable and you need everything to go well for you if you're going to be in the mix."
La Primavera
Also known in Italy as La Primavera, the event is one of the five Monuments of cycling alongside the Tour of Flanders, Paris-Roubaix, Liège-Bastogne-Liège and Giro di Lombarida. These pillars of cycling are the oldest and most prestigious of the one-day races.
Last year, the peloton faced heinous weather conditions that included snow and freezing temperatures, bringing several riders to tears alongside the road. Although Mother Natures isn't predicted to be as cruel this year, RCS Sport has already been dealt one weather-related blow prior to the start.
One month ago, the race organisation had to make the disappointing call to remove the ascent to Pompeiana due to irreparable road damage caused by poor weather conditions. With the exclusion of the Pompeiana climb, all fingers point to a bunch kick in Sanremo.
"History proves in the last 15-20 years up until 2008 that this is a race for the sprinters" Matt White of Orica GreenEdge
Orica-GreenEdge's Matt White explains more:  "We're going back to the old course from 2007. History proves in the last 15-20 years up until 2008 that this is a race for the sprinters. Only twice has a breakaway succeeded – when Bettini won in 2003 and Colombo in 1996. Predominantly, it's a bunch sprint on this course, and even more so if it's raining."
Organisers are facing another potential course change in the eleventh hour. Possible landslides around Sportorno have forced RCS to consider an alternative route for rider safety.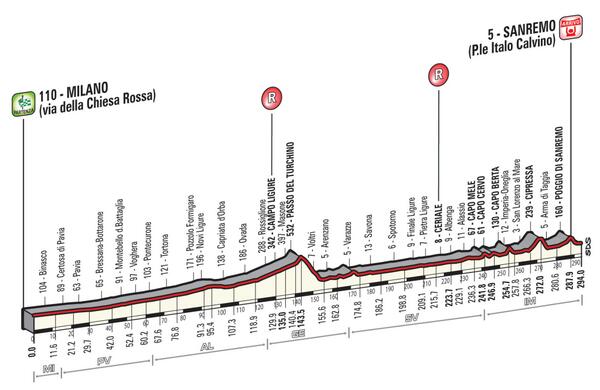 "In comparison to the removal of Pompeiana, this would be a minor change," said White. "Whatever the change is exactly, it's not going to impact the race so much as the removal of Pompeiana. The new climb will be small, not very long and a fair way from the finish."
For ORICA-GreenEDGE, Milan-Sanremo is a very special race. Simon Gerrons captured a glorious and 'monumental' win for the Australian outfit in its inaugural year.
"Our objective is to put someone on the podium," said White. "We're bringing a team that is going to be very competitive. Simon is moving along well, and we'll be leaving him for the Poggio in case there are moves similar to when he won two years ago. The rest of the guys will be supporting Michael Matthews throughout the day."
The combination of wind and rain will be the biggest factors influencing the outcome in Sanremo. Headwinds will make it harder for a break to get away. Tailwinds mean a faster race and a better chance for riders to get away.
Simon Gerrans of Orica GreenEdge.
Wet roads, particularly on the descents of the Cipressa and Poggio, could cause splits in the bunch as the more courageous riders test the mettle of the peloton down the twisty roads. It will be difficult for any team to organise a chase as the fury is unleashed in the closing kilometres.
"The prediction on race day is rain," noted White. "Rain at the start and possible rain at the final. It could be a wet Milan-Sanremo but it's going to be a lot warmer than last year – 10°C at the start and 13-14° along the coast."
"A wet Milan-Sanremo won't impact the race too much at the start, but if it's wet when they get down to the coast, it will have a big effect on how the race unfolds," continued White. "It will slow the race down a lot. The riders can only go so fast along the coast as they whiz through those small towns before there are crashes. Rain will bring a lot of guys back in the race as the race will be a lot slower."
On paper, Sanremo looks like it is the easiest race to win. In actuality, it is the hardest race to win and the easiest to lose. To win this race, a team must keep things under control from the start. Then in the final 100 kilometres, riders must be completely focused. As the race heats up on Turchino Pass, riders must be at the front not to win the race, but to ensure they don't lose it.
"San Remo is a beautiful race where almost anything is possible," says White. "With the race coming in at 300km, it's all about conservation of energy as an individual and working together as a team. And about being in the right place at the right time."
1 CIOLEK Gerald GER
2 GERDEMANN Linus GER
3 KONOVALOVAS Ignatas LTU
4 MEINTJES Louis RSA
5 SBARAGLI Kristian ITA
6 STAUFF Andreas GER
7 THOMSON Jay Robert RSA
8 VENTER Jaco RSA
ALM AG2R LA MONDIALE
11 NOCENTINI Rinaldo ITA
12 APPOLLONIO Davide ITA
13 BOUET Maxime FRA
14 CHAINEL Steve FRA
15 DOMONT Axel FRA
16 GRETSCH Patrick GER
17 MONDORY Lloyd FRA
18 MONTAGUTI Matteo ITA
AND ANDRONI GIOCATTOLI ITA
21 PELLIZOTTI Franco ITA
22 BELLETTI Manuel ITA
23 FRAPPORTI Marco ITA
24 HOOGERLAND Johnny NED
25 RODRIGUEZ Jackson VEN
26 ROSA Diego ITA
27 ZILIOLI Gianfranco ITA
28 ZORDAN Andrea ITA
AST ASTANA PRO TEAM KAZ
31 NIBALI Vincenzo ITA
32 BOZIC Borut SLO
33 GASPAROTTO Enrico ITA
34 GAVAZZI Francesco ITA
35 GRIVKO Andriy UKR
36 GUARDINI Andrea ITA
37 IGLINSKIY Maxim KAZ
38 LUTSENKO Alexey KAZ
BAR BARDIANI CSF ITA
41 BARBIN Enrico ITA
42 BATTAGLIN Enrico ITA
43 BOEM Nicola ITA
44 BONGIORNO Francesco Manuel ITA
45 CANOLA Marco ITA
46 COLBRELLI Sonny ITA
47 COLEDAN Marco ITA
48 PIRAZZI Stefano ITA
BEL BELKIN-PRO CYCLING TEAM NED
51 MOLLEMA Bauke NED
52 FLENS Rick NED
53 HIVERT Jonathan FRA
54 LEEZER Thomas NED
55 NORDHAUG Lars Petter NOR
56 TJALLINGII Maarten NED
57 VAN EMDEN Jos NED
58 WAGNER Robert GER
BMC BMC RACING TEAM USA
61 GILBERT Philippe BEL
62 HUSHOVD Thor NOR
63 PHINNEY Taylor USA
64 QUINZIATO Manuel ITA
65 SCHÄR Michael SUI
66 VAN AVERMAET Greg BEL
67 VELITS Peter SVK
68 WYSS Danilo SUI
RSA CAN CANNONDALE ITA
71 SAGAN Peter SVK
72 BODNAR Maciej POL
73 CARUSO Damiano ITA
74 DE MARCHI Alessandro ITA
75 GATTO Oscar ITA
76 MARCATO Marco ITA
77 MARANGONI Alan ITA
78 MOSER Moreno ITA
FDJ FDJ.FR FRA
81 DEMARE Arnaud FRA
82 BONNET William FRA
83 BOUCHER David BEL
84 DELAGE Mickael FRA
85 LADAGNOUS Mathieu FRA
86 LE BON Johan FRA
87 OFFREDO Yoann FRA
88 VICHOT Arthur FRA
GARMIN SHARP USA
91 BAUER Jack NZL
92 HAAS Nathan AUS
93 LANGEVELD Sebastian NED
94 MILLAR David GBR
95 NAVARDAUSKAS Ramunas LTU
96 SLAGTER Tom Jelte NED
97 VAN SUMMEREN Johan BEL
98 WEGMANN Fabian GER
IAM IAM CYCLING SUI
101 CHAVANEL Sylvain FRA
102 DENIFL Stefan AUT
103 ELMIGER Martin SUI
104 HAUSSLER Heinrich AUS
105 HINAULT Sébastien FRA
106 LÖFKVIST Thomas SWE
107 PINEAU Jérome FRA
108 SARAMOTINS Aleksejs LAT
LAMPRE – MERIDA ITA
111 POZZATO Filippo ITA
ITA 112 BONO Matteo ITA
113 CIMOLAI Davide ITA
114 FAVILLI Elia ITA
115 MODOLO Sacha ITA
116 MORI Manuele ITA
117 ULISSI Diego ITA
118 WACKERMANN Luca ITA
LOTTO BELISOL BEL
121 GREIPEL André GER
122 BAK Lars Ytting DEN
123 GALLOPIN Tony FRA
124 HANSEN Adam AUS
125 LIGTHART Pim NED
126 ROELANDTS Jurgen BEL
127 SIEBERG Marcel GER
128 VANENDERT Jelle BEL
MOVISTAR TEAM ESP
131 AMADOR BIKKAZAKOVA Andrey CRC
132 LOBATO DEL VALLE Juan Jose ESP
133 MALORI Adriano ITA
134 QUINTANA ROJAS Dayer Uberney COL
135 ROJAS GIL Jose Joaquin ESP
136 SANZ UNZUE Enrique ESP
137 SÃœTTERLIN Jasha GER
138 VENTOSO ALBERDI Francisco J. ESP
OPQ OMEGA PHARMA – QUICK-STEP
141 CAVENDISH Mark GBR
142 BAKELANDTS Jan BEL
143 KEISSE Iljo BEL
144 KWIATKOWSKI Michal POL
145 PETACCHI Alessandro ITA
146 RENSHAW Mark AUS
147 STYBAR Zdenek CZE
148 TRENTIN Matteo ITA
OGE ORICA GREENEDGE AUS
151 GERRANS Simon AUS
152 CLARKE Simon AUS
153 DURBRIDGE Luke AUS
154 HAYMAN Mathew AUS
155 IMPEY Daryl RSA
156 KEUKELEIRE Jens BEL
157 MATTHEWS Michael AUS
158 TUFT Svein CAN
EUC TEAM EUROPCAR FRA
161 ARASHIRO Yukiya JPN
162 COQUARD Bryan FRA
163 COUSIN Jerome FRA
164 HUREL Tony FRA
165 JEROME Vincent FRA
166 NAULLEAU Bryan FRA
167 PICHOT Alexandre FRA
168 THURAU Bjorn GER
GIA TEAM GIANT – SHIMANO NED
171 DEGENKOLB John GER
172 CURVERS Roy NED
173 DE KORT Koen NED
174 DEVENYNS Dries BEL
175 GESCHKE Simon GER
176 JANSE VAN RENSBURG Reinardt RSA
177 STAMSNIJDER Tom NED
178 TIMMER Albert NED
KAT TEAM KATUSHA RUS
181 KRISTOFF Alexander NOR
182 BRUTT Pavel RUS
183 GUSEV Vladimir RUS
184 KOLOBNEV Alexandr RUS
185 KUCHYNSKI Aleksandr BLR
186 PAOLINI Luca ITA
187 SMUKULIS Gatis LAT
188 VICIOSO ARCOS Angel ESP
TEAM NETAPP – ENDURA GER
191 BARTA Jan CZE
192 BENEDETTI Cesare ITA
193 CAMANO ORTUZAR Iker ESP
194 DE LA CRUZ MELGAREJO David ESP
195 DEMPSTER Zakkari AUS
196 HUZARSKI Bartosz POL
197 ROWSELL Erick GBR
198 VOSS Paul GER
SKY TEAM SKY GBR
201 BOASSON HAGEN Edvald NOR
202 CATALDO Dario ITA
203 EISEL Bernhard AUT
204 KNEES Christian GER
205 PUCCIO Salvatore ITA
206 RASCH Gabriel NOR
207 SWIFT Ben GBR
208 THOMAS Geraint GBR
TINKOFF SAXO RUS
211 BENNATI Daniele ITA
212 JUUL JENSEN Christopher DEN
213 KREUZIGER Roman CZE
214 KROON Karsten NED
215 MORKOV Michael DEN
216 ROCHE Nicholas IRL
217 SÖRENSEN Nicki DEN
218 TOSATTO Matteo ITA
TREK FACTORY RACING USA
221 CANCELLARA Fabian SUI
222 ALAFACI Eugenio ITA
223 DIDIER Laurent LUX
224 FELLINE Fabio ITA
225 JUNGELS Bob LUX
226 POPOVIYCH Yaroslav UKR
227 RAST Grégory SUI
228 ROULSTON Hayden NZL
UNITEDHEALTHCARE PRO CYCLING USA
231 BAZZANA Alessandro ITA
232 DEMAAR Marc NED
233 EUSER Lucas USA
234 FÖRSTER Robert GER
235 FRATTINI Davide ITA
236 JONES Christopher USA
237 MAASKANT Martijn NED
238 REIJNEN Kiel USA
YELLOW FLUO ITA
241 ANDRIATO Rafael BRA
242 CHICCHI Francesco ITA
243 COLLI Daniele ITA
244 FAILLI Francesco ITA
245 FINETTO Mauro ITA
246 PONZI Simone ITA
247 RABOTTINI Matteo ITA
248 TABORRE Fabio ITA
FORMER WINNERS
2013 G Ciolek
2012 S Gerrans
2011 Matthew Goss
2010 O. Freire
2009 M Cavendish
2008 F Cancellara
2007 O Freire
2006 P Pozzato
2005 A Petacchi
2004 O Freire
2003 P Bettini
2002 M Cipollini
2001 E Zabel
2000 E Zabel
1999 A Tchmil
1998 E Zabel
1997 E Zabel
1996 G. Colombo
1995 L. Jalabert
1994 Furlan
1993 M.Fondriest
1992 S Kelly
1991 C Chiappucci
1990 Beehive
1989 L Fignon
1988 L Fignon
1987 Maechler
1986 S Kelly
1985 H Kuiper
1984 F. Moser
1983 G. Saronni
1982 Gomez
1981 A. De Wolf
1980 Gavazzi
1979 R. De Vlaeminck
1978 R. De Vlaeminck
1977 Raas
1976 Merckx
1975 Merckx
1974 Gimondi 1973
R. De Vlaeminck
1972 Merckx
1971 Merckx
1970 Dancelli
1969 Merckx
1968 Altig
1967 Merckx
1966 Merckx
1965 Den Hartog
1964 Simpson
1963 J. Groussard
1962 Daems
1961 Poulidor
1960 Privat
….
---
Other Results on VeloUK (including reports containing results)

---
Other News on VeloUK