On a day of British success, Dan Mclay won stage 3 of the Tour of Normandie whilst Tom Moses held on to the leader's jersey
Tour of Normandie – Dan McLay wins, Moses Leads
Finally,a  win for Dan McLay after several near misses. Photo: tourdenormandiecycliste.fr
The day's stage of 161 km was relatively flat but it was the weather they needed to battle with strong winds, rain and snow! Three riders escaped from the getgo; Edouard Lloyest, Belgian Stef Van Zummeren and Julien Guay of Sojasun. After 50 km of racing, these three had opened up a lead of 4'20 on the Rapha led peloton.
Julien Guay was the most dangerous in the breakaway, 62nd overall, 32 seconds shy of the time for Tom Moses. Into the second half of the stage, and the gap started to come down. As the race reached the finishing circuit for three laps, two of the three were left behind and although the trio got back together at the front of the race, after 138 kilometres, the race was all together.
The yellow jersey under attack. Photo:Â tourdenormandiecycliste.fr
At the sprint prime, one of Moses closest rivals (Kung) took three seconds back and now sits just three seconds behind him on the overall. The race was full gas now and seven riders escaped with a lap and half to go including Raleigh's Ian Wilkinson but they were reeled in and the race came down to a bunch kick. In a scrappy finish, Dan McLay improved on his 5th and 3rd places with a victory whilst Yanto Barker (Raleigh) was 4th and Owain Doull 6th.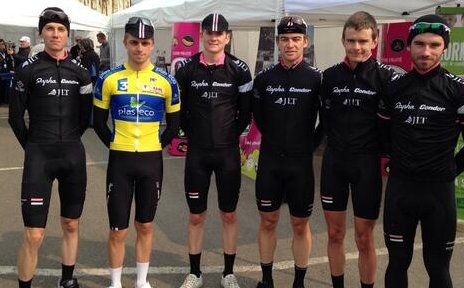 Tom Moses in Yellow with the men in black, L_R: Mike Cuming, Tom Moses, Will Stephenson, Chris Opie, Richard Handley and Felix English. Photo:Â tourdenormandiecycliste.fr
Rapha Condor JLT  Team manager John Herety was pleased with the riders performance, but suggested that perhaps a change in tactic would be the team's best option, as the race comes into the final three days.
"We've been riding on the front, and we've had no help at all from other teams. Obviously it isn't in the interest of other teams with riders on GC but we were hoping there might be a team who wanted to try to set up their sprinters for stage wins".
"The guys have done really well so far, there hasn't been any time when we have been on the ropes – but I think that with Tom losing three seconds today it is close enough on the overall to consider changing tactics".
"The Tour of Normandy is a long race, and leading it from (virtually) start to finish, riding like we are, would be a massive task for any team. We'll have a look at what we can do on stage 4, because three seconds is a bit too close for comfort at the moment."
Tom Moses continues to lead overall but now by just three seconds while Dan McLay sits in third place overall as well as leading the Points jersey competition.
Dan McLay in Green. Photo: tourdenormandiecycliste.fr
Mixed day for Team Raleigh
Yanto Barker picked up a hard-fought fourth place for Team Raleigh on Stage 3 coming home as part of a four-man group that edged four seconds clear of the rest. On the down side though, Mark Christian, who was leading the Intermediate Sprints jersey competition after Stage 2, was forced to pull out through injury and didn't start the stage.
In the bunch sprint, Matthieu Boulo was poised to deliver Alex Blain then Barker to perfectly execute a victory until he was brought down within the last 400m. Somehow Yanto was able to avoid the ensuing carnage and sprint for fourth.
Blain came home 11th followed by Kneisky in 25th and Wilkinson 27th. Boulo remounted and rolled home bloodied and bruised but ready to fight another day. Crashing within the final 3km means that Boulo achieves the same time as the main bunch and therefore retains his 13 second gap to the top of the General Classification.
Talking about Stage 3 Team Manager Cherie Pridham said, "Despite a few set backs, we still had enough men in the top places to be the top team on the road today and Boulo is still sitting 10th overall. It's still all to play for. The guys are in good spirits and we're looking forward to three hard days ahead."
The fourth stage of the race is 166km running from Domfront to Villers Bocage
Stage 3
1 MCLAY Daniel 03:52:57
2 BENFATTO Marco Continental Team Astana
3 HOELGAARD Daniel Etixx
4 BARKER Yanto Team Raleigh
5 AAEN JORGENSEN Jonas Riwal Cycling Team 00:04
6 DOULL Owain An Post – Chain Reaction
7 PFINGSTEN Christoph Cycling Team de Rijke
8 GALEYEV Vadim Continental Team Astana
9 CORBEL Erwann Bretagne РS̩ch̩ Environnement
10 HAMBROOK Sean
13 BLAIN Alexandre Team Raleigh
17 MOSES Thomas Rapha Condor JLT
24 KNEISKY Morgan Team Raleigh
27 WILKINSON Ian Team Raleigh
28 KüNG Stefan
30 WETTERHALL Alexander FireFighters Upsala CK
39 MCNALLY Mark An Post – Chain Reaction
104 HANDLEY Richard Rapha Condor JLT
111 BOULO Matthieu Team Raleigh 1:04
120 ENGLISH Felix Rapha Condor JLT 04:42
136 CUMING Michael Rapha Condor JLT 11:46
137 STEPHENSON William Rapha Condor JLT
139 OPIE Christopher Rapha Condor JLT @16.41
DNS CHRISTIAN Mark Team Raleigh –
OVERALL
1 MOSES Thomas Rapha Condor JLT 4 12:22:25
2 KüNG Stefan 00:03
3 MCLAY Daniel 00:06
4 NIKOLAEV Sergey Itera – Katusha 00:07
5 KORETZKY Cl̩ment Bretagne РS̩ch̩ Environnement
6 BOHLI Tom 00:09
7 BORGERSEN Reidar Bohlin Team Joker 00:10
8 PATOUX Cyrille 00:11
9 HOFSTEDE Lennard Rabobank Development Team 00:12
10 BOULO Matthieu Team Raleigh 00:13
---
Other Results on VeloUK (including reports containing results)

---
Other News on VeloUK