Shimano launch a brand new version of the most popular road groupset worldwide, 105.
Product News – New Version of Shimano 105
(Press Release)
The new 105 (5800 series) adopts key features of the earlier introduced race proven groupsets Dura-Ace and Ultegra and brings it to cycling enthusiasts for everyday riding.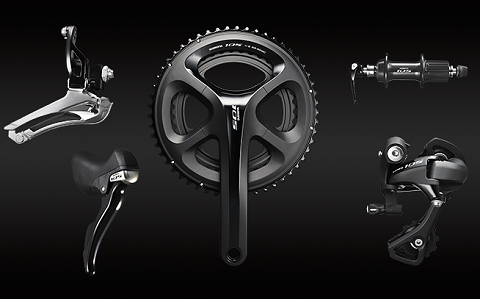 The main new features are an 11-speed drivetrain that shifts more precisely and lighter than ever with improved brake power and better control of the bike. Shimano's new 105 gives the widest range of road riders the opportunity to ride a groupset that is inspired by professional riders. Whether it is for everyday riding or longer rides & climbs at the weekend.
The new 105 groupset has an 11-speed drivetrain and has adopted several key features from Dura-Ace and Ultegra. 105 now has that same light action and defined click engagement as Dura-Ace and Ultegra thanks to the polymer coated cables and redesigned derailleurs and shift levers. This clearly shows Shimano's philosophy of system engineering.
All parts are individually designed to work together as one groupset, the shift levers have a compact grip which provides more comfort and control during a ride. The lever can be customised for different hand sizes with a 10mm screw for reach adjust. The front derailleur has a longer link arm combined with a new spring mechanism and the rear derailleur also has a new spring mechanism which provides robust adjustability.
The iconic four arm crank passed down from Dura-Ace to the new 105 gives the best power transfer and balance between stiffness and weight. It also has one bolt circle diameter for compact and traditional double chainsets which means one crankarm fits all chainring size. The chainrings are available in 34, 36, 39, 50, 52 and 53 teeth.
The 11-speed cassette provides small gear steps that optimise rhythm and cadence control and is available in: 12-25, 11-28, 11-32. The chain is treated with Shimano's SIL-TEC coating to run smoother and last longer in all conditions.
Compared to the previous 105 groupset (5700), the brake system is more efficient and 10% more powerful. This is mainly due to the new symmetrical dual-pivot brake caliper. The brakes are compatible with 28c tyres and are also available in a direct mount version (BR-5810).
The 105 groupset is available in black as well as silver and is available from June 2014.
---
Other Results on VeloUK (including reports containing results)

---
Other News on VeloUK