Team News – Omega Pharma – Quick-Step's Stijn Vandenbergh finished 4th in a four-rider breakaway that decided 259km Ronde van Vlaanderen.
Flanders – 4th dissapointing for Quickstep
With a little less than 30km to go in the race, and an elite group of about 13 riders ahead including four from OPQS, Greg Van Avermaet (BMC Racing Team) launched an attack. Vandenbergh, who was on the front covering attack after attack before that point, went with him. Niki Terpstra, Zdenek Stybar, and Tom Boonen remained behind.
That move decided to be the one that exploded the race. Vandenbergh and Van Avermaet remained ahead with the elite group struggling to close the gap behind until Fabian Cancellara (Trek Factory Racing) and Sep Vanmarcke (Belkin Pro Cycling Team), who had been isolated in the select group, decided it was time to try and bridge.
Van Avermaet did his best to try and go solo on the Paterberg, but Vandenbergh managed to get on the wheel of Cancellara and Vanmarcke when they caught him. Those three then bridged to Van Avermaet with about 10km to go in the race.
That was the group that would ultimately decide the race. Vandenbergh tried to distance his breakaway companions with 3.4km to go, but Van Avermaet stayed with him and Vanmarcke caught back on with Cancellara on his wheel. Terpstra, meanwhile, tried to bridge together with Alexander Kristoff (Katusha), and Boonen was in another chase group behind.
The four managed to stay away from Terpstra and Kristoff who had the leaders in sight within the last 500 meters. Cancellara launched his sprint and held on for the victory. Van Avermaet was 2nd, and Vanmarcke 3rd. Vandenbergh finished 4th.
Terpstra finished 6th, and Boonen followed moments later to finish 7th.
OPQS had spent much of the day on the front helping to control the race. The select group formed as the peloton passed the usually hectic Oude Kwaremont and also the Paterberg. Matteo Trentin launched an attack with Manuel Quinziato (BMC Racing Team) some kilometers before that point of the race. With three OPQS finishing in the top 10, the team moves from 6th to 1st place in the UCI WorldTour ranking with 351 points.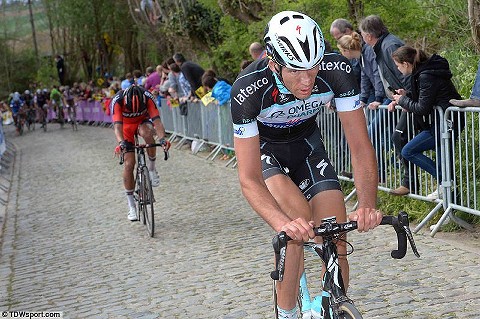 Photo: OPQS/Tim DeWaele
Vandenbergh (above)-"When Van Avermaet went, I was on the front, so the team said if someone attacked, a rider of the team has to always go with them. So, I was just the guy on the front to be able to go with him. We were able to make it to the finish."
"I did a good attack at 3 kilometers to go, but you have to also in that kind of moment be a little bit lucky that the other riders might be too busy watching each other. Unfortunately, that wasn't the case."
"But I did my best in the final with the situation I was in. I tried to go for a win and attack as best I could, but the guys with me were strong and I have to congratulate Cancellara for the victory."
Terpstra – one nervous pack the whole day
"Two hundred riders on these roads, it's one nervous pack the whole day," Terpstra said. "Luckily only Nikolas Maes crashed without major consequences, because there were a lot of crashes."
Photo: OPQS/Tim DeWaele
"I think we made it through pretty well. Stijn was really strong after the Taaienberg and then he went along with Van Avermaet. They had directly a good gap. That was good, but then we let it get a little bit out of hand. Last time on the Kwaremont, Cancellara and Vanmarcke made a really fast acceleration and then they were out front".
"We tried to catch them. On the Paterberg we were close for a moment, but then they cooperated really well. I tried to chase with Kristoff the best I could. It's a shame if you see we had three guys in the top 10, maybe we could aim for something higher, but only for one rider. I think because the team was strong I think we can have some opportunities again next week."
Boonen – tactics were right
"Looking back now, I think we made the right decision to control the race at the heart and the more technical part of the circuits, because there were a lot of crashes," Boonen said.
"There are a lot of guys going home not as happy as we are even though we didn't win the race. In the end I think we did the right thing. I think we could have done a better job if the radio was working, but we had no radio communication from the last time on the top of the new Kwaremont."
"So, maybe if we had radios, Niki waits for us and we have maybe six guys pulling behind the three guys pulling with Stijn and I think we could have come back. But I think with the shape I had right now, today, 7th is the right result. Up until 230 kilometers, I felt the way I was supposed to feel for maybe a Classic win, but with 30 kilometers to go that's where I could maybe improve."
"It was the first time I did a final after six hours this year. Normally we'd have a few more races like this, but given the circumstances this is the first time. So, maybe this is normal for the amount of racing I've had. It's one thing to train, but it's not the same as competition. You have to do these kinds of situations in the intensity of a race."
Stybar
"In the moment we had four riders it was still really difficult," Stybar said. "Stijn made the right decision to go away with Van Avermaet at that moment. He deserved to be there. He's very strong. It's difficult to predict if the race would come down to a sprint if he goes ahead with 30 or 40 kilometers to go."
"Everyone tries and you don't know with who you will be with in the breakaway and how far you will get. So it's a little bit of a lottery and luck. Ok, he couldn't finish it off, but it is what it is. As for the rest of us, we were always in good position."
"Of course then the group got bigger and bigger when riders came back. Then on the Kwaremont, Cancellara and Vanmarcke were the two strongest riders and they rode away. I couldn't follow. I saw Fabian going, but he was maybe four or five guys in front of me and at that moment. I don't know if I could have followed him when he attacked. That is just how it is. We will look ahead now to next week. "
---
Other Results on VeloUK (including reports containing results)

---
Other News on VeloUK