Riders announced for the Lincoln Grand Prix and West Common Junior Road Races on Sunday May 11th.
Startlists – Lincoln GP & Junior RR
The startlist for the riders selected for the 59th Annual Lincoln Grand Prix and the West Common Junior Road Race on Sunday May 11th has been released. The West Common and Grand Prix will be preceded by the British Cycling Go-ride events for schools and youth riders. These start at 10 am in Castle Square and are sponsored by Matrix Fitness. The Santini Lincoln Grand Prix Sportive is on Saturday May 10th and entries can still be made for this by visiting www.itpevents.co.uk
Links – Route Details for Race
Event Website – www.lincolngrandprix.org.uk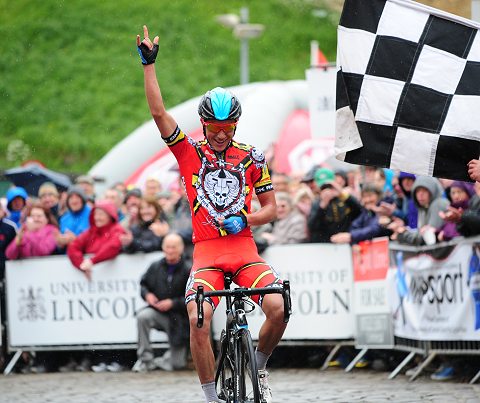 No Peter Kennaugh for 2014 as he's riding the Tour of Italy but will be back the following year for the British champs….
Lincoln Grand Prix
1 Thomas Scully Madison Genesis
2 Peter Hawkins Madison Genesis
3 Mike Northey Madison Genesis
4 Alex Peters Madison Genesis
5 Ian Bibby Madison Genesis
6 Liam Holohan Madison Genesis
7 Matthew Holmes Madison Genesis
8 Scott Davies Madison Genesis
9 Jon Mould NFTO Pro Cycling
10 Sam Williams NFTO Pro Cycling
11 Dean Downing NFTO Pro Cycling
12 Russell Downing NFTO Pro Cycling
13 Sam Harrison NFTO Pro Cycling
14 Adam Blythe NFTO Pro Cycling
15 James McCallum NFTO Pro Cycling
16 James Lowsley-Williams NFTO Pro Cycling
17 Thomas Moses Rapha Condor JLT
18 Michael Cuming Rapha Condor JLT
19 Graham Briggs Rapha Condor JLT
20 Edward Clancy MBE Rapha Condor JLT
21 Chris Opie Rapha Condor JLT
22 Edward Laverack Rapha Condor JLT
23 Evan Oliphant Team Raleigh
24 Yanto Barker Team Raleigh
25 Mark Christian Team Raleigh
26 Joseph Perrett Team Raleigh
27 Ian Wilkinson Team Raleigh
28 Alexandre Blain Team Raleigh
29 Morgan Kneisky Team Raleigh
30 Mattieu Boule Team Raleigh
31 Brad Morgan Velosure Giordana Racing Team
32 Thomas Bustard Velosure Giordana Racing Team
33 Richard Hepworth Velosure Giordana Racing Team
34 Nathan Edmondson Velosure Giordana Racing Team
35 Marcin Bialoblocki Velosure Giordana Racing Team
36 Steve Lampier Velosure Giordana Racing Team
37 Robert Partridge Velosure Giordana Racing Team
38 Matt Cronshaw Velosure Giordana Racing Team
39 Ashley Dennis Catford CC Equipe/Banks
40 Henry Latimer Catford CC Equipe/Banks
41 Lawrence Carpenter Catford CC Equipe/Banks
42 Harry Franklin Catford CC Equipe/Banks
43 James Walsby Catford CC Equipe/Banks
44 James King HARIBO Beacon Cycling Team
45 Jacob Scott HARIBO Beacon Cycling Team
46 Steven Burke HARIBO Beacon Cycling Team
47 Jake Womersley HARIBO Beacon Cycling Team
48 James Sampson HARIBO Beacon Cycling Team
49 Peter Williams HARIBO Beacon Cycling Team
50 Dan Fleeman Metaltek-Kuota Racing Team
51 Will Bjergfelt Metaltek-Kuota Racing Team
52 Dave McGowan Metaltek-Kuota Racing Team
53 Dexter Gardias Metaltek-Kuota Racing Team
54 Chris Bartlett Metaltek-Kuota Racing Team
55 Ben Stockdale Metaltek-Kuota Racing Team
56 Adam Martin Metaltek-Kuota Racing Team
57 Stephen Adams Metaltek-Kuota Racing Team
58 Jamie Caldwell Starley Primal Pro Cycling
59 David Lines Starley Primal Pro Cycling
60 Will Fox Starley Primal Pro Cycling
61 Perry Bowater Starley Primal Pro Cycling
62 James Smith Starley Primal Pro Cycling
63 Jack Pullar Starley Primal Pro Cycling
64 George Pym Starley Primal Pro Cycling
65 Harry Godding Starley Primal Pro Cycling
66 Matthew Clarke Wheelbase Altura MGD
67 Andrew Coupe Wheelbase Altura MGD
68 Simon Wilson Wheelbase Altura MGD
69 Alex Bottomley Wheelbase Altura MGD
70 Tom Barras Wheelbase Altura MGD
71 Joseph Moses Wheelbase Altura MGD
72 Stuart Reid Wheelbase Altura MGD
73 Adam Duggleby Wheelbase Altura MGD
74 Christopher Lawless 100% ME
75 Christopher Latham 100% ME
76 Oliver Wood 100% ME
77 Jacob Ragan 100% ME
78 Germain Burton 100% ME
79 Jonathan Dibben 100% ME
80 Glyndwr Griffiths Arctic Tacx RT
81 Tim Allen Arrow Cycles
82 Russell Hampton Athlonsport – Cloud Nine Telecom
83 Richard Wilkinson Audlem Cycling Club
84 Todd Hotchkiss Audlem Cycling Club
85 Michael Harrison Audlem Cycling Club
86 Alex Jones Audlem Cycling Club
87 Roger Aiken Banbridge CC (Ireland)
88 Jozef Metelka Beeline Bicycles RT
89 Nicholas Jepson Beeston RC
90 Nick Noble BH-Solidor-WAM Youth
91 Owen James BH-Solidor-WAM Youth
92 Conor Ryan BH-Solidor-WAM Youth
93 George Moore Bicicielo
94 Edward Silverton Bicicielo
95 Daniel Storey Bike Box Alan/Whiston Velo
96 Connor Swift Bike Box Alan/Whiston Velo
97 Ashley Proctor Bike Box Alan/Whiston Velo
98 Alastair Hepworth Bike Box Alan/Whiston Velo
99 Oscar Hutchings Bikeshed – UEX
100 Ashley Martin Bikeshed – UEX
101 Andrew Feather Bikeshed – UEX
102 Alexander Murison Bikeshed – UEX
103 Peter Medhurst Bikeshed – UEX
104 Sebastian Baylis Champion System/Club Roost/Maxgear
105 Dillon Byrne Champion System/Club Roost/Maxgear
106 Benjamin Kellett Champion System/Club Roost/Maxgear
107 Jordan Hargreaves Champion System/Club Roost/Maxgear
108 Stephen Smith Champion System/Club Roost/Maxgear
109 Lee Baldwin Champion System/Club Roost/Maxgear
110 Jason White Clay Cross Road Team
111 William Haynes Clay Cross Road Team
112 Russell Falder Clay Cross Road Team
113 Jonathan Shuster Team Corley Cycles
114 Matthew Gee Team Corley Cycles
115 Ian Knight Team Corley Cycles
116 Michael Smith Team Corley Cycles
117 William Goulbourne Team Corley Cycles
118 Tom Neale Team Corley Cycles
119 Hefin Price Cwmcarn Paragon Cycle Club
120 Alex Coutts Edinburgh RC
121 Robert Ward Felt-Colbornes-Hargroves RT
122 Richard Mardle Felt-Colbornes-Hargroves RT
123 Matthew Higgins Felt-Colbornes-Hargroves RT
124 Simon Holt Felt-Colbornes-Hargroves RT
125 Peter Wager Felt-Colbornes-Hargroves RT
126 Andrew Hargroves Felt-Colbornes-Hargroves RT
127 Hamish Graham Green Jersey RT
128 Kit Gilham KTM road-and-trail.com
129 Jack Adams KTM road-and-trail.com
130 Harry Tanfield KTM road-and-trail.com
131 Andrew Hawdon KTM road-and-trail.com
132 David Clarke KTM road-and-trail.com
133 Gary Hand KTM road-and-trail.com
134 Robert Adlard KTM road-and-trail.com
135 Anthony Moye KTM road-and-trail.com
136 Elliott Pike Lichfield City CC
137 Hugo Robinson Neon-Velo Cycling Team
138 Alex Minting Neon-Velo Cycling Team
139 George Wood Neon-Velo Cycling Team
140 James Jobber Neon-Velo Cycling Team
141 Joshua Green Neon-Velo Cycling Team
142 David Fletcher Orange Monkey Pro Team
142 Peter Murdoch Paisley Velo Race Team
144 Mitchell Webber Pedal Heaven Colbornes RT
145 Robert McCarthy Pedal Heaven Colbornes RT
146 Jake Martin Pedal Heaven Colbornes RT
147 Robert Moore Pedal Heaven Colbornes RT
148 David Creeggan Pedal Heaven Colbornes RT
149 Alex Paton Pedal Heaven Colbornes RT
150 Gruffudd Lewis Pedal Heaven Colbornes RT
151 Bradley Stokes Pedal Power RT
152 Peter Cocker Pedal Pushers
153 Dominic Smith Retford & District Wheelers
154 Rhys Howells Richardsons-Trek RT
155 Owen Lake Richardsons-Trek RT
156 Luke Ryan Richardsons-Trek RT
157 Lloyd Chapman Richardsons-Trek RT
158 Andrew Hastings Richardsons-Trek RT
159 Andrew Griffiths Richardsons-Trek RT
160 Scot Bullivant Rock And Road Cycles
161 George Thompson Sleaford Whls CC
162 Andrew Hale Speg – Project 51
163 Andrew Marriott Spirit Bikes Racing Team
164 Edward Clemens Spirit Bikes Racing Team
165 Mark Baines Spirit Bikes Racing Team
166 Christopher Dredge Spirit Bikes Racing Team
167 Jack Waller Spirit Bikes Racing Team
168 Steven Lawley The Racers
169 Matthew Kipling Velo29 Events
170 David Shackleton Wilsons Wheels Race Team
171 Daniel Kelley Unattached
Russell Downing going for the record at Lincoln in 2014
JUNIOR ROAD RACE
1 Robert Hogg 1st Chard Wheelers
2 Jacob Board 1st Chard Wheelers
3 Charlie Tanfield Adept Precision RT/NE Healthcare
4 Jack Mattock BH-Solidor-WAM Youth
5 Tristan Robbins BH-Solidor-WAM Youth
6 Aaron Handley Bike Box Alan/Whiston Velo
7 Jez McCann Catford CC Equipe/Banks
8 Louis Modell Catford CC Equipe/Banks
9 Luke Morgan CC Luton
10 Rian Hill Classic Racing Team
11 Elliott Reynolds Clay Cross Road Team
12 David Bolland Liverpool Mercury Dolan CC
13 Ben Chapman Team Corley Cycles
14 Nicholas Jones County Cycles Racing Team
15 Cameron Woolsey Cycle Club Ashwell
16 Jonathan Chapman Cycle Club Ashwell
17 Theo Doncaster Cycle Club Ashwell
28 Matthew Clements Cycle Lab
19 Conor Palliser East Bradford CC
20 Andy Brown Glasgow Cycle Team
21 Levi Moody HARIBO Beacon Cycling Team
22 Thomas Baylis HARIBO Beacon Cycling Team
23 Joe Evans HARIBO Beacon Cycling Team
24 James Shaw HARIBO Beacon Cycling Team
25 William Perrett Heanor Clarion CC
26 Leon Mazzone Team Isle of Man/3LC.tv/Eurocars.im
27 Matthew Bostock Team Isle of Man/3LC.tv/Eurocars.im
28 Christopher Welburn Lichfield City CC
29 Oscar Williamson Marsh Tracks Race Team
30 Ralf Hodgson Marton Race Team
31 James Ellmore Mid Shropshire Wheelers
32 Zinzan Heap Team Milton Keynes
33 Preslav Dimitrov MJS Racing
34 Joseph Wiltshire NFTO Race Club
35 Stephen Williams NFTO Race Club
36 Harrison Jones NFTO Race Club
37 Ethan Lee NFTO Race Club
38 Callum McBrearty Nottingham Clarion CC
39 Billy Harding Orange Monkey Pro Team
40 Matt Thorne Paul Milnes Cycles/Bradford Olympic
41 Karl Baillie Pedal Pushers
42 Scott Auld PH-MAS Cycling
43 Julian Varley PH-MAS Cycling
44 Max Spedding PH-MAS Cycling
45 Oliver Payton PH-MAS Cycling
46 Joseph Sutton PMR@Toachim House
47 Matthew Lansley RP Racing Team
48 Daniel Lansley RP Racing Team
49 Joseph Fry RST Racing Team
50 Joey Walker RST Racing Team
51 Nathan Draper RST Racing Team
52 Jake Poole S2 Cycles/Raleigh
53 Oliver Moors Speg – Project 51
54 Dan Gardner Speg – Project 51
55 Kieran Lindars Spirit Bikes Racing Team
56 Lewis Grieve Spokes Racing Team
57 Fraser Martin Spokes Racing Team
58 Ben Forsyth Spokes Racing Team
59 Lewis Stevens Strada-Sport
60 John Didsbury Summit Cycling
61 Ryan McGillick Summit Cycling
62 Sean McGovern Teamwallis.com
63 Jake Charlton VC Deal
64 Nathan Hereward VC Meudon
65 Matthew Gibson Velocity WD-40
66 Alexander Braybrooke Velocity WD-40
67 Fabian Brennan Velocity WD-40
68 Jack Escritt Velocity WD-40
69 Leo Lerner VO2 Development Team
70 Alistair Golby VO2 Development Team
71 Oliver Maxwell Windmill Wheels Cycling Club
72 Reece Egner Witham Wheelers Cycling Club
73 James Ireson Wolverhampton Wheelers
74 Ben Manfield Wolverhampton Wheelers
75 Gwyn Lovibond teamwallis.com
76 Harry Shackleton teamwallis.com
77 Leon Gledhill teamwallis.com
---
Other Results on VeloUK (including reports containing results)

---
Other News on VeloUK