Wayne Crombie wins the overall, Phil Giles the final stage in the Condor Cycles London 3-day over the bank holiday weekend
Report & Results – Condor Cycles London 3-day
(thanks Stuart Benstead)
Photos – Antony Edmonds. Full gallery here:Â http://aephotos.co.uk/condor3day
"I hope we've sparked peoples imagination." Luke Anderson summed up the Condor Cycles London 3-day on three London area closed circuits after the final stage at Hillingdon. He was chief judge and part of the multi-Region organising team with his mother Kim, lynchpin of the SERRL, playing a vital part in providing the transponder system.
The idea had originated between Stuart Benstead, who was the event coordinator, and Jez Cox of VeloPark where the first stage was the very first road race held at that brand new venue.
The winner of that first stage, Wayne Crombie (East London Velo) rode consistently at the head of affairs from then on to maintain his GC lead, finishing comfortably in the bunch on the final stage having done much of the work to ensure that the breakaway pair were kept down to their eventual 13 second advantage.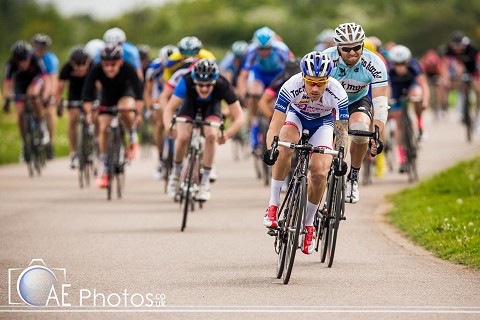 Photos – Antony Edmonds. Full gallery here:Â http://aephotos.co.uk/condor3day
Stage winner Phil Giles (Beeston CC) was happy enough to take the stage prize with a well taken sprint ahead of his companion Simon Barnes (London Dynamo) and lifting Giles up to 4th place on GC.
The experiment to find if there was a demand for a stage race held just on closed circuits proved a success with 63 entries, restricted to 2nd and 3rd cats, and catering for a complete range of ages and abilities.
Surely a star of the future must be Youth rider Matthew Webber (Catford CC/Equipe Banks) who finished 14th on GC and gained invaluable experience, dare it be claimed perhaps more than the rest of his team riding the Wiltshire Star RR. At the other end of the age range was 55 year old Paul Buckley (Thames Velo) who find the race much easier than the infamous Les Sables desert ultra marathon which he has done twice.
In fact there were a number of vets riding, with the best of them being Combie, the winner, who is a 41 year old family man with a full time job, which means not riding as many times as others. Nevertheless he enjoys his racing and when he does make an appearance he is often the winner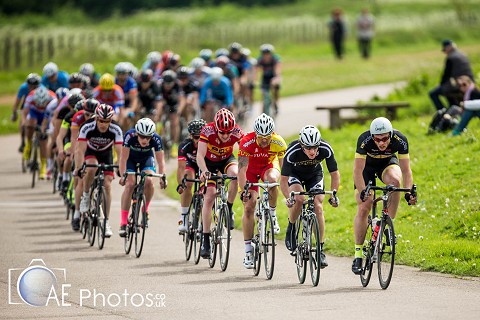 Photos – Antony Edmonds. Full gallery here:Â http://aephotos.co.uk/condor3day
As the organisers suspected, the entry attracted riders looking for a challenge, but not wanting open road racing and preferring the guaranteed safety of the wealth of closed road circuits now situated in the London region. All are agreed that it should be held again next year when this success will attract many more riders with the restrictions of an open road race.
Photos – Antony Edmonds. Full gallery here:Â http://aephotos.co.uk/condor3day
Final Overall
1st Wayne Crombie 2 East London Velo 05:42:01 00:00:00
2nd Rolandas Razgauskis 2 La Fuga 05:42:37 00:00:36
3rd James Sale 2 Pro Cycle Hire UK RT 05:42:42 00:00:41
4th Phil Giles 2 Beeston CC 05:43:24 00:01:23
5th Sam Humpheson 2 Look Mum No Hands ! 05:43:37 00:01:35
6th Ken Buckley 2 AW Cycles 05:43:43 00:01:42
7th Cameron Austin 3 Look Mum No Hands ! 05:43:50 00:01:49
8th Barry Hughes 2 Rapha Condor CC 05:43:54 00:01:53
9th Simas Raguskas 2 Private 05:44:05 00:02:04
10th Matt Holmes 2 Artic – Aircon RT 05:44:06 00:02:05
11th Peter Hitt 2 VC Meudon 05:44:09 00:02:08
12th Stoyko Boussarlov 2 Newdales cycles RT 05:44:11 00:02:10
13th Steven Griffiths 2 Pro Cycle Hire UK RT 05:44:11 00:02:10
14th Matthew Webber U16 Catford CC Equipe Banks 05:44:12 00:02:11
15th Richard Poynter 3 London Phoenix 05:44:16 00:02:15
16th Dominic Gabellini 2 Rapha Condor CC 05:44:21 00:02:20
17th Thomas Kirk 2 I- ride.co.uk 05:44:21 00:02:20
18th Sean Brennan 3 I- ride.co.uk 05:44:21 00:02:20
19th Patrick Martin 2 WyndyMilla 05:44:21 00:02:20
20th Chris Wilkinson 2 Dulwich Paragon CC 05:44:21 00:02:20
21st Barry Connelly 2 Team Milton Keynes 05:44:21 00:02:20
22nd Keith Watson 3 Adalta CC 05:44:21 00:02:20
23rd Steve Torley 3 Team Milton Keynes 05:44:21 00:02:20
24th Timothy Bailey 3 Team Milton Keynes 05:44:21 00:02:20
25th Rod Archibald 3 Adalta CC 05:44:21 00:02:20
26th Greg Moss 3 Dulwich Paragon CC 05:44:21 00:02:20
27th Laurence Manning 3 Thames Velo 05:44:21 00:02:20
28th Ian Franklin 3 Pro Cycle Hire UK RT 05:44:21 00:02:20
29th Jacob Nicholson 2 Team Bottechia UK 05:44:35 00:02:34
30th Simon Barnes 3 London Dynamo 05:45:28 00:03:27
31st Henry Peacock 3 Nuun Sigma Sport RT 05:47:11 00:05:10
32nd Aurther Tye 3 Dulwich Paragon CC 05:49:21 00:07:20
33rd Philip Pearson 3 Priavte 05:54:36 00:12:35
34th Hugo Cauvas 3 Prestige VC 05:55:17 00:13:16
35th Tom Sefton 3 RP Racing Team 05:56:43 00:14:42
36th Joshua Mitchell 2 RP Racing Team 05:56:45 00:14:44
37th Joe Skelton Look Mum No Hands 05:59:50 00:17:49
38th Vincent Christan 3 East London Velo 06:00:45 00:18:44
39th Clark Anderson 3 Thames Velo 06:01:17 00:19:16
40th Robert Mosley 3 Thames Velo 06:02:43 00:20:42
41st Paul Buckley 3 Thames Velo 06:03:40 00:21:39
42nd Gareth Dickinson 2 Farnborough & Camberly CC 06:04:02 00:22:01
43rd Paul McGrath 2 North Roads CC 06:04:07 00:22:06
44th Giles Porter 3 London Dynamo 06:08:13 00:26:12
45th David Gayler 3 Kenton RC 06:15:31 00:33:30
46th Viktor Kazinec 3 Dulwich Paragon CC 06:15:53 00:33:51
STAGE 3
1st Phil Giles 2
2nd Simon Barnes 3
3rd Matt Holmes 2
4th Simas Raguskas 2
5th Joe Skelton
6th Ken Buckley 2
7th Tom Sefton 3
8th Rolandas Razgauskis 2
9th Thomas Kirk 2
10th Gareth Dickinson 2
11th Cameron Austin 3
12th Joshua Mitchell 2
13th Stoyko Boussarlov 2
14th Barry Connelly 2
15th Richard Poynter 3
16th Dominic Gabellini 2
17th James Sale 2
18th Paul McGrath 2
19th Barry Hughes 2
20th Chris Wilkinson 2
21st Peter Hitt 2
22nd Laurence Manning 3
23rd Patrick Martin 2
24th Timothy Bailey 3
25th Henry Peacock 3
26th Wayne Crombie 2
27th Viktor Kazinec 3
28th Aurther Tye 3
29th Steve Torley 3
30th Sean Brennan 3
31st Philip Pearson 3
32nd Vincent Christan 3
33rd Matthew Webber U16
34th Giles Porter 3
35th Sam Humpheson 2
36th Keith Watson 3
37th Greg Moss 3
38th Hugo Cauvas 3
39th Rod Archibald 3
40th Ian Franklin 3
41st Steven Griffiths 2
42nd Paul Buckley 3
43rd David Gayler 3
44th Jacob Nicholson 2
45th Robert Mosley 3
46th Clark Anderson 3
---
Other Results on VeloUK (including reports containing results)

---
Other News on VeloUK