James Gullen leads a 1-2-3 for Velosure-Node4 in the John May Memorial Road Race on Sunday
Report & Result – John May Memorial
(thanks to Andy May)
Organised by Glyn Watkins and the Wakefield Cycling Club.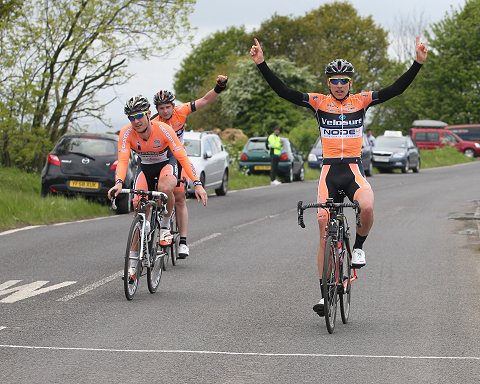 Brutal was the only word to describe the weather conditions for the 38th annual John May memorial road race. Extremely strong cross winds and intermittent heavy rain fall made the already challenging event even more difficult. Ridden over a circuit which passes through New Sharlston, Old Snydale, along Normanton bypass, through Warmfield then a sharp left onto the aptly named Hell Lane for a summit finish. Course distance is 5.75 miles, giving the 12 lap race a 69 mile total.
The combination of the circuit terrain and terrible weather made it inevitable that only the strongest riders would prevail and so it proved. After two laps together James Gullen of Velosure Giordana Pro Cycling team exploded off the front and quickly built up a 45 second lead. The main field fractured under the pressure leaving a select group of around a dozen riders trying to hold him.
These included Gullens two team mates Matt Cronshaw and Tom Bustard, together with Elite riders Michael Ashurst of Achieve- Skinnergate Racing, Alistair Rutherford of Wheelbase and double Olympian and twice National Road Race Champion John Tanner. Gullen did incredibly well to hold such a high quality chase group on his own for four laps but eventually they brought him back. However Gullen wasn't done and this time with his two team mates Cronshaw and Bustard escaped again almost immediately.
This break always looked like it would stick and so it proved. Whilst never being more than a minute ahead of the chase group, as you would expect they worked well as a team and always looked comfortable. Gullens efforts were rewarded when his compatriots sat up at the finish to let him take the much deserved victory.
Wakefield CC would like to thank the Commissaires, marshalls and all the friends and helpers without whom the race could not be run.
RACE RESULT:
1, James Gullen. Velosure Giordana Pro Cycling
2, Matt Cronshaw. Velosure Giordana Pro Cycling
3, Tom Bustard. Velosure Giordana Pro Cycling
4, Alistair Rutherford. Wheelbase
5, John Tanner. Strategic Lions RT
6, Michael Ashurst. Achieve- Skinnergate Racing
7, Matthew Robinson. All Terrain Cycles
8, Duncan Moralee. Strategic Lions RT
9, Adam Gascoigne. Pedal Power Loughborough
10, Jamie Burgan. Langsett Cycles RT
11. Ben Heatherington, Achieve CC
12. William Brown
13. Marcus Partridge, Wyndymillar
14. Alastair ay, York Cycle Works
15. Daniel Smith, TS RT
---
Other Results on VeloUK (including reports containing results)

---
Other News on VeloUK