A rider at home winning stage races or crits, Graham Briggs great form continued at Barrow with a decisive victory
News – Graham Briggs Wins Tour Series Round at Barrow
(Read the report from Barrow here)
Controversial perhaps but the very first winner of a round of the Tour Series after the DQ of Rob Hayles was a certain Graham Briggs who had escaped the field with Rob in Milton Keynes way back in 2009.
Graham again stood on the podium in 2011 as an individual winner of a round in the Series when he beat Dean Downing in Peterborough, the next venue on the list for 2014. The South Yorkshire rider won at Colchester in 2012 as well but after his stage race win in France in 2014 and some top drawer rides already this year, this season may be the year that Briggs really comes to the fore in the series.
Talking after his win, Graham explained "I didn't really have a very good round in Stoke. I was a little nervous and it was a long day and I was a little bit sore still from the Lincoln Grand Prix (where he was knocked off by a spectator). It was good to come out tonight and show the team I was still on it so I am really pleased with that."
Talking about how the move off the front came about, Graham explained "Tom Scully came to the front after about 30 minutes and having been his teammate before (Raleigh) and seen how much of a classy rider he is, and when he goes, you can't give him in an inch. So I knew I had to get his wheel when I saw him make the move".
"We were doing half a lap (500 metres) each and were both really committed to the move."
Asked if he was tempted to sit up when he could see the race coming back up to him and Scully, he replied "No, because I knew how hard we had worked and you could see the speed and power and I knew the guys coming up from behind would have had to have been trying hard too. Felix (English, a teammate) came up to us with Tennant I think and Felix put in a really good lap before Scully went again and I knew I had to go again."
"When he goes, as I said, you have to go with him and we pulled the gap out again and that time it stuck. The course showed tonight you have to be really on it in those corners and if you're not in the top 10, you tend to be chasing all day. The race was on from the off so I knew you had to be in the front to make the race so that was where I stayed."
"It is great to come to a new venue and for it to be so well supported. It is always great to race in front of a lot of people and get the victory. We went home from Stoke a little bit disappointed so to come here and take the jersey is great for the team. It is always nice to leave a round with a smile on your face instead of being disappointed".
"Good also to go into the weekend and be able to relax and enjoy it before coming to Peterborough and doing it again!"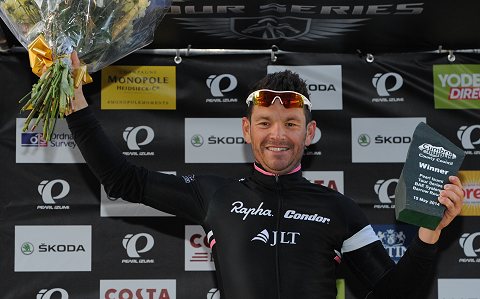 (Read the report from Barrow here)
---
Other Results on VeloUK (including reports containing results)

---
Other News on VeloUK