Raleigh's Yanto Barker says Lincoln Grand Prix victory still sinking in – biggest of this career .. probably!
Interview – Yanto Barker Wins British Monument – Report here
Photos:Â Â -Â chris@chrismaher.co.uk
Having missed this great British monument, and with no real insight into the race in the media, who better to talk to than the winner to find out what happened out on the road. The race was a test event for the nationals in 2015 and so instead of the race solely around Lincoln, the riders faced two loops of 50k and then the normal laps around Lincoln.
Three of the strongest riders were on the podium – Mike Northey, Yanto Barker and Marcin Bialoblocki … shame about the backdrop, Lincoln Cathedral is much nicer Ian!
VeloUK spoke to Yanto on Tuesday at the Stoke round of the Tour Series which he had won in 2013. Asked if the Lincoln victory had sunk in, Yanto replied no. "As my girlfriend (Nicola) will say, I have been reminding myself it was me in the photos in the evening."
"It was an absolutely epic day. The rain, the wind, the crashes, the distance, the amount of times we had to do Michaelgate after doing 100ks before we got to the circuit – it was epic. I am so proud to be able to deliver a result like that after such a hard day".
The race was memorable for many reasons like the crashes which took out many a rider. Graham Briggs for example was brought down apparently by a spectator. Up Michaelgate the riders choose to use the smoother surface of the gutters but the danger is that they are not given room by the spectators standing on the edge of that gutter and whilst the riders have got away with that for many years, in 2014, Graham Briggs was one that didn't. Perhaps a yellow line to stand behind needs to be put down to prevent it happening again!
Then there was the 'dog' incident, where Alex Blain of Raleigh, going full gas off the front, hit a decent sized dog (ie, not a small one) at speed which had just suddenly appeared out of a drive or similar, and the impact not only killled the dog but also had Blain thrown to the ground at high speed destroying his bike. Any race has its incidents but the Lincoln in 2014 was having more than its fair share and it was affecting the favourites for the victory.
 An example of how spectators can ruin a race for a rider as one puts a phone out while a rider comes up the gutter – give the riders room please!  The national champs will have more people watching and this could be a real danger point for riders.
Perhaps the incident most talked about was the one where four time winner Russell Downing (NFTO) hit a parked (escort) motorbike and broke his collarbone. He was one of a few who came down and Yanto admits it was a close call for him.
"It would have been easy to have lost the race with the crashes like the one with the motorbike. I nearly hit that one. I went round it after looking up with 20 metres to go and was thinking that wasn't the right place to be (the motorbike) and I pulled out just in time."
Yanto explained that the Escort bike stopped in the same gutter that the riders were in and then (allegedly) stalled it. "He was really in the wrong place and he should have been sounding his horn or something because visually we were all flat out at that point doing 35mph as it was all kicking off."
The opening two loops were two short wide sections joined by two longer very narrow sections and despite no Michaelgate for the first 100k, they took their toll on the legs of the riders. "The course was a narrow testing one" says Yanto. "You need to have your wits about you on that one. We did two 30 mile loops before the climb at Lincoln so we'd done 60 miles of proper smashing it and Michaelgate is a tough, proper hardcore effort of two minutes or so!"
Asked what his strategy was before the race, Yanto explained "to follow the right guys like Marcin (Bialoblocki) who has been going so well, is so consistent and has such a big engine. I have so much respect for him".
Barker on Michaelgate where he felt more at home than on the flat
"When he won the weekend before (Cycle Wiltshire GP), I was genuinely pleased because he works so hard and is so determined. When I could see he was on it again at Lincoln and pulling some massive turns, I knew it was the right place to be".
"To be in the same group as him all the way to the finish was definitely putting me in a good position. Even when (Tom) Moses was clearly the strongest on the climb. The race is 200k long and the winner is the first across the line the last time round, not the other times" Yanto said referring to how Moses was first over the finish line eight times but not the ninth.
"Age and experience comes into it" added Yanto. "In a race like that, you're burning a lot of calories so you have to keep refuelling and it can feel like you're eating too much. So I was very focused with the process and disciplined and had been going through it with Steve (Benton) and when out on my own in training. It is no different in the race, it's the process and I know exactly how much I need to eat and drink".
"I went out there and knew what I was going to do and felt confident because I had been going over the climb in front of Marcin and Northey quite regularly but it was all about the process. I knew what I was going to do, I knew what position I needed to be in, and I knew where I was going to try and accelerate".
"Not that I think I accelerated at the end LoL because my legs were completely buckled and I was literally seeing stars! I pushed myself to that sort of limit and I know the other two were doing the same. When I looked around, I was surprised there was a gap."
Tom Moses who led through the finish every time except the one that mattered and was fourth in the race where he was strongest.
"When I got to the smooth tarmac section before the cobbled finish area, I looked round, saw the gap and I knew it wasn't going to be closed down. I was able to smile and take one hand off the bars and be very very grateful of the win".
"I have been there so many times (4 top 10s) and so close. In 2005, I was away with Rus and Dean and they 1-2'd me. If I was going to pick a race to win that wasn't the nationals, this was it. You look at the names on the trophy and I am proud to be there".
"It is probably the biggest win in my career to be fair. Tour Series is always good but a Prem is 200k and that's a mans race!"
Asked to give us his report of how it all unfolded, Yanto explained "we got in a 20 man group and there was a lull in the action but we all rode through and were pretty sensible. We got to the circuit and immediately you could see it was difficult and people were going up the climb quite slow. I think it was the second time round the group went from 19 to 6. From then on, everyone rode well pulling equal turns and it was a very cohesive group".
"I was looking at who was strong and who wasn't whilst I found I was suffering more on the flat bits because of the riders I was with, than I did on the climbs where I was able to take a breather as we went up there sensibly. We didn't follow Moses every time who was the strongest. Then Mouldy got dropped with three or four laps to go and there was a group coming across with Adam Blythe who I was quite keen not to get to us with the finish he has".
"With two laps to go, Moses went for it, and I felt it was too early not that I had a choice in doing anything about it because he's extremely strong. He did a full lap on his own with around 25 seconds lead and then coming across the top on the main road on the last lap, Marcin attacked and put us all at 10 metres (daylight between the riders chasing) for a good couple of hundred metres which felt like a long time at that stage of the race".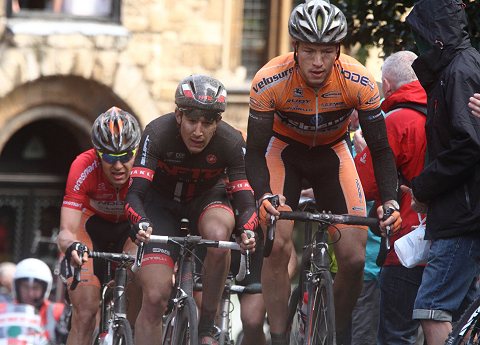 Nathan Edmonson (5th) leads Jon Mould (NFTO) and Marcin Bialoblocki on Michaelgate
"We were doing 50 -60k an hour and got back to him. He'd dropped his teammate so I think he thought I'd better ease up a bit but we were taking time out of Moses at that point who was clearly suffering."
"Then Marcin attacked again. It was the same again with us all gapped and swinging but we could see Moses clearly now. When I saw him in the feed, I knew he was definitely caught and sure enough, as we hit the bottom of the climb, we caught him. I felt a bit sorry for him because there was no coming back".
No coming back indeed as Moses lost 35 seconds on that short climb while the drag race up the cobbles saw Barker win by a single second from Mike Northey (Madison Genesis) and Marcin Bialoblocki (Velosure Giordana). Tom Moses (Rapha Condor-JLT) was 4th.
The next Lincoln Grand Prix sees the event outside of its May slot for the first time in many many years as it moves to the championship slot at the end of June. Whilst the course proved it was a tough one and will provide the event with a worthy winner, we can only hope that preventable accidents that took out the contenders in 2014, don't occur in 2015 …
Congratulations to Yanto Barker and team Raleigh. The last few years for Yanto have certainly been memorable ones and long may they continue!
---
Other Results on VeloUK (including reports containing results)

---
Other News on VeloUK