Another victory for Jason Eastwood in week 3 of the Moreton Midweek Road Race Series on May 21st
Report – Moreton Midweek Road Race 3
by Eamonn Deane – Photos here
Eastwood the Law Enforcer!
An hour and a lap of racing on the fast, flat three mile kermesse style circuit at Moreton mean's just three things. A "Thru an Off"chase, a sprint finish and Jason Eastwood wins, IT'S THE LAW! And three rounds into the twelve race series in Dorset, the law has yet to be broken.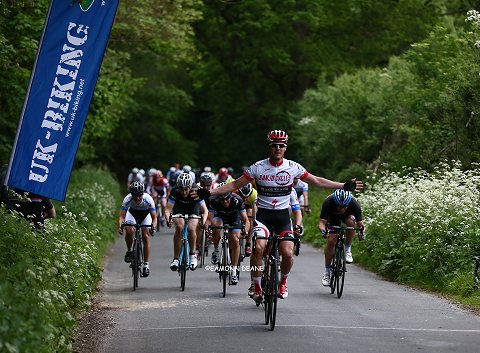 In warm calm conditions it was a fast pursuit with the scratch group averaging nearly 27mph the race was altogether with two laps remaining. Ian Legg (Banjo Cycles) had a dig but was pulled back before Eastwood enforced the law. Fair play, he is, after all a police officer. He also knows where to be when the village hall comes into view (the signal to wind up the kick) and usually gets it right, such consistency is never luck.
Steve Dring (Primera-UK BIKING) decided against his usual last lap heroics and deserved his second place. Dring is at the HQ an hour before everyone else, opening up and putting out signs. Round 3 of the Moreton race series had been moved to Wednesday to allow the village hall to be used as a polling station for the European elections, next week it reverts to its usual Thursday evening slot
1, JAY EASTWOOD (BANJO CYCLES)
2, STEVE DRING ( PRIMERA-UK-BIKING)
3, ROLAND TILLEY (RIDEBIKE.CO.UK)
4, BRETT EDBROOK (THE HUB)
5, PETE WARNER (BOURNEMOUTH JUBILEE)
6, LEWIS KEIGHTLEY (PRIMERA-UK-BIKING)
7, GARETH COBB (POOLE WHEELERS)
8,LUKE GRAY (TREK BARS)
9, VINCE AVERY (PURBECK PELOTON)
10, BARRY CLEWETT (VC ST RAPHAEL)
1STLADY
LIZZIE CAMPBEL (BOURNEMOUTH JUBILEE)
---
Other Results on VeloUK (including reports containing results)

---
Other News on VeloUK