Amy Roberts avoided a final corner crash to take victory in the Redditch Grand Prix, the fourth round of the Matrix Fitness Series
News – Amy Roberts on Women's Tour Series
Welsh rider Amy Roberts avoided a final corner crash to take victory in the Redditch Grand Prix, the fourth round of the Matrix Fitness Series, around the centre of the Worcestershire town yesterday evening.
Amy crossed the line well clear of Lydia Boylan (Velosport-Pasta Montegrappa) and Dame Sarah Storey (Pearl Izumi-Sports Tours International) after Storey's teammate Charline Joiner, and British cyclocross champion Helen Wyman (Matrix-Vulpine) came down with less than a hundred metres to go.
"I always wanted to try and do a few of the Tour Series events this year," said Roberts. "I think they're great races to do, and it's nice to get some racing in the UK! The crowds are always good and getting it televised is great for women too."
"The race went from the off with Pearl Izumi doing a lot of work which eventually rattled it down to just six of us," Roberts explained. "For me as I was on my own I knew I wouldn't have to do too much and let them do most the work, with Ciara [Horne] and Sarah [Storey] taking turns on the front I just settled down and kind of hoped it would come to a sprint between us. In the end it did and I felt pretty good and was happy with where I was going into the last corner."
"Unfortunately there was that crash on the last corner so I was able to just roll over the line," the 19-year-old added. "It was great to the win, though and I guess the conditions played into my hands as I knew there wasn't much chance in trying to sprint too early on that last corner in the wet."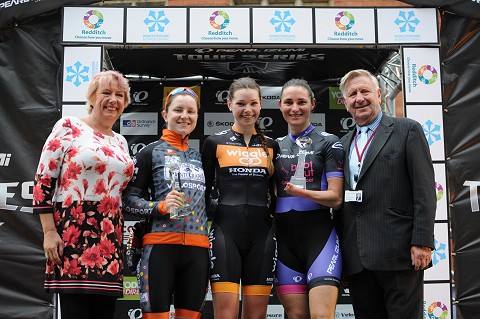 The race victory was Roberts' second in three days, after having won the Hillingdon Grand Prix on the West London cycle circuit on Sunday. On that occasion the Welsh rider won a mass bunch sprint, ahead of Harriet Owen (Matrix Fitness) and Abbie Dentus (Team De Ver).
"It was a very different race but just came to a bunch sprint and I managed to get it!" she smiled. "Hopefully I can hold on to this now and get some more results in the rest of the season."
Result Redditch Grand Prix
1. Amy Roberts (Wiggle Honda Pro Cycling)
2. Lydia Boylan (Velosport-Pasta Montegrappa)
3. Dame Sarah Storey (Pearl Izumi-Sports Tours International)
Result Hillingdon Grand Prix
1. Amy Roberts (Wiggle Honda Pro Cycling)
2. Harriet Owen (Matrix Fitness)
3. Abbie Dentus (Team De Ver)
---
Other Results on VeloUK (including reports containing results)

---
Other News on VeloUK