A dramatic last corner crash handed victory in Redditch's Round Four of the Matrix Fitness Grand Prix Series to Wiggle Honda's Amy Roberts.
Report – Matrix Fitness Series – Redditch
Roberts was in a six rider group set to contest the win, but on roads made greasy by earlier rain, Charline Joiner slid out at the last corner, taking Helen Wyman with her and disrupting the rest of the group, leaving Roberts in front of Lydia Boylan and Dame Sarah Storey.
Storey and Joiner had worked hard with teammate Ciara Horne in the front group with Series leader Eileen Roe distanced from the front mid-race in a bid to put Pearl Izumi Sports Tours International rider Joiner into the leaders jersey.

But with the pressure on, Joiner slid out, crossing the line on foot in fifth, and with Roe recovering for twelfth, the Starley Primal Pro Cycling rider kept the jersey by three points.
For Roberts it was a great victory on only her second appearance in the 2014 Matrix Fitness Grand Prix Series, riding unsupported as the only Wiggle Honda rider in the field. Roberts finished just ahead of Series regular Boylan, who recorded her first ever Matrix Fitness GP Series podium in Redditch.
Eileen Roe celebrates holding onto the leader's jersey in the series.
In third, Storey lead in a trio of teammates, first Horne and then Joiner, on foot, just ahead of Wyman who also crossed the line on foot, but consolation was the Sprints win on the night, and with it the Series lead.
Roe now leads by just three points from Joiner, with Wyman a further eleven points back. The Pearl Izumi Sports Tours International team lead the team standings by 50-points over Matrix Fitness – Vulpine.
The final round of the Matrix Fitness Grand Prix Series takes place in Woking on Tuesday 10 June, with highlights of the Redditch round shown as a part of The Pearl Izumi Tour Series highlights on ITV4 at 9pm on Wednesday 4 June.
A football casually rolls across the road seconds before the women's race is about to kick off
Sarah Storey applies the pressure which saw the front group whittled down to just six by the end.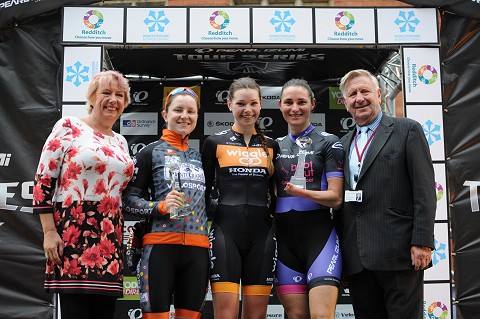 The top three, Lydia Boylan, Amy Roberts & Dame Sarah Storey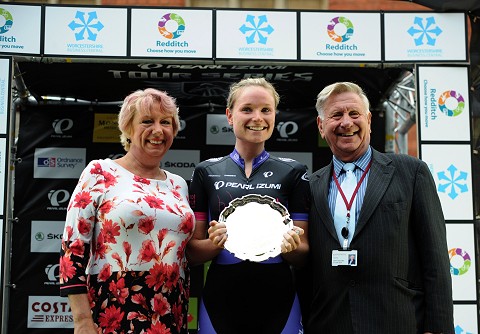 Ciara Horne got the most aggressive award
Yet again, the top team was Pearl Izumi Sports Tours International
Helen Wyman went for the points in the race and came away 'owning' the Sprint's jersey
 Helen Wyman and Eileen Roe share a joke on where Helen put herself on the start line as they were called to the line.
Matrix Fitness Grand Prix Series Tuesday 3 June 2014
Round Four, Redditch
Race Result
1) Amy Roberts, GBR, Wiggle Honda
2) Lydia Boylan, IRL, Velosport – Pasta Montegrappa
3) Dame Sarah Storey, GBR, Pearl Izumi Sports Tours International
4) Ciara Horne, GBR, Pearl Izumi Sports Tours International
5) Charline Joiner, GBR, Pearl Izumi Sports Tours International
6) Helen Wyman, GBR, Matrix Fitness – Vulpine
7) Annasley Park, GBR, RST Racing Team
8) Gabriella Shaw, GBR, Pearl Izumi Sports Tours International
9) Tamiko Butler, GBR, WyndyMilla Reynolds
10) Katie Curtis, GBR, Starley Primal Pro Cycling
Round Four Sprint Winner: Helen Wyman, GBR, Matrix Fitness – Vulpine
Round Four Team Winner: Pearl Izumi Sports Tours International
Overall Individual Standings, post-Round Four
1) Eileen Roe, GBR, Starley Primal Pro Cycling, 64pts
2) Charline Joiner, GBR, Pearl Izumi Sports Tour International, 61pts
3) Helen Wyman, GBR, Matrix Fitness – Vulpine, 50pts
4) Natalie Creswick, GBR, Team MuleBar Girl – Sigma Sport, 43pts
5) Katie Archibald, GBR, Pearl Izumi Sports Tours International, 40pts
Overall Sprint Standings, post-Round Four
1) Helen Wyman, GBR, Matrix Fitness – Vulpine, 22pts
2) Katie Archibald, GBR, Pearl Izumi Sports Tours International, 20pts
3) Eileen Roe, GBR, Starley Primal Pro Cycling, 12pts
Overall Team Standings, post-Round Four
1) Pearl Izumi Sports Tours International, 191pts
2) Matrix Fitness – Vulpine, 141pts
3) Starley Primal Pro Cycling 99pts
4) Team MuleBar Girl – Sigma Sport, 69pts
5) Velosport – Pasta Montegrappa, 55pts
6) Epic Cycles – Scott WRT, 49pts
7) RST Racing Team, 46pts
8) WyndyMilla – Reynolds, 39pts
9) GBCycles.co.uk, 3pts
---
Other Results on VeloUK (including reports containing results)

---
Other News on VeloUK