After graduating from University, Tom Stewart is proving to be a very good bike rider indeed and another from the South Yorkshire chaingang to graduate from the school of hard riding …
Spot Interview – Tom Stewart
The winner on Tuesday night in Working, Tom Stewart of Madison Genesis, said after the victory, "I'm pretty pleased to get a proper win under my belt" and 'proper' it was indeed.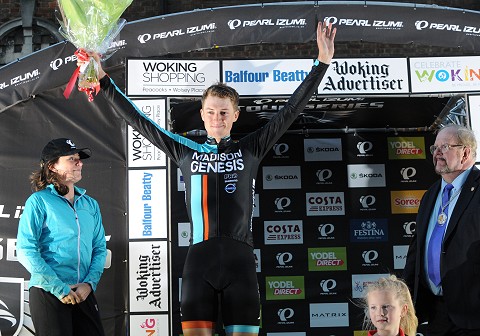 Anyone standing on the side of a barrier and seeing the race faces will know how brutal it was. Split to pieces, Tom and his team took the race to the others and whilst it was no push over with the likes of Adam Blythe (NFTO, also from the South Yorkshire chaingang), Matheiu Boulo (Raleigh) and a few others also in the mix, it was the night for Madison-Genesis and Tom in particular.
"I knew we were on to a winner tonight" Tom explained after the podium "because you could see people were struggling. I kept waiting for the other teams to come to the fore and it wasn't happening. You can tell as a rider the dynamics of a race and what is happening and that's the feeling we as a team were getting".
"I still don't consider myself a crit rider but the course suited me tonight. It was difficult and I made the race hard rather than it making it hard for me. It is a great to come into the team after not doing all the Tour Series rounds and feels great to be part of the winning team".
Tom's team manager – Roger Hammond, said of his rider's performance – "I thought Saturday's ride was very impressive but tonight the guys upped it another level. The relentless attacking on such a demanding circuit really blew the race to pieces. The fact we still had three guys in the front and the other two policing the second group just shows how well the team are riding going into the final week of the series. It was a superb team effort."
Tom competed in a high ranking UCI event in in Norway a week ago which went well for Tom and the team and since then Tom explained he's been ticking over and recovering from that and waiting for the form from that to come through. That happened in Woking!
"We all had a go tonight and you could feel that the race was difficult and some of the other riders were on the back foot. That was the time to go and we knew we had to do that. On those final laps when I was away, I realised I had a gap and panicked . I thought 'oh my god, what am I doing' but I was telling myself you don't get many of these opportunities and you just have to dig as deep as you can".
Dig deep he did as the TV pictures showed after he finished wasted from the effort but not only had he added his name to an illustrious roll of honour in former Tour Series round winners, he also earned the respect and congratulations from old friends and new ones in the cycling world.
That included a rider who a few years ago had spoken highly of Tom and his rides on the chain gang and was bowing out of the Tour Series at Woking, Dean Downing. "It was nice to see Deano after the race and be congratulated by him" Tom said. "Rus (Downing) as well. When I was on my last lap, I could hear him shouting and it was good to have my friends there tonight".
The young former Uni student is doing very well much to the delight of his sponsors who were watching in Woking and with the road season about to kick off again on Sunday with a Road Race on Jersey following the Tour Series finale on Friday, keep your eye on young Tom. A winner for sure …
---
Other Results on VeloUK (including reports containing results)

---
Other News on VeloUK