The Pearl Izumi Tour Series came to a close today in the glorious setting of Jersey as Matthieu Boulo & Tom Stewart took the individual honours whilst Madison Genesis and Rapha Condor JLT the team ones
Tour Series Jersey – RCJ & Tom Stewart Celebrate
In a sundrenched Gorey on the east coast of Jersey, Rapha Condor JLT were tonight crowned 2014 Pearl Izumi Tour Series champions.
Having led the Series since Round Two in Barrow, Rapha Condor JLT became assured of the title mathematically after the afternoon's hill climb, won by Team Raleigh's French rider Matthieu Boulo.
Such was their advantage, and after winning the afternoon's hill climb, John Herety's team could afford to come third on the night, behind round winners Madison Genesis, and lose Felix English after a lap with a broken wrist sustained in Tuesday's Woking event, and still finish 16-points clear of Madison.
There was on the night glory for Madison Genesis though, taking their second double of the week to follow their Woking success, with Tom Stewart claiming another solo individual win to help them to the night's team prize.
Stewart was part of a ten rider group who worked their way clear early on around Gorey's fast, but technical circuit. Repeated attacks from the leader's failed to stay away, until Stewart's move approaching the hour mark saw him rapidly build a 16-second advantage he would hold to the finish.
As in Woking three nights before, Node4 Velosure's George Harper led the chase, but come the final sprint along Gorey's coast road it was Morgan Kniesky edging Ed Clancy for second spot. Harper claimed fourth before fifth for Alex Paton, after another impressive ride by the Pedal Heaven Colbornes rider, and Guernsey's Tobyn Horton sixth, in what was the closest the Channel Islander gets to a home round.
Stewart's win helped Madison Genesis to their fourth team win of the 2014 Pearl Izumi Tour Series, with Node4 Velosure coming second thanks to top 10's from Harper and Rob Partridge.
Rapha Condor JLT took third on the night to finish the Series with six team wins, their best ever haul in a season, while the young Great Britain academy team were celebrating having come out on top of the three-way battle for the wooden spoon, which went, narrowly, to Pedal Heaven Colbornes, in their debut season.
The final Costa Express Fastest Lap of the year went to a Great Britain rider too, with youngster Germain Burton following up on his seventh place in the hill climb with the fastest individual race lap.
There was another Sprint win for Kristian House, but it was Jon Mould winning the green jersey, which he'd taken on the opening night in Stoke-on-Trent, by 17-points.
Earlier in the afternoon Raleigh's Boulo had taken the hill climb win above Gorey Harbour, high enough he joked afterwards that family in France would have seen his victory.
Behind Adam Blythe was runner-up, just over a second behind Boulo, with Harper, Jack Pullar and House all within five seconds of the winner in a closely fought affair.
The cumulative times gave the team win to Rapha Condor JLT ahead of Node4 Velosure and Madison Genesis, with Starley Primal unlucky to finish seventh, having placed both Pullar and long-time leader George Pym in the top nine fastest times.
The team title for Rapha Condor JLT was also momentous on several counts – the squad becomes the first to win the overall prize for a second time, following their success in 2011; John Herety becomes only the second team manager after Keith Lambert to win the title on two occasions; and Ed Clancy becomes the first rider to win the Pearl Izumi Tour Series overall in four years (2009, 2010, 2011 & 2014).
The Jersey Festival of Cycling continues with the Pearl Izumi Tour Ride coastal sportive on Saturday, before the Pearl Izumi Jersey International Road Race on Sunday morning, a 140-kilometre National A level event, which will see the professionals racing a ten-lap circuit starting and finishing in Gorey.
Highlights of the final event of the 2014 Pearl Izumi Tour Series will be shown on ITV4 at 7pm on Monday 16 June, with a repeat at 11.50am on Tuesday 17 June, and will be available on the ITV Player for 30-days after broadcast.
INTERVIEW: Talking to winner Tom Stewart here
The Pearl Izumi Tour Series
Friday 13 June 2014, Gorey, Jersey Festival of Cycling
Round Ten Criterium Team Result
1) Madison Genesis
2) Node4 Velosure
3) Rapha Condor JLT
4) Team Raleigh
5) Great Britain
6) Pedal Heaven Colbornes
7) NFTO Pro Cycling
8) Starley Primal Pro Cycling
9) Metaltek Kuota
Round Ten Criterium Individual Result
1) Tom Stewart, GBR, Madison Genesis
2) Morgan Kniesky, GBR, Team Raleigh
3) Ed Clancy, GBR, Rapha Condor JLT
4) George Harper, GBR, Node4 Velosure
5) Alex Paton, GBR, Pedal Heaven Colbornes
6) Tobyn Horton, GBR, Madison Genesis
7) Jon Mould, GBR, NFTO Pro Cycling
8) George Atkins, GBR, Team Raleigh
9) Rob Partridge, GBR, Node4 Velosure
10)Kristian House, GBR, Rapha Condor JLT
Round Ten Criterium Costa Express Fastest Lap: Germain Burton, GBR, Great Britain
Round Ten Criterium Sprint Winner: Kristian House, GBR, Rapha Condor JLT
Final Overall Team Standings, post-Round Ten
1) Rapha Condor JLT, 126pts
2) Madison Genesis, 110pts
3) Team Raleigh, 95pts
4) NFTO Pro Cycling, 84pts
5) Node4 Velosure, 81pts
6) Metaltek Kuota, 50pts
7) Great Britain, 47pts
8) Starley Primal Pro Cycling, 46pts
9) Pedal Heaven Colbornes, 45pts
Final Overall Sprint Standings, post-Round Ten
1) Jon Mould, GBR, NFTO Pro Cycling, 79pts
2) Kristian House, GBR, Rapha Condor JLT, 62pts
3) Graham Briggs, GBR, Rapha Condor JLT, 45pts
4) Tom Scully, NZL, Madison Genesis, 40pts
5) Mike Northey, NZL, Madison Genesis, 26pts
Hill Climb – Tour Series – French win in Jersey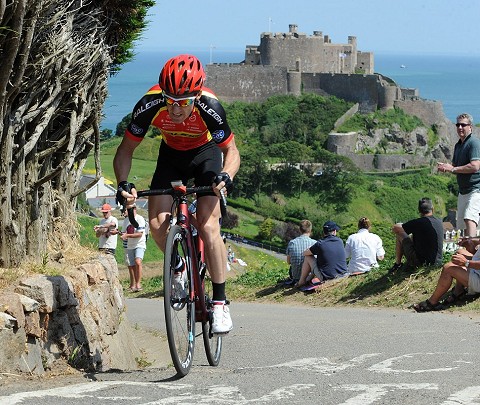 Matthieu Boulo of Raleigh was king of the castle in the Gorey Hill Climb, big ringing the hill no less!
After the Tour Series road show upped sticks and took the ferry from Weymouth yesterday to the island of jersey, the racing continued today in the home of motor racing icons Derick Warwick and Nigel Mansell.
On Friday(today), the Pearl Izumi Tour Series sees the final round in Gorey (Jersey) with a hill climb and circuit race. With Rapha Condor JLT favourites to win overall, the teams behind are all up for trying to improve there positions overall while riders will be looking to get their hands in the air in this the newest venue for the series so far.
Adam Blythe of NFTO climbs to second place
HILL CLIMB
Raleigh's Matthieu Boulo rode to victory in the Pearl Izumi Tour Series hill climb in Gorey in blisteringly hot conditions on Friday afternoon.
Boulo, riding a 53×26 and setting off third from last recorded a 3'09.62 to usurp previous leader Adam Blythe (NFTO) and take the win at the top of the Mont de la Guerande climb above Gorey.
First rider to cross the finish line atop the tough climb was Jake Ragan
Joking afterwards, the Frenchman who also won in Redditch, claimed his family would have been able to see his victory from France, albeit with binoculars!
"Ultimately it's a win for the team and getting the team that recognition. I'm in very good condition and very pleased. It' a great Series, there's always been good riders, good crowd and a great atmosphere, it's a good place to race. I'm proud of my wins. Racing's racing, it doesn't matter if I'm in France, Spain or England, I want to win!"
Thumbs up from Matthieu Boulo as he's all smiles after his second win the 2014 Tour Series.
5th for one of the pre-race favourites, Kristian House.
Ed Clancy races to the top of the climb, part of the team winning Rapha Condor JLT who have the series wrapped with a round to go.
Gritted teeth for Tom Scully of Madison Genesis as he battles with the gradient.
Another great ride by George Harper to finish 3rd in the Hill Climb.
Full results to follow…
Round Ten Hill Climb Individual Result
1) Matthieu Boulo, FRA, Team Raleigh, 3'09.62
2) Adam Blythe, GBR, NFTO Pro Cycling, 3'10.88
3) George Harper, GBR, Node Velosure, 3'11.87
4) Jack Pullar, GBR, Starley Primal Pro Cycling, 3'12.39
5) Kristian House, GBR, Rapha Condor JLT, 3'13.16
6) Jon Mould, GBR, NFTO Pro Cycling, 3'14.46
7) Germain Burton, GBR, Great Britain, 3'14.77
8) Jon Dibben, GBR, Great Britain, 3'15.60
9) George Pym, GBR, Starley Primal Pro Cycling, 3'16.78
10)Mike Northey, GBR, Madison Genesis, 3'17.55
Round Ten Hill Climb Team Result
1) Rapha Condor JLT
2) Node4 Velosure
3) Madison Genesis
The view looking across the final bend on the circuit .. probably the best backdrop of any round EVER!
Looking down on the finishing straight… one side of the course climbs up and then drops down to the sea front and the other side is flat along the sea front.
Riders in NFTO Pro Cycling including Jersey resident Greg Mansell (2nd from left) relax after a recce of the course in Gorey.
Matthieu Boulo of Team Raleigh checks out the short climb for the time trial
The style of housing is very different to most of Britain.
Graham Briggs and Ed Clancy test the legs on the climb
Riders from Pedal Heaven (Jacke Martin and Chris McNamara testing the climb out as well.
14.01pm Jake Ragan Great Britain
14.02pm Rob McCarthy Pedal Heaven Colbornes RT
14.03pm George Pym Starley Primal Pro Cycling
14.04pm Zach May Metaltek – Kuota
14.05pm Steve Lampier Node4 Velosure
14.06pm Russ Downing NFTO Pro Cycling
14.07pm Evan Oliphant Team Raleigh
14.08pm Mike Northey Madison Genesis
14.09pm Chris Opie Rapha Condor JLT
14.10pm Chris Latham Great Britain
14.11pm Alex Paton Pedal Heaven Colbornes RT
14.12pm Perry Bowater Starley Primal Pro Cycling
14.13pm David McGowan Metaltek – Kuota
14.14pm Richard Hepworth Node4 Velosure
14.15pm Greg Mansell NFTO Pro Cycling
14.16pm George Atkins Team Raleigh
14.17pm Tom Scully Madison Genesis
14.18pm Ed Clancy Rapha Condor JLT
14.19pm Chris Lawless Great Britain
14.20pm Gruff Lewis Pedal Heaven Colbornes RT
14.21pm David Lines Starley Primal Pro Cycling
14.22pm Will Bjergfelt Metaltek – Kuota
14.23pm George Harper Node4 Velosure
14.24pm James Lowsley-Williams NFTO Pro Cycling
14.25pm Morgan Kniesky Team Raleigh
14.26pm Andy Tennant Madison Genesis
14.27pm Felix English Rapha Condor JLT
14.28pm Germain Burton Great Britain
14.29pm Chris McNamara Pedal Heaven Colbornes RT
14.30pm Will Fox Starley Primal Pro Cycling
14.31pm Adam Martin Metaltek – Kuota
14.32pm Rob Partridge Node4 Velosure
14.33pm Adam Blythe NFTO Pro Cycling
14.34pm Liam Stones Team Raleigh
14.35pm Tobyn Horton Madison Genesis
14.36pm Graham Briggs Rapha Condor JLT
14.37pm Jon Dibben Great Britain
14.38pm Jake Martin Pedal Heaven Colbornes RT
14.39pm Jack Pullar Starley Primal Pro Cycling
14.40pm Dan Fleeman Metaltek – Kuota
14.41pm Marcin Bialoblocki Node4 Velosure
14.42pm Jon Mould NFTO Pro Cycling
14.43pm Matthieu Boulo Team Raleigh
14.44pm Tom Stewart Madison Genesis
14.45pm Kristian House Rapha Condor JLT
---
Other Results on VeloUK (including reports containing results)

---
Other News on VeloUK