Adam Blythe (NFTO) solos in to win the Pearl Izumi Jersey International Road race in Gorey
Result – Jersey International RR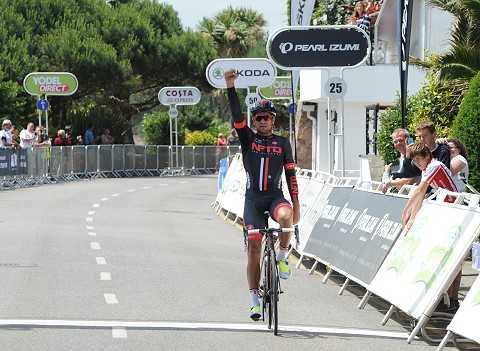 Adam Blythe (NFTO) wins his first big race for his team in 2014 fourteen seconds clear of Steve Lampier who out sprinted James McLaughlin.
Having gone close in Friday afternoon's Pearl Izumi Tour Series hill climb, Adam Blythe finally stood on the top step of a Pearl Izumi podium in Jersey on Sunday lunchtime.
The NFTO Pro Cycling rider launched a last lap attack in the final five kilometres of the Pearl Izumi Jersey International Road Race, part of the Jersey Festival of Cycling, to take victory by 14-seconds from breakaway colleagues Steve Lampier and James McLaughlin, the latter riding for a Channel Islands composite team.
Adam Blythe leads the five leaders through the KoM point. The group escaped on the first of 10 laps of the race on the same climb and the riders in that break filled the first places on the result sheet below.
The trio, plus Ian Bibby and Yanto Barker had been at the head of the race since the opening lap, in a move instigated by the latter on the first ascent of St Catherine's Hill, midway around the 14-kilometre loop.
The five worked well together to stay clear of a fractured peloton, with a group of ten riders, eventually led in by Marcin Bialoblocki providing their own real opposition, but one which faded over the final two laps of the Jersey circuit.
With Bibby and Barker tailed off on the penultimate tour, a cramping Lampier and McLaughlin had no answer to Blythe's attack, with the NFTO rider having been to the fore of the break throughout.
Consolation for third placed McLaughlin, who rides for the French Guidon Chalettois team was the day's King of the Mountains prize, for amassing the most points over the St Catherine's Hill climb, which the race tackled on each of its ten laps.
The top 3 – James McLaughlin (3rd), Adam Blythe and Steve Lampier (2nd)
Adam Blythe enjoys holding aloft the winners bouquet for his team NFTO.
King of the Mountains was James McLaughlin  who was presented with his flowers by race director Mick Bennett
The break cruises through the finish by the bay in Gorey, Jersey.
Ed Clancy leads a chase group past the Castle at Gorey, Jersey
It's Jersey so we have to have some Jersey cows in the picture!
The sprint for 8th won by Gruff Lewis
Steve Lampier showing great road race for in getting second
Chris Opie leads the peloton through the finish with two to go.
Winner on Friday night, Tom Stewart (Madison Genesis) strings them out on the climb.
RESULT
1. Adam Blythe, (NFTO Pro Cycling)
2. Steve Lampier, Node 4 Velosure @ 14 seconds
3. James McLaughlin, Island Composite @ st
4. Ian Bibby, Madison Genesis @ 50 seconds
5. Yanto Barker, Raleigh @1.10
6. Marcin Bialoblocki, Node 4 Velosure @2.06
7. Tom Scully, Madison Genesis 2.26
8. Gruff Lewis, Pedal Heaven @3.10
9. Mike Northey, Madison Genesis
10. Evan Oliphant, Raleigh
11. Rob Partridge, Node 4 Velosure
12. Matthieu Boulo, Raleigh @3.15
13. Rhys Lloyd, Metaltek Kuota @3.45
14. Jon Mould, NFTO @6.35
15. Ed Clancy, Rapha Condor Sharp
16. Tom Stewart, Madison Genesis @6.45
17. George Harper, Node 4 Velosure @6.48
18. Will Bjergfelt, Metaltek Kuota @6.53
19. Chris Latham, Great Britain
20. Richard Hepworth, Node4 Velosure
21. Tobyn Horton, Madison Genesis
22. Rob McCarthy, Pedal Heaven
23. Gregg Mansell, NFTO
24. George Pym, Starley Primal
25. Chris Spence, Island Composite
26. Morgan Kniesky, Raleigh
27. Jon Dibben, Great Britain
28. Chris Opie, Rapha Condor JLT
29. Zach May, Metaltek Kuota
30. Hefin Price, Starley Primal
31. Michael Serafin, Island Composite
32. Alex Paton, Pedal Heaven
33. Richard Tanguy, Island Composite
34. Andy Tennant, Madison Genesis
35. Sam Harrison, NFTO
36. Danny Lowthorpe, Island Composite
37. Russ Downing, NFTO
38. Chris McNamara, Pedal Heaven
39. Dave Cregan, Pedal Heaven
40. Rob Orr, Metaltek Kuota
41. Matthew Osboure, Island Composite
---
Other Results on VeloUK (including reports containing results)

---
Other News on VeloUK