In the championship for the full time workers, Matt Bottrill was a clear winner in Wales on Thursday
Interview – Matt Bottrill
NOTE: Send your results as well as club, team & event news here
The first of the full time riders with a family as well was British hero Matt Bottrill. The Drag2Zero rider came into the event breaking course records and doing 47 minute 25's and was a dark horse for a medal against the full time World Tour riders.
On the climb in the dark and the rain and a crowd too
Unfortunately the course was against him and so was the depth of talent in the strongest TT Championship for a long time if ever. After the chaos of the podium presentation and the result sheet had been picked up from the press centre, it was time to head back to the battle bus. Still there in the motorhome brought to the race for Matt by Ian Goodhew, was Matt and his team of supporters.
Peter Lavine waved me over and I sat down with Matt and we spoke about his ride. "I was pleased with what I did and I can honestly say I could not have gone any better than I did" he said relaxed and happy.
"Power wise I did better than last years when I got the silver medal. I knew what I was coming into today. I prepared for this and expected to get a bit of rain but it was the same for everybody".
Matt with friend and helper Peter
"After we'd come here to do the recce (in April with organiser Bill Owen), I knew what gearing to have but still I didn't have a small enough gear. The support on the climb though was phenomenal; out of this world. I paced it well and whoever beat me today, it just proved how good they are".
Matt is a big fan of the power metre but in the race he said, you couldn't ride the race to numbers. "I think it would have been the same for everyone. Because it was getting dark, you couldn't see the power metre and it was hard to concentrate on them anyway because the course was that technical. When you have ridden as long as I have, you know how it's all going".
For us fans of Matt, we were all willing him to a great ride, and seeing Wiggins starting two minutes behind him, we didn't want to see the catch but there near the end of the first lap, the catch was made. They were approaching the bridge and Matt came through first and then, relaxed and freewheeling even, was Wiggins.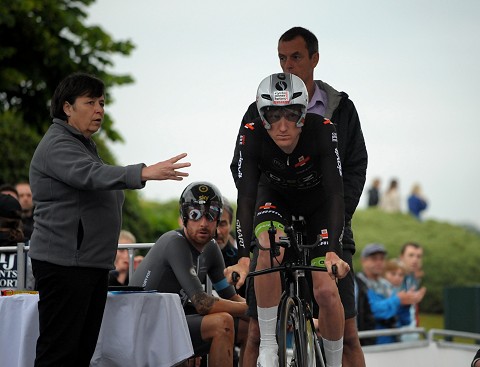 With Wiggins watching, Matt Bottrill watches the clock. not the fingers!
Asked about that moment, Matt explained "That was phenomenal. To see someone come by you when you are going fast yourself, and to make you look like you're standing still, it was an amazing ride by him".
"It is disheartening in a way but when I catch people, I'll know how it feels. You're on the rivet so there is nothing you can do and he is the best in the world. Yates came and seen me after and said I'd done a great ride adding 'but you have to remember how good Bradley is' (Sean Yates was the DS with Bradley when he won the Tour)."
The end margin was over 4 minutes and this to a rider in the form of his life but Matt explained how although Bradley is probably the same weight as him, he was going up the hill with 100 watts more power to play with!
Matt went on to say "this year has been phenomenal and there is nothing I can say I could do differently. I am doing everything I possibly can with the time I have".
With a big crowd watching, Matt Bottrill sets off on his quest for a podium
The day didn't start well. I'd already seen some of the women, far far less experienced than Matt in setting up a TT bike be told, they had to start chopping things off the bike to make it fit the UCI rig. And for Matt, he too had bad news despite having done his best to make sure the bike was legal.
"That was a nightmare to start with. I got a brand new bike from Giant that I wasn't allowed to ride due to some UCI regulation. I still don't understand it. I came here with the blue Giant and it's a small frame and the regulation is something to do with the handlebars being lower; they were 5mm out or something".
"I've not seen that regulation despite going through everything. So that was a bit disheartening at the start. It didn't effect my ride as I had a spare bike (his red Giant) but gutting I couldn't use the bike I'd prepared to use".
Slippery when wet
Whilst the majority of the riders in the early events had a dry course, the men had to deal with a wet one. "In places it was really dicey and Ian (Goodhew) was good following me and putting main beam on going through the forest (pretty dark there!). The worst part was before the Manor, coming through the bends there. That was really dicey".
"I wasn't used to having the closed road either. The pros are used to having all the road but there were places I could have made more time but the hardest bit though was the hill. I remember when I was doing the road, it gives you that much more strength and you can't compete against that. I haven't got the power and I'm getting near to 40 now where you start to lose that top end".
Ahead – man at work
What next for Matt I asked? "I have to prepare for the 25 next as I think that is something that is missing off my CV. It is a hilly but nothing like this so will be more to my liking".
Asked if he was retiring to pursue other sports like Triathlon etc after this season, Matt replied "no, I love it too much!"
"I want to go into coaching though. Eventually, I'd like to have my business doing coaching. Just proving you don't need to be a full time rider to win races. You can do a lot on limited training and I want to pass on my knowlegde to other people."
"I am so passionate about the sport, it would be good to do something I really love".
In the meantime, as Bradley heads for the track for training and Geraint Thomas the Tour de France, Matt heads to work as a postman. He did himself and the sport here proud though and races on Saturday again in a domestic time trial … tester and proud.
Send your results as well as club, team & event news here
---
Other Results on VeloUK (including reports containing results)

---
Other News on VeloUK