Peter Kennaugh and Laura Trott took the road race titles at today's British Road Race Championships in Monmouthshire.
Report – British Road Race Champs
Peter Kennaugh and Laura Trott took the road race titles at today's British Road Race Championships in Monmouthshire.
REPORT 
Team Sky's Peter Kennaugh took an unlikely sprint win against teammate Ben Swift to become the 2014 British road champion in Abergavenny.
Kennaugh, who attacked Swift repeatedly on the final two laps of a seven kilometre circuit, could not shake the well-known sprinter. Swift stuck to the back wheel of Kennaugh on each attack seemingly consigning the Manxman to second place. However, Kennaugh took the sprint win against the odds, after the race expressing his surprise at the end result.
Commenting after the race, a delighted Peter Kennaugh said: "It's an amazing feeling. On the last lap it was hard to race against such a good mate. He sat on for most of the last lap, and I thought it was game over. But I knew the last 200 metres was downhill and I thought I had a chance. I couldn't believe I won it"!
"I've done so many training sprints with Swifty and he leaves me behind every time, but today was my day! I've been so close to this title for so many years, this has to be a really special result for me!"
Simon Yates finished third after he was worked over by a Team Sky quartet that originally made up the race-defining break of the day. Ed Laverack of Rapha Condor JLT took the under-23 men's title ahead of the Zappi's Racing Team duo of Daniel Pearson (silver) and Dante Carpenter (bronze).
A race full of stars but sadly no Wiggins or Cavendish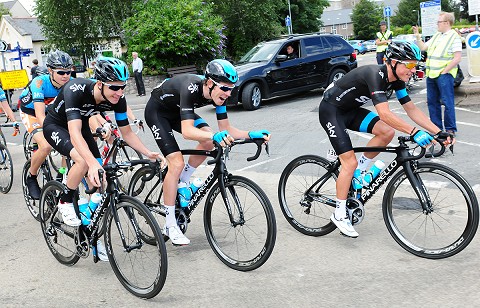 Little playing around in neutralised zone as Peter Kennaugh gets close to the lead car bumper with Luke Rowe and Joshua Edmondson.
'Tank' Lewis the first attacker out of Abergavenny
But the first key move was this by Luke Rowe, Jon Mould and Tobyn Horton and they opened up a big gap whilst behind there was a little sort out!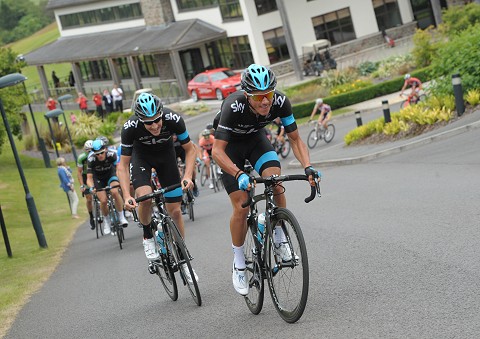 Fireworks from Peter Kennaugh as he steps on the pedals hard and puts the rest in a big hurt locker at Celtic Manor and THAT climb.
Four riders went clear led here by Simon Yates, Scott Davies (Madison Genesis), Alex Peters (Madison Genesis) and Kennaugh.
But Alex Peters packed up spectacularly and race over.
The front chase group got bigger as Luke Rowe and co led still
The selection at the front continued to evolve until Rowe and co were caught and the winning break was formed. From this, Mike Cuming was dropped, Scott Davies legs ran out near Abergavenny and then there was a big bun fight on the finishing circuit!
It was then a fight between the two Yates brothers, four Sky riders and Raleigh's Mark Christian who had punctured and got back on after a long chase which was no doubt costly.
Geraint Thomas stuck in the chase group went off in pursuit of the leaders and chopped off 23 seconds of the front groups lead before running out of legs.
The working over of the Yates brothers and Christian then began with an attack by Luke Rowe.
Simon Yates was soon marooned against four Sky riders! Adam Yates explained later he'd had a break after his great ride at Dauphine and wasn't feeling 100 per cent.
Joshua Edmondson was the next Sky rider to have a go …
And finally it was Peter Kennaugh who broke Simon Yates with this attack with Ben Swift crossing the gap to put two from Sky in the lead.
Kennaugh then tried to break Swift on the final lap several times but the Yorkshire rider wasn't giving an inch.
Who's a happy boy! Peter Kennaugh uses his experience  to win the sprint against Swifty
Not the sort of a podium shot I prefer as the Under 23 riders decided to have champers free for all before the podium photo when the other way round would have been better. Boys will be boys though LoL!
WOMEN'S RACE
In the women's race, Laura Trott (Wiggle Honda) chased down and outsprinted defending champion Lizzie Armitstead (Boels Dolmans) to take the title.
With five kilometres to go of the 101km race, it looked like Armitstead would defend her title as she rode with a ten-second lead established on the first of four laps of the eight-kilometre finishing circuit. However, a concerted chase in the closing stages meant 22-year-old Trott and teammate Dani King regained contact with Armitstead and would have a chance to sprint for the win.
Double Olympic champion Trott, guided expertly by King, proved strongest to deny Armitstead who had tried throughout the race to avoid a sprint – first attacking to form the 13-strong lead group and again, in the closing stages, trying to win solo.
Speaking after the race, an emotional Laura Trott commented: "It's such an amazing feeling, it's up there with winning a world championships for me".
The start at 9am in Abergavenny
"I was really disappointed (after Thursday's time trial), I felt I had a lot more form than what the time suggested and I know the course didn't suit me with the hill at the finish but I don't understand why my time wasn't good enough.
"So to come here today, I was so, so up for it. I woke up this morning and I was like 'don't even speak to me'. It was really early, I was so in the zone, I just wanted to get out and get it done."
Trott's victory also earned her the title of under-23 champion for the second year in succession. Her track team pursuit teammates  picked up silver and bronze respectively.
Joanna Rowsell on the move early on in the race on the way to Usk.
Sarah Storey was active all race as well and later on would get dropped, fight back on and then attack again!
Emma Pooley, Time Trial winner, was very active as well and if not attacking, dragging along the rapidly diminishing front group.
Going through Monmouth old town showed just what a pretty town it is.
There was also a lot of climbing to be done and Lizzie Armitstead went on the attack over and over.
Those that know Sarah with a hand disability, taking a bottle like this at speed is impressive!
Finishing circuit and Lizzie Armitstead said goodbye to the rest but could not open a big enough gap to seal her much wanted victory
And with half a lap to go, this happened, Dani King could see the gap coming down so attacks to bridge across which she did but so did Laura Trott who won the race.
Lizzie Armitstead (3rd), Laura  Trott (1st) and Dani King (2nd)
Katie Archibald, Laura Trott and Elinor Barker were the top three in the Under 23.
MENS
1 Peter Kennaugh Team Sky 04:25:01
2 Ben Swift Team Sky same time
3 Simon Yates Orica-GreenEDGE 01:09
4 Luke Rowe Team Sky 01:38
5 Joshua Edmondson Team Sky 04:01
6 Adam Yates Orica-GreenEDGE 04:39
7 Robert Partridge Velosure – Giordana RT 05:43
8 Geraint Thomas MBE Team Sky same time
9 Thomas Stewart Madison Genesis same time
10 James McLaughlin Team Sojasun ACNC same time
11 Liam Holohan Madison Genesis 05:45
12 Steve Lampier Velosure – Giordana RT 05:50
13 Edward Laverack Rapha Condor JLT 05:53
14 Dan Fleeman Metaltek KUOTA RT 05:54
15 Mark Christian Team Raleigh 06:07
16 Daniel Pearson Zappi's Racing Team 08:46
17 Dante Carpenter Zappi's Racing Team same time
18 Kristian House Rapha Condor JLT 08:49
19 Richard Handley Rapha Condor JLT 08:51
WOMENS
1 Laura Trott Wiggle Honda U23 02:44:58
2 Danielle King Wiggle Honda same time
3 Elizabeth Armitstead Boels Dolmans Cycling Team same time
4 Emma Pooley VC Norwich 2
5 Sharon Laws Unitedhealthcare Professional C 4
6 Katie Archibald Pearl Izumi Sports Tours Intern U23 01:10
7 Dame Sarah Storey Pearl Izumi Sports Tours Intern 01:33
8 Elinor Barker Wiggle Honda U23 01:35
9 Hannah Barnes Unitedhealthcare Professional C U23 05:33
10 Nicola Juniper Team Echelon – Rotor same time
11 Jessie Walker Matrix Fitness – Vulpine U23 same time
12 Gemma Neill British Cycling PM same time
13 Nikki Harris Young Telenet Fidea Cycling Tea 05:39
14 Anna Christian Epic Cycles – Scott WRT U23 05:46
15 Eileen Roe Starley Primal Pro Cycling 06:11
16 Amy Roberts Wiggle Honda U23 same time
17 Joanna Rowsell Wiggle Honda 06:12
18 Lucy Coldwell Velosport – Pasta Montegrappa 06:15
19 Louise Mahe Team Mulebar Girl – Sigma Sport same time
20 Hannah Walker Epic Cycles – Scott WRT U23 same time
21 Annabel Fisher Bonito Squadra Corse same time
22 Charline Joiner Pearl Izumi Sports Tours Intern same time
23 Lauryn Therin Bonito Squadra Corse same time
24 Penny Rowson Matrix Fitness – Vulpine U23 same time
25 Lucy Garner Giant Shimano U23 same time
26 Anne Ewing WV Breda same time
27 Alice Cobb Squadra Donne U23 same time
28 Alexie Shaw Epic Cycles – Scott WRT same time
29 Jane Barr Velocity 44 Stirling same time
30 Rebecca Womersley WyndyMilla – Reynolds U23 same time
31 Laura Greenhalgh Twickenham CC same time
32 Lowri Devey Abergavenny Road Club same time
33 Emma Grant Tibco / To The Top same time
34 Julie Erskine Velosport – Pasta Montegrappa same time
35 Tamina Oliver Endura Lady Force – WV Zeeuws V 06:22
36 Dani Christmas Speg – Project 51 same time
37 Elizabeth Malins Fusion RT Gearclub Bike Science 06:25
38 Laura Massey Epic Cycles – Scott WRT same time
39 Rebecca Rimmington Merlin Cycles same time
40 Jo Tindley Matrix Fitness – Vulpine 06:28
41 Maryka Sennema Kingston Whls CC same time
42 Corrine Hall Matrix Fitness – Vulpine 06:30
43 Joanne Blakeley GB Cycles.co.uk 08:57
FORMER WINNERS
2013
Women: Lizzie Armitstead
Under 23: Laura Trott
Men: Mark Cavendish
Under 23: Simon Yates
2012
Women: Sharon Laws
Under 23: Katie Colclough
Men: Ian Stannard
Under 23: Mike Cuming
2011
Women: Lizzie Armitstead
Under 23: Laura Trott
Men: Bradley Wiggins
Under 23: Scott Thwaites
2010
Women: Emma Pooley
Under 23: Lizzie Armitstead
Men: Geraint Thomas
Under 23: Andrew Fenn
2009
Women: Nicole Cooke
Under 23: Lizzie Armitstead
Men: Kristian House
Under 23: Peter Kennaugh
2008
Women: Nicole Cooke
Under 23: Joanna Rowsell
Men: Rob Hayles
Under 23: Peter Kennaugh
2007
Women: Nicole Cooke
Under 23: Nikki Harris
Men: David Millar
Under 23: Rob Partridge
2006
Women: Nicole Cooke
Men: Hamish Haynes
Under 23: Peter Bissell
2005
Women: Nicole Cooke
Men: Russell Downing
Under 23: Ben Greenwood
2004
Women: Nicole Cooke
Men: Roger Hammond
Under 23: Dan Fleeman
2003
Women: Nicole Cooke
Men: Roger Hammond
Under 23: Keiran Page
2002
Women: Nicole Cooke
Men: Julian Winn
Under 23: Jamie Alberts
2001
Women: Nicole Cooke
Men: Jeremy Hunt
Under 23: James Shaw
2000
Women: Ceris Gilfillan
Men: John Tanner
Under 23: Neil Swithenbank
1999
Women: Nicole Cook
Men: John Tanner
Under 23: Charly Wegelius
1998
Women: Megan Hughes
Men: Matt Stephens
Under 23: Richard Hobby
1997
Women: Maria Lawrence
Men: Jeremy Hunt
Under 23: Huw Pritchard
1996
Women: Maria Lawrence
Men: Dave Rand
Under 23: Paul Manning
MORE INFO HERE ON PAST WINNERS:
1990-1999 – click here
1980-1989 – click here 
1970-1979 – click here 
1960-1969 – click here
1950-1959 – click here
1938-1949 – click here
Send your results as well as club, team & event news here
---
Other Results on VeloUK (including reports containing results)

---
Other News on VeloUK