Elieen Roe & Adam Blythe are the 2014 Circuit Race Champions after two very attacking races in Hull on Wednesday night.
2014 Circuit Race Championships
NOTE: Send your results as well as club, team & event news here
Mens Championship Podium – Graham Briggs (3rd), Adam Blythe & Chris Opie (2nd)
Womens Championship – Charline Joiner, Elieen Roe and Amy Roberts
On a flowing course in the centre of Hull, Eileen Roe timed her effort to perfection with a late attack and held on to win the Women's title from a hard chasing Amy Roberts. In the Men's race, like the Women's event, there was a lot of attacking which saw the big field start shrinking from lap 1 and with 10 to go, three riders got away.
Adam Duggleby (Wheelbase), Chris Opie (Rapha Condor JLT) and a rider winning a lot lately, Adam Blythe (NFTO Pro Cycling). The trio never had more than a handful of seconds but kept the pressure on until the gap started to open up a bit and soon it was down to two leaders as Duggleby was distanced.
The two leaders never had the luxury of any cat and mouse and with both being very fine sprinters, it was impossible to predict who would get the victory. Opie, on the way back form injury but in great form and Adam Blythe, winner at Otley a week ago and before that the Jersey Int. Road Race.
As they came into view, a good crowd cheering them on to the line, it was a close battle but with 20 metres to go, Blythe started to edge clear and had time to do what he's been wanting to do all season, get those hands in the air. Champion!
Photo: The Women's race gets under way next to the city's town hall.
Photo: The Matrix Fitness plan was to make it hard and this they did with plenty of attacking – this is Jo Tindly having a dig.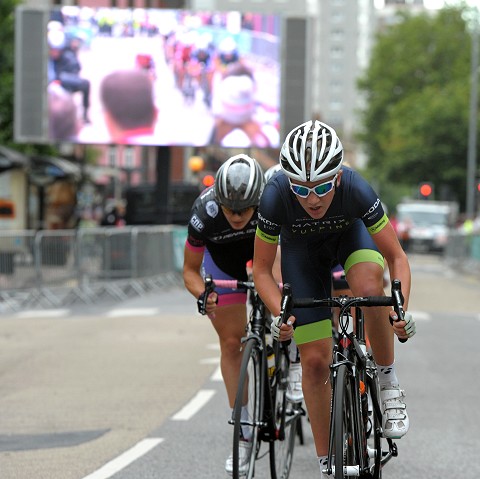 Photo: And Jessie Walker too was very active in the race at the front and off it as well.
Photo: Elieen Roe as jubilant as ever in victory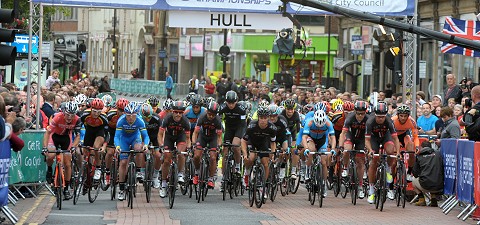 Photo: A good sized field for the mens race which was soon losing riders not just to attacks but crashes and punctures.
Photo: Defending champion Russell Downing on the move at the front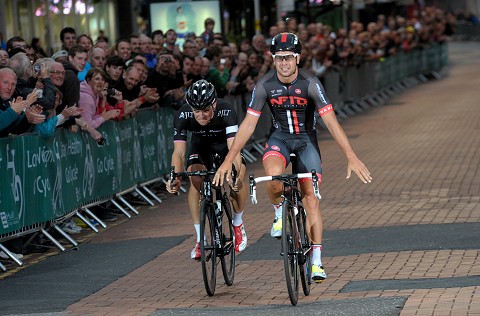 Photo: Adam Blythe raises his hands after a hard fought sprint with Chris Opie
Live Photos (57 pics)
MENS RESULT
1 Adam Blythe NFTO 59:12:00
2 Chris Opie Rapha Condor JLT st
3 Graham Briggs Rapha Condor JLT @0:10
4 Kristian House Rapha Condor JLT st
5 Dean Downing NFTO st
6 James McCallum NFTO st
7 Dale Appleby NFTO st
8 Matt Cronshaw Velosure – Giordana RT st
9 George Atkins Team Raleigh st
10 Peter Williams HARIBO Beacon Cycling Team st
11 David McGowan Metaltek KUOTA RT st
12 Andrew Hawdon KTM road-and-trail.com st
13 Will Fox Starley Primal Pro Cycling st
14 Thomas Stewart Madison Genesis st
15 Russell Downing NFTO st
16 George Harper Velosure – Giordana RT st
17 Evan Oliphant Team Raleigh st
18 Adam Duggleby Wheelbase Altura MGD st
19 Ian Wilkinson Team Raleigh st
20 Jake Womersley HARIBO Beacon Cycling Team st
21 Mark Christian Team Raleigh st
22 Tobyn Horton Madison Genesis @1:00
23 AdamMartinMetaltek KUOTA RTÂ @1:24
24 Sam Williams NFTO st
25 Robert Partridge Velosure – Giordana RT st
26 William Bjergfelt Metaltek KUOTA RT
27 Stuart Reid Wheelbase Altura MGD
28 James King HARIBO Beacon Cycling Team
29 Tom Barras Wheelbase Altura MGD
30 Tom Murray Wheelbase Altura MGD
31 David Shackleton Wilsons Wheels Race Team
32 David Lines Starley Primal Pro Cycling
33 Jonathan Shuster Team Corley Cycles
34 Edward Laverack Rapha Condor JLT
35 David Clarke KTM road-and-trail.com
36 Jacob Tipper KTM road-and-trail.com
37 Elliott Porter Rapha Condor JLT
38 Liam Stones Team Raleigh
39 Robert Orr Metaltek KUOTA RT
WOMENS
1 Eileen Roe Starley Primal Pro Cycling 51:06:00
2 Amy Roberts Wiggle Honda @0:02
3 Charline Joiner Pearl Izumi Sports Tours International @0:05
4 Hannah Walker Epic Cycles – Scott WRT st
5 Gabriella Shaw Pearl Izumi Sports Tours International st
6 Louise Borthwick Matrix Fitness – Vulpine st
7 Lauren Therin Bonito Squadre Corse st
8 Jessie Walker Matrix Fitness – Vulpine st
9 Louise Mahe Team Mulebar Girl – Sigma Sport st
10 Tanya Griffiths Starley Primal Pro Cycling @0:08
11 Jo Tindley Matrix Fitness – Vulpine @0:18
12 Abby-Mae Parkinson RST Racing Team @1:07
13 Bethany Hayward Matrix Fitness – Vulpine st
14 Melissa Lowther Matrix Fitness – Vulpine st
15 Rebecca Rimmington Merlin Cycles @1 lap
16 Rebecca Womersley WyndyMilla – Reynolds @1 lap
17 Penny Rowson Matrix Fitness – Vulpine @1 lap
18 Lauren O'Brien RST Racing Team @1 lap
19 Nicola Moore Unattached @2 laps
20 Paige Milward Bike Pure-LeMond-Aspire Velotech @3 laps
Send your results as well as club, team & event news here
---
Other Results on VeloUK (including reports containing results)

---
Other News on VeloUK