Elliott Pike & Flora Gillies among the many winners at round 5 of the Mid Shropshire Wheelers Circuit Races on Sunday
Results – Mid Shropshire Wheelers Circuit Races 5
NOTE: Send your results as well as club, team & event news here
Elliot Pike and Flora Gillies were the senior race winners on a very windy day in contrasting styles.
A Go Tour event kicked off the day's proceedings with the new racers encouraged all the way by the under 8s and under 10s which was appreciated as were the T shirts provided by British Cycling and Team Sky.
Rebecca Woodvine (Mid Shropshire Wheelers) and Joshua Jackson (Lyme RC) showed they were still fresh from the previous days Dave Mellor Cycles sponsored West Midland Region Circuit Race League to take the first wins of the day in the under 8s.
Races for under 12s, 14, and 16s followed before a large field of Women assembled for the 30 lap race which was won in a bunch sprint by Scotlands Flora Gillies riding for Speg – Project 51 stopping off in Shrewsbury on the way home from Bornemouth.
Elliot Pike took his second win of this Mid Shropshire Wheelers summer of circuit races with an audacious last lap solo and whilst the rest of the 8 man break that dominated the race looked at local boy Rapha Condor JLT's Luke Grivell-Mellor to take up the chase, Matt Nowell clipped off in pursuit of Pike to take a well-deserved second place.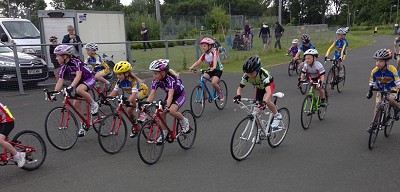 Under 8 Girls
1 Rebecca Woodvine Mid Shropshire Wheelers 10:37.4
2 Grace Styler Halesowen A & CC 11:04.8 00:27.4
3 Lottie Styler Halesowen A & CC 12:11.4 1 Lap
Under 8 Boys
1 Joshua Jackson Lyme RC 09:53.4
2 Sam Tomlinson Mid Shropshire Wheelers 10:16.5 00:23.1
3 Max Bufton Hafren CC 10:17.9 00:01.4
Under 10 Girls
1 Evelina Black Bolton Hot Wheels CC 09:30.9
2 Grace Lister Wolverhampton Wheelers 09:32.0 00:01.1
3 Bethany Bennett Sosban Riders 09:54.6 00:22.6
4 Holly Styler Halesowen A & CC 10:55.4 01:00.8
5 Rachel Williams Hafren CC 09:40.5 1 Lap
Under 10 Boys
1 Griff Lewis West Wales CRT 09:26.8
2 Sam Smith Towy Riders 09:27.0 00:00.2
3 Joseph Lycett Mid Shropshire Wheelers 09:27.1 00:00.1
4 David Wylie-Morris M & D Cycles 09:28.8 00:01.7
5 Nick English Mid Shropshire Wheelers 09:29.9 00:01.1
7 Ben Tomlinson Mid Shropshire Wheelers 09:30.9 00:01.0
8 Kyle Jones Maindy Flyers Youth CC 09:31.2 00:00.3
9 Xavier Teece-Round West Wales CRT 09:53.5 00:22.3
Under 12 Girls
7 Rhiannon Tansley Mid Shropshire Wheelers 19:16.2
Under 12 Boys
1 Hayden Norris Lichfield City CC 19:00.7
2 David Hird Stratford CC 19:01.2 0.503
3 Ben Pierce Mid Shropshire Wheelers 19:01.3 0.617
4 Joseph Lycett Mid Shropshire Wheelers 19:04.0 3.371
5 Ieuan Phillips West Wales CRT 19:09.1 8.382
6 Matt Malone Wolverhampton Wheelers 19:12.7 12.063
7 Ross Corbett Mid Shropshire Wheelers 19:52.5 51.873
8 Jack Young Mid Shropshire Wheelers 19:53.5 52.795
9 Oliver Rater West Wales CRT 19:58.7 58.02
10 Isaac Stephenson West Wales CRT 20:18.5 1 Lap
Under 14Girls
1 Hollie Owens Mid Shropshire Wheelers 25:15.2
Under 14 Boys
1 Matty Lewis Wolverhampton Wheelers 25:07.7
2 Kieran Morris Mid Shropshire Wheelers 25:07.7 0.049
3 Joseph Lister Wolverhampton Wheelers 25:21.3 13.692
4 Brendan Thompson Liverpool Century RC 25:56.1 48.409
5 Ieuan Phillips West Wales CRT 25:24.6 1 Lap
6 Freddie Jones-Hoare Hafren CC 25:28.5 1 Lap
7 Daniel Morris 25:42.5 2 Laps
8 Joseph Manley 26:48.7 3 Laps
Under 16 Girls
1 Sophie-Jo Wylie-Morris M & D Cycles 42:31.6
2 Melissa Baker Wolverhampton Wheelers 41:27.0 1 Lap
Under 16 Boys
1 Owen Line Graham Weigh Racing 41:09.6
2 Joseph Feiven Solihull CC 41:09.8 0.206
3 Morgan Hughes Marsh Tracks RT 41:10.1 0.506
4 Matthew Radford Wolverhampton Whls 41:10.1 0.507
5 Devon Round Mid Shropshire Wheelers 41:13.2 3.612
6 Ethan Davies Wolverhampton Wheelers 41:58.1 48.455
7 Alex Yates Solihull CC 41:58.8 49.239
8 Mark Allen Congleton CC 41:59.5 49.941
9 Martin Whyatt Mid Shropshire Whls 41:59.6 49.966
10 Samuel Morris Wolverhampton Whls 42:05.6 55.991
11 Tom Shelton Mid Shropshire Wheelers 41:25.6 1 Lap
Women
1 Flora Gillies Speg – Project 51 50:00.7
2 Maisie Duckworth Wolverhampton Wheelers 50:00.8 0.122
3 Lydia Gurley Team Jewson 50:00.9 0.215
4 Sophie-Jo Wylie-Morris M & D Cycles 50:01.5 0.886
5 Eleanor Jones VC St Raphael 50:01.6 0.972
6 Victoria Grimmer Paramount CRT 50:01.8 1.183
7 Bethany Coupland Mid Shropshire Wheelers 50:01.9 1.247
8 Rosemary Horner Newport CC 50:02.5 1.85
9 Ceris Styler Halesowen C&AC 50:02.7 2.021
10 Melanie Potter Bromsgrove Olympique CC 50:07.2 6.513
11 Sydnie Price Cardiff JIF 50:34.1 1 Lap
12 Natalie Hodson PHMAS Cycling 50:09.3 2 Laps
13 Elisa McDonagh Team WNT 50:09.4 2 Laps
14 Eirwen Williams Clwb Beicio 50:09.5 2 Laps
15 Gemma Stuart Performance Cycles 50:09.6 2 Laps
16 Emily Holland Revolutions Racing 50:09.9 2 Laps
17 Georgia Swanson Newport Olympic 50:10.0 3 Laps
Men
1 Elliott Pike Lichfield City CC 00:29.3
2 Matt Nowell Dave Hinde RT 00:30.0 0.676
3 Kirk Vickers Mid Shropshire Wheelers 00:33.3 3.982
4 Justin Harcourt Urban Cyclery 00:33.7 4.452
5 Adam Studzinski Mid Shropshire Wheelers 00:34.0 4.713
6 George Rowlands Mid Shropshire Wheelers 00:34.1 4.836
7 Edward Silverton Bicicielo 00:40.1 10.794
8 Luke Grivell-Mellor Rapha Condor JLT 00:43.9 14.604
9 Peter Banham Freds RT 01:43.3 01:14.0
10 Wayne Lacey Stone Whls CC 01:43.4 01:14.2
11 Gordon Park NFTO Race Club 01:44.0 01:14.7
12 Gary Brooks Kenilworth Wheelers CC 01:44.2 01:14.9
13 Darren Parker PythonRT 01:44.4 01:15.1
14 Elliot Brooks Kenilworth Wheelers CC 00:42.8 1 Lap
15 Gary Walters Ludlow CC 01:07.3 1 Lap
16 Will Pickles Mid Shropshire Wheelers 01:48.6 1 Lap
17 Lee West 01:06.6 2 Laps
Send your results as well as club, team & event news here
---
Other Results on VeloUK (including reports containing results)

---
Other News on VeloUK