Endura launch their latest top-of-the-range Equipe clothing, the Equipe Infiniti CB Bibshorts and the Equipe Helios Comp CB Jersey
Product News – Endura's Luxury Clothing
NOTE: Send your results as well as club, team & event news here
PRESS RELEASE
As you would expect from the top offer of a clothing manufacturer with two teams in the Tour de France this month, a great deal of thought, innovation, and attention to detail has gone into the fabrics, cuts, and finishing of this outfit.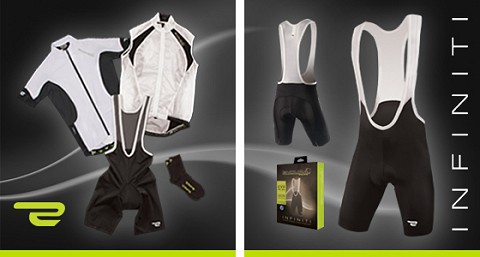 The brand new Infiniti CB Bibshorts are designed with the minimum number of seams necessary, creating a 'barely there' sensation for perfect fit and ultimate comfort. The Infiniti CB bibshort is constructed from only 3 panels, with the legs each being sculpted from a single panel of Italian Power Lycra® and the upper cut from a solitary panel of stretch mesh. How can Endura achieve such a great fit with so few panels when traditional thinking dictates fully ergonomic fit can only be achieved by the introduction of many panels? The secret lies in the extremely complex shape of the highly evolved, ergonomic cut of each panel.
In addition to a great fit, these bibshorts also offer a multitude of features to provide fantastic performance. The ultra light-weight wicking mesh upper guarantees superb breathability, while the Italian Power Lycra® of the legs features coldblack® technology for dramatically reduced heat buildup and a sun protection factor of UPF 50+.
For best comfort in the saddle, the Infiniti CB Bibshorts feature the team-tested 1000 Series Italian CVP (Continuously Variable Profile) stretch pad with antibacterial finish. Further details include raw edge silicone hem grippers and the deep comfort bib binding. These slick bibshorts come luxuriously packaged in an eye-catching box with a laundry bag and a pot of Endura chamois cream – the perfect gift set for the passionate road cyclist!
Combine the Equipe Infiniti CB Bibshorts with the premium Equipe Helios Comp CB Jersey, available in black or in white. This soft-touch, rapid-wicking jersey features an athletic race-cut, coldblack® technology to deflect sunrays and prevent heat build-up as well as providing a sun protection factor of UPF 40+, 3D mesh inserts for fantastic breathability, body fit sleeve construction for a great fit without unsightly over compression, Jaquard Y-form silicone hem on rear, and flat hem finish on the front for best comfort.
As per feedback of Endura's professional riders, special attention has been paid to the pocket construction to make sure the pockets can be fully loaded with water bottles on a hot day: a low-stretch rear fabric is incorporated in the back of the jersey which prevents the pockets from sagging. In addition to the traditional 3 elastic rear pockets there's also a zipped security pocket and a Gel wrapper pocket – you're not in the Tour, so don't be discarding your wrappers in the hedgerows.
If you like clean-looking, fast-wicking, well-made high performance kit, look no further than this new Equipe outfit.
RRP Equipe Infiniti CB Bibshorts £139.99
RRP Helios Comp CB Jersey £79.99
WEBSITE:Â http://www.endurasport.com/
Send your results as well as club, team & event news here
---
Other Results on VeloUK (including reports containing results)

---
Other News on VeloUK