Calum Grieve (twenty3C.co.uk) produced an awesome ride to clinch the 2014 NE Circuit Champs Trophy on the closed roads of the Headland area of Hartlepool
Report – Hartlepool Carnival RR
NOTE: Send your results as well as club, team & event news here
Manilla Cycling Hartlepool Carnival RR including NE Circuit Race Champs
Thanks Marcus
Attacking early, he was part of a 5 man break including Dan Smith (TS Racing-Vankru), Will Brown (Achieve-Skinnergate Racing) Ben Hetherington (Achieve-Skinnergate Racing) and Matty Cooper (NRG Cycles). Cooper was struggling, dropping back to a 5-man crack counter attack, including pre-race favourite Harry Tanfield (KTM), previous champion Richard Meadows (NRG Cycles), Mathew Kipling (Velo29) and the Achieve riders Jack Rees and Thomas Timothy.
The junction was made, largely due to the high Wattage riding of Tanfield, but Grieve had no wish to be sprinting out the trophy with the fast legs of Tanfield and responded immediately with a heavy attack over the prime line. The ever present Smith, and the Achieve duo of Brown and Hetherington were quick to spot the danger, but incredibly, the small gap was never closed.
The onus was on for the Achieve pairing to ride, but Grieve was more than their match, increasing his advantage each lap to an impressive 25 seconds under the chequered flag. The sprint for the silver was taken with ease by Brown, the bronze being more of a lottery, with a mightily relieved Smith realising there was space for his name on the podium. A further 20 seconds behind, a disappointed Tanfield led home the best of the rest for 5th.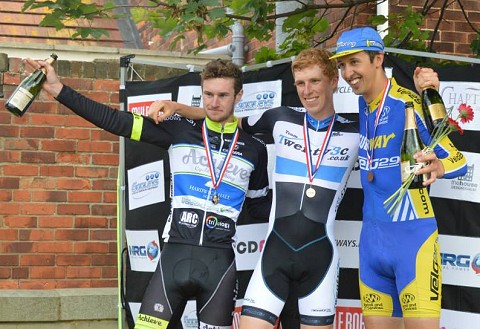 1 Calum Grieve
2 Will Brown
3 Daniel Smith
4 Ben Hetherington
5 Harry Tanfield
6 Jack Rees
7 Richard Meadows
8 Matt Kipling
9 Tom Timothy
10 Craig Anderson
11 Matty Cooper
12 Luke Mullen
13 Pete Boyes
14 Stuart Nielson
15 Declan Bowler
MASTERS
Masters C + favourite and defending champion Shaun Tyson (Adept Precision/NE HealthCare) was again in imperious form, forging an early three man break with Martin Hopkinson (Fietsen Tempo) and Ian Hessler (Ferryhill Wheelers). Taking no chances in a sprint finish, he opened up the gas the last two miles, distancing first Hessler and then Hopkinson to celebrate a lone victory. The minor placings behind were taken by a lone attack from Chris Fewtrell (unattached) with the strong man Dave Williams (Cleveland Wheelers) taking the bunch sprint.
1 Shaun Tyson
2 Martin Hopkinson
3 Ian Hessler
4 Chris Fewtrell
5 Dave Williams
6 Rob Hamill
7 Steve Bell
8 Chris Ranson
9 Graham Wood
10 Andrew Moss
Pre-race favourite Scott Auld (PH MAS) took the Junior title from the Marton RT pairing of Joe Howard and Lyle Carter.
Send your results as well as club, team & event news here
---
Other Results on VeloUK (including reports containing results)

---
Other News on VeloUK