Matthias Brandle of IAM Cycling chalked up his second straight stage win, but the story of the day was Movistar Team's Alex Dowsett blowing the Friends Life 2014 Tour of Britain asunder
Tour of Britain – Stage 6
STAGE 1Â Â |Â STAGE 2Â Â |Â STAGE 3Â Â |Â STAGE 4Â Â |Â STAGE 5Â Â |Â STAGE 6Â Â |Â STAGE 7Â Â |Â STAGE 8
The Live Photo Album (internet permitting)
REPORT
Stunning Alex Dowsett coup rewarded with Friends Life Yellow Jersey
Issued on behalf of SweetSpot Group
Matthias Brandle of IAM Cycling chalked up his second straight stage win, but the story of the day was Movistar Team's Alex Dowsett blowing the Friends Life 2014 Tour of Britain asunder with the ride of his life in one of the most dramatic ever stages of the modern day race.
Above: Two wins in two days for  Matthias Brandle
A trio of Exeter winner Matthias Brandle, Alex Dowsett and Madison Genesis' Tom Stewart rode in perfect unison for the best part of 160km to dominate the long stage from Bath to Hemel Hempsted, which many had expected to end in a sprint.
Through the rural lanes of Wiltshire, Oxfordshire, Buckinghamshire and Hertfordshire they poured on the power and the pace and cheered on by the biggest crowds of the week the trio prevailed to pull off one of the most stunning coups you will ever see.
At the start of the day Dowsett, in 21st position overall at 1 minute 25 seconds behind, was seemingly out of contention for the Friends Life General Classification honours, although there was every chance he would climb a fair few places in Sunday's short time-trial which suits him perfectly.
Above: Alex Dowsett made his own luck today, going on the attack, and destroying the big teams in the chase to hunt him down and his reward was the yellow jersey.
The Essex rider, 25, has looked strong all week and but for a double puncture when pressing hard in the break on Stage Four might well have featured much higher up the rankings before now.
Equally Brandle, in relaxed mode after winning in Exeter on Thursday and trailing the Friends Life Yellow Jersey of Michal Kwiatkowski by 2 minutes 35 seconds, felt able to try something spectacular and not count the cost should it fail. As for Stewart, the Yorkshire man featured strongly in the break on the Tumble stage on Tuesday and when he suddenly found himself in such elite company so early in the stage he just strapped in and hung on for dear life, buoyed no doubt by the local knowledge of team manager Roger Hammond.
When a big group of the GC favourites got away, they were sprinting for bonus seconds at the first Sprintand who should win but the race leader Michael Kwiatkowski ahead of Brad Wiggins.
Whether it was because the leaders were absorbed with marking each other, tired from an unexpectedly brutal week or were mindful of a very tough 227-kilometre run from Camberley to Brighton tomorrow, they allowed to go out way beyond what the peloton would normally allow such talented riders.
Five minutes, seven minutes, nine minutes and finally nine minutes 15 seconds at 82km from home. The lead grew and grew and by the time the peloton realised that the trio were not noticeably tiring it was too late. At which point there was a massive red alert and panic.
Omega Pharma Quick-Step blew themselves to pieces riding for Kwiatkowski with Mark Cavendish and Niki Terpstra burying themselves on the Chiltern climbs. At one stage members of other teams were hand slinging the seemingly tireless Julien Vermote to try and get him to the front to reinforce the chase, which was a remarkable sight.
Team Sky were shorthanded but also sent Ben Swift up the front on a do or die mission to trying a claw back some of the time and eventually Bardiani CSF, the team of second place Edoardo Zardini, bent their backs. But it was all too late. The escape was well and truly away
Above: Race gets under way in Bath with the wearers of the various jerseys and Mark Cavendish leading the way.
"I'm in the form of my life but that was the hardest day of my life," admitted Dowsett afterwards. "It was into a headwind most of the day and once I got into the break I was actually a bit hacked with myself to be honest because I had always thought I might have a good time-trial on Sunday and I was leaving a lot out there on the road. I thought I thought I might have given too much.
"But then the gap went up to seven minutes and I thought, that's getting quite big. Then it went to eight minutes, nine minutes, and finally topped out at a bit over nine minutes. That's when I really started digging in and a bit later I sort of made an agreement with Mathias that he could win the stage as it looked like there was a good chance of taking yellow.
"It was a risk I was willing to take. And he gave me absolute everything, I couldn't have done it without him and Tom at Madison probably had one of the hardest days of his life, he gave everything he could and I'm grateful to him and Roger Hammond in the car for his advice with his local knowledge, telling us exactly what was coming up. I was very grateful for that.
"For the last 100-kilometres, I was more or less flat out. I was buckling in the last 5-kilometres and I was relying heavily on Matthias. Before the Commonwealths, I was doubting myself a lot. So this is more proof to me that I'm able to compete at this level.
Matthias Brandle gets the tongue out  as the effort to stay clear shows on the run in to Hemel Hempstead.
"It was also great to see all my family at the finish, it was a complete surprise, I didn't expect to see any of them until the finish in Brighton. It was some day."
Dowsett now has the Friends Life Yellow Jersey and a 34 second lead over second placed Kwiatkowski and with the two riders probably fairly evenly matched on the time-trial – Dowsett might just be favourite to edge that one – a huge mount now depends on the monster Sussex stage finishing in Brighton, which features two Category One SKODA King of the Mountains climbs in the last 17-kilometres – Ditchling Beacon and the sharp ramp of Bear Road up to the racecourse.
Much will depend on how his team mates can react to the various attacks that will inevitably come but Movistar Team arrived at the Friends Life Tour of Britain determined to challenge for overall honours and have supported Dowsett with a versatile team – Giovanni Visconti, Pablo Lastras, Sylvester Szmyd, Ion Izaguirre and Enrique Sanz Unze – capable of mounting a strong defence of the Friends Life Yellow Jersey.
Alex Dowsett was giving it everything in the break. I watched as he spent ages on the front, and was back on the front before I knew it after the others had done their bit. He was not only keen but very hungry for yellow…
"I will give it everything I have got. Obviously Kwiatkowski is going like a train so I need to rest up as much as I can and give it my all tomorrow and in the time-trial. It's a nice position to be in though."
Saturday sees the penultimate stage of the Friends Life Tour of Britain, and the modern Tour's first visit to Sussex, for a leg starting from Camberley, in Surrey Heath, through West and East Sussex before the finish on Brighton's Maderia Drive.
The riders passing one of Baths big landmarks on the cobbles…
The Newbury Road Club were out with banners to cheer on the race.
The sprint for fourth was close between two teammates and Ben Swift in 6th. Owain Doull seems to clash with Scott Thwaites as well but both stayed upright
Popular rider with fans, Stage winner Marcel Kittel.
First attacker – Ian Bibby of Madison Genesis
Morgan Kniesky of Raleigh was another willing to have a go.
On the climb out of Hull, Adam Blythe put the cat among the pidgeons by going clear.
One of a few attacks by Alex Peters of Madison Genesis.
A lone attack this time and it was this pressure that saw the big GC group form at the front and a lot of riders lose a few minutes at one stage.
Another of the attacks that Alex Peters was involved in, this time led by Mark Christian of Raleigh.
Once the big break was formed, Netapp-Endura were keen for it to stay clear. Here, former Endura Racing rider Paul Voss is giving it big licks at the front.
Alex Dowsett lining out the big break
A rider from Giant Shimano trying to get a smaller break clear from the large leading 'peloton'.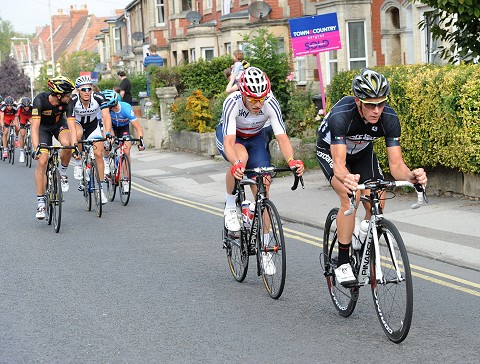 Steve Lampier, high up on GC, was one of the riders to miss the move as was Marcel Kittel etc. The race though came back together after 90 minutes of frantic racing.
Back at the front of the leading group, before the Dowsett trio formed, there was a lot of attacks which helped the group gain on the second peloton. It was only when Dowsett went clear, that the pace eased and the race came together behind Dowsett and company.
Mark Cavendish goes back to the team car to discuss the race with his DS
Late in the race, and BMC help out Quickstep to try and bring back Dowsett, Stewart and Brandle.
The sign says it all…Â 
On the appropriately named Kop for Liverpool's Mark McNally, the crowds were quite amazing.
If anyone has tried to out run Alex Dowsett through a town or village, be prepared for a very fast time of it
Brandle celebrating this two wins on the podium …
Ben Swift if back in the Points jersey
Great ride by Mark McNally to make the GC move before settling into the peloton and then tackling some steep climbs to mop up any points going for his KoM jersey.
Lander of BMC was very very aggressive today but alas never made the final move but held on to his Sprints jersey.
RESULTS
1 BRANDLE Matthias IAM 04:44:49
2 DOWSETT Alex MOV 1
3 @ st EWART Thomas MGT @ st
4 COLBRELLI Sonny BAR 01:51
5 RUFFONI Nicola BAR @ st
6 SWIFT Ben SKY @ st
7 KOHLER Martin BMC @ st
8 HAUSSLER Heinrich IAM @ st
9 ZABEL Rick BMC @ st
10 VEELERS Tom GIA @ st
11 THWAITES Scott TNE @ st
12 DOULL Owain SKT @ st
13 VAN BAARLE Dylan GRS @ st
14 @ st AUFF Andreas MTN @ st
15 BLYTHE Adam NPC @ st
16 BAUER Jack GRS @ st
17 BARTA Jan TNE @ st
18 CHAVANEL Sylvain IAM @ st
19 KWIATKOWSKI Michal OPQ @ st
20 TEUNS Dylan BMC @ st
21 I @ st A Kevin IAM @ st
22 BIALOBLOCKI Marcin VGR @ st
23 IZAGUIRRE INSAU @ st I Jon MOV @ st
24 TIMMER Albert GIA @ st
25 ZARDINI Edoardo BAR @ st
26 PINEAU Jérôme IAM @ st
27 VERSCHOOR Martijn TNN @ st
28 ROCHE Nicolas TCS @ st
29 SANZ UNZUE Enrique MOV @ st
30 BOULO Matthieu RAL @ st
31 GEOGHEGAN HART Tao GBR @ st
32 VISCONTI Giovanni MOV @ st
33 VOSS Paul TNE @ st
34 BURTON Germain GBR @ st
35 WYNANTS Maarten BEL @ st
36 HNIK Karel MTN @ st
37 LAMPIER @ st eve VGR @ st
38 KÖNIG Leopold TNE @ st
39 HANDLEY Richard RCS @ st
40 @ st AMSNIJDER Tom GIA @ st
41 FARRAR Tyler GRS @ st
42 PARTRIDGE Robert VGR @ st
43 SUTHERLAND Rory TCS @ st
44 HENAO GOMEZ Seba @ st ian SKY @ st
45 PETERS Alex MGT @ st
46 BONGIORNO Francesco Manuel BAR @ st
47 WIGGINS Bradley SKY @ st
48 JUUL JENSEN Chri @ st opher TCS @ st
49 REICHENBACH Séba @ st ien IAM @ st
50 HOLOHAN Liam MGT @ st
51 VAN NIEKERK Dennis MTN @ st
52 MCNALLY Mark SKT @ st
53 GOLAS Michal OPQ @ st
54 SZMYD Sylve @ st er MOV @ st
55 CHRI @ st IAN Mark RAL @ st
56 LOPEZ GARCIA David SKY @ st
57 NORDHAUG Lars-Petter BEL @ st
58 KONOVALOVAS Ignatas MTN @ st
59 LOZANO RIBA David TNN @ st
60 LA @ st RAS GARCIA Pablo MOV @ st
61 MOSES Thomas RCS @ st
62 TANKINK Bram BEL @ st
63 CAVENDISH Mark OPQ 02:01
64 TERP @ st RA Niki OPQ @ st
65 BATTAGLIN Enrico BAR 02:36
66 KNEISKY Morgan RAL 03:20
67 VERMOTE Julien OPQ 03:36
68 MULLEN Ryan SKT 05:23
69 TRUSOV Nikolay TCS 07:01
70 CUMMINGS @ st ephen BMC @ st
71 NORTHEY Michael James MGT @ st
72 VELITS Peter BMC @ st
73 SCULLY Thomas MGT 07:24
74 PIECHELE Andrea BAR @ st
75 BOARO Manuele TCS 08:40
76 HANSEN Lasse Norman GRS 11:43
77 DEKKER Thomas GRS 13:59
78 HOUSE Kri @ st ian RCS @ st
79 GIRDLE @ st ONE Dylan GRS @ st
80 BENNETT Sam TNE @ st
81 JIM Songezo MTN @ st
82 HUNT Joshua NPC @ st
83 FLENS Rick BEL 19:17
84 DE BACKER Bert GIA @ st
85 HENTTALA Joonas TNN @ st
86 PERON Andrea TNN @ st
87 RENSHAW Mark OPQ @ st
88 MEGIAS LEAL Javier TNN @ st
89 MARKUS Barry BEL @ st
90 BOL Jetse BEL @ st
91 LOWSLEY WILLIAMS James NPC @ st
92 ATKINS George RAL @ st
93 BIBBY Ian MGT @ st
94 OPIE Chris RCS @ st
95 APPLEBY Dale NPC @ st
96 MCLAY Daniel GBR @ st
97 MORGAN Bradley VGR @ st
98 LAWLESS Chri @ st opher GBR @ st
99 LANDER Seba @ st ian BMC @ st
100 EISEL Bernhard SKY @ st
101 BARKER Yanto RAL @ st
102 WILKINSON Ian RAL @ st
103 KITTEL Marcel GIA @ st
104 SCHORN Daniel TNE @ st
105 EDMONDSON Nathan VGR @ st
106 MOSS James VGR @ st
107 LATHAM Chri @ st opher GBR 21:51
108 PLANET Charles TNN @ st
109 WILSON Jack SKT @ st
110 O'SHEA Glen SKT @ st
111 ARCHBOLD Shane SKT @ st
Did not finish
HARRISON Samuel NPC
GERDEMANN Linus MTN
MOULD Jonathan NPC
OVERALL
1 DOWSETT Alex MOV 25:07:53
2 KWIATKOWSKI Michal OPQ 34
3 ZARDINI Edoardo BAR 40
4 ROCHE Nicolas TCS 50
5 TEUNS Dylan BMC 51
6 IZAGUIRRE INSAU @ st I Jon MOV 01:00
7 WIGGINS Bradley SKY 01:02
8 LOPEZ GARCIA David SKY 01:04
9 KÖNIG Leopold TNE 01:06
10 REICHENBACH Séba @ st ien IAM @ st
11 BRANDLE Matthias IAM 01:07
12 VISCONTI Giovanni MOV 01:17
13 CHAVANEL Sylvain IAM 01:22
14 VAN BAARLE Dylan GRS 01:25
15 BAUER Jack GRS 01:31
16 LAMPIER @ st eve VGR 01:35
17 BARTA Jan TNE 01:37
18 JUUL JENSEN Chri @ st opher TCS 01:40
19 GEOGHEGAN HART Tao GBR @ st
20 BONGIORNO Francesco Manuel BAR 01:42
21 SUTHERLAND Rory TCS 01:47
22 HNIK Karel MTN 01:51
23 BOULO Matthieu RAL 02:03
24 HANDLEY Richard RCS 02:05
25 GOLAS Michal OPQ 02:08
26 ZABEL Rick BMC 02:18
27 KONOVALOVAS Ignatas MTN @ st
28 NORDHAUG Lars-Petter BEL 02:28
29 PETERS Alex MGT 02:33
30 SZMYD Sylve @ st er MOV 03:00
31 SWIFT Ben SKY 03:03
32 HENAO GOMEZ Seba @ st ian SKY 03:07
33 HOLOHAN Liam MGT 03:19
34 PINEAU Jérôme IAM 03:28
35 VAN NIEKERK Dennis MTN 03:54
36 TANKINK Bram BEL 04:06
37 BATTAGLIN Enrico BAR 05:15
38 BIALOBLOCKI Marcin VGR 05:32
39 VOSS Paul TNE 05:47
40 WYNANTS Maarten BEL 05:53
41 THWAITES Scott TNE 05:57
42 @ st EWART Thomas MGT 07:19
43 CHRI @ st IAN Mark RAL 07:53
44 LOZANO RIBA David TNN 08:36
45 @ st AUFF Andreas MTN 08:58
46 LA @ st RAS GARCIA Pablo MOV 09:13
47 DOULL Owain SKT 09:52
48 COLBRELLI Sonny BAR 10:19
49 TIMMER Albert GIA 10:34
50 HAUSSLER Heinrich IAM 11:17
51 CUMMINGS @ st ephen BMC @ st
52 BLYTHE Adam NPC 11:23
53 CAVENDISH Mark OPQ 12:27
54 VERSCHOOR Martijn TNN 12:33
55 SANZ UNZUE Enrique MOV 12:57
56 MOSES Thomas RCS @ st
57 TERP @ st RA Niki OPQ 13:19
58 FARRAR Tyler GRS 13:29
59 KNEISKY Morgan RAL 13:45
60 NORTHEY Michael James MGT 14:14
61 I @ st A Kevin IAM 14:34
62 VELITS Peter BMC @ st
63 VEELERS Tom GIA 15:50
64 PARTRIDGE Robert VGR 16:06
65 KOHLER Martin BMC 16:37
66 @ st AMSNIJDER Tom GIA 17:10
67 VERMOTE Julien OPQ 17:29
68 BURTON Germain GBR 18:06
69 MCNALLY Mark SKT 18:09
70 DEKKER Thomas GRS 19:26
71 HOUSE Kri @ st ian RCS 20:39
72 TRUSOV Nikolay TCS 21:27
73 SCULLY Thomas MGT 22:24
74 GIRDLE @ st ONE Dylan GRS 22:52
75 ATKINS George RAL 23:09
76 HANSEN Lasse Norman GRS 25:50
77 APPLEBY Dale NPC 26:20
78 BOARO Manuele TCS 27:11
79 EDMONDSON Nathan VGR 27:56
80 BOL Jetse BEL 28:43
81 MULLEN Ryan SKT 28:44
82 SCHORN Daniel TNE 30:50
83 RENSHAW Mark OPQ 30:59
84 MCLAY Daniel GBR 31:53
85 ARCHBOLD Shane SKT 32:21
86 FLENS Rick BEL 32:36
87 JIM Songezo MTN 32:38
88 RUFFONI Nicola BAR 33:30
89 LANDER Seba @ st ian BMC 33:40
90 PERON Andrea TNN 35:14
91 MEGIAS LEAL Javier TNN 36:14
92 BIBBY Ian MGT 36:35
93 KITTEL Marcel GIA 36:58
94 BENNETT Sam TNE 37:38
95 BARKER Yanto RAL 39:10
96 DE BACKER Bert GIA 41:33
97 O'SHEA Glen SKT 42:51
98 PIECHELE Andrea BAR 43:26
99 OPIE Chris RCS 45:29
100 EISEL Bernhard SKY 46:17
101 WILKINSON Ian RAL 47:27
102 HENTTALA Joonas TNN 47:32
103 MARKUS Barry BEL 48:34
104 MORGAN Bradley VGR 49:09
105 HUNT Joshua NPC 50:15
106 MOSS James VGR 50:34
107 LOWSLEY WILLIAMS James NPC 56:15
108 LATHAM Chri @ st opher GBR 56:48
109 WILSON Jack SKT 01:02:19
110 LAWLESS Chri @ st opher GBR 01:02:53
111 PLANET Charles TNN 01:07:36
Send your results as well as club, team & event news here
---
Other Results on VeloUK (including reports containing results)

---
Other News on VeloUK