Richard Lewis (CC Basingstoke) led from start to finish on his way to a win at the first ever Wessex Cyclo Cross race to be held on the Isle of Wight.
Report – Wessex Cyclo-Cross League 3
(thanks to Graham Robins)
NOTE: Send your results as well as club, team & event news here
Saturday 20th September 2014
From the whistle Richard eased away from Tony Parker (NHRC) gaining a few seconds on each lap until he had the race under control and then kept a steady rhythm as the laps ticked down.
Riders, friends and family travelled across to the Medina Leisure Centre just outside of Newport in the heart of the Island. After the early morning mist cleared the sun came out and the temperature rose quickly leading to a hot and humid set of races.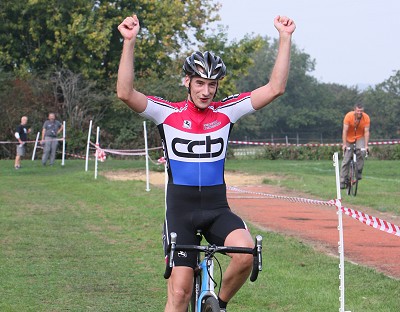 Richard and Tony were quickest away leading through the open field and into the technical wooded sections, up a set of steps and back out into the open fields. There was also a bank and ditch to negotiate on each lap.
Once the first lap was complete and Richard had settled in it was left to Tony to take up the challenge but he was soon being chased down by Graham Rogerson (Army CU) with Joe Andrews (Fareham Wheelers) leading a small group into the woods.
After four laps Sean Williams (Cotswold Veldrijden) managed to pull clear of the chase for fifth and he soon set about chasing down Rogerson, but last week's troubles forced Sean to ease up as his ribs began to give him troubles.
So after five gruelling laps Lewis led Parker by 15secs, Rogerson was a further 10secs adrift followed by Williams at 49secs and Aaron Tayler (Banjo Cycles) in fifth at 1min 18secs. Joe Andrews was the first u23 rider in sixth a further 8secs adrift.
The remaining couple of laps saw the riders remain in these positions until the end. Rogerson was trying to reel in Parker but on the line there was a six second time gap.
Once again due to large number of entries the vet category was split and run with a couple of minute gap. Crispin Doyle (Hargroves Cycles) continued his strong start to the season by extending his winning streak to three from three. Graham Rogerson took second before riding the senior race and Robin Wilmott (Cotswold Veldrijden) was third in the vet 40+ race. Chris Hutchings (VC Venta) was first vet 60.
Tamina Oliver (Endura Lady Force) once again was the fastest women finishing clear of Sarah Barber (NHRC) with Helen Patterson (Solent Pirates) in third. There were also wins on the day for Angus Hawkins (PPV) AND Abbie Manley (Jedi Cycle Sport) in the youth section and Dan Tuley was first junior rider.
Provisional Results
Seniors
1st Richard Lewis CC Basingstoke 49mins 38secs
2nd Tony Parker NHRC @12secs
3rd Graham Rogerson Army Cycling Union @42secs
4th Sean Williams Cotswold Veldrijden
5th Aaron Tayler Banjo Cycles
6th Joe Andrews Fareham Wheelers
Vet 40
1st Crispin Doyle Hargroves Cycles
2nd Graham Rogerson ACU
3rd Robin Wilmott Cotswold Veldrijden
4th Jason Blann
5th Roy Hunt Colnago
Vet 60+
1st Chris Hutchings VC Venta
Women
1st Tamina Oliver Endura Lady Force
2nd Sarah Barber NHRC
3rd Helen Patterson Solent Pirates
Junior
1st Dan Tuley
Youth
Angus Hawkins PPV
Abbie Manley Jedi Cycle Sport
Send your results as well as club, team & event news here
---
Other Results on VeloUK (including reports containing results)

---
Other News on VeloUK