Graham Briggs was the winner of a star studded Monsal Hill Climb ahead of Russell Downing and Adam Blythe
Result & Photos – Monsall Hill Climb
NOTE: Send your results as well as club, team & event news here
Sunday, with blue skies and Monsal Head packed with spectators, once again saw a great battle for the victory in the Monsal Hill Climb organised by Marc Etches and his team at Sheffrec CC.
Russell Downing of NFTO Pro Cycling, Graham Briggs and Adam Blythe, also of NFTO Pro Cycling, the fastest riders up Monsal Head on Sunday
Winner on a specially prepared bike was Graham Briggs who had his last hurrah before a holiday with a time less than a second ahead of Russell Downing riding a fixed wheel and Adam Blythe, also on a fixed wheel. These three finished in front of last years winner Jack Pullar who was 4th.
Report, interviews and a big photo album to come later … In the meantime, here's a taste of the day –
Nicola Soden racing her way to second place in the Women's event.
A rider who knows a thing or two about hills, Simon Warren.
A rider from the Out of Saddle CC has no choice but get out of the saddle on the 1 in 6 slopes of Monsal Head.
Organiser Mar Etches updates the timing board….
Russell Downing is congratulated by the sponsor of the event while Adam Blythe is a picture of seriousness in the background LoL
The women's podium
Graham Briggs gives an autograph to a young world champ
With the sun shining,there was a good crowd to cheer the 160 riders up the climb
Cheese! Mum takes some pics of future stars
This was the scene as I drove down to Monsal Head .. stunning Derbyshire
Track sprinter uses all that muscle on his Trigon bike to get up Monsal Head which of course he did, Chris Pritchard in his Scottish skinsuit worn in the Commonwealth Games.
NFTO Pro Cycling's Adam Blythe is cheered on up the climb on a hill climb bike I haven't since his junior days!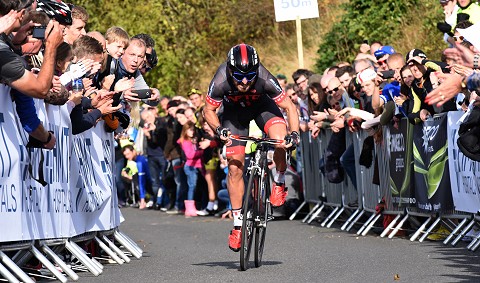 NFTO Pro Cycling's Russell Downing racing to second. 
'Brigga' full gas near the top of the climb …
Defending champion Jack Pullar wasn't far off the win but the race for the top spot so close, he had to settle for fourth
Great ride from Jessie Walker who after a brilliant season as a 19 year old, held on to win the Women's event again.
Misc photo taken using a GoPro Hero Black 3 Plus I got from Madison UK. Movies is its forte but takes great wide angle stills to from places I couldn't stand using the iphone as a remote.
1 Graham Briggs Rapha Condor JLT 01:20.5
2 Russell Downing NFTO Pro Cycling 01:21.1
3 Adam Blythe NFTO Pro Cycling 01:21.8
4 Jack Pullar Starley Primal Pro Cycling 01:22.0
5 Adam Kenway Team Zenith – www.buzzcycles.co.uk 01:22.6
6 Joseph Clark Team Zenith – www.buzzcycles.co.uk 01:24.2
7 Dominic Smith Retford & District Whs 01:26.5
8 Robert Gray Clifton C.C. York J 01:27.2
9 Lee Baldwin Champion System/ClubRoost/Maxgear 01:27.8
10 Ashley Proctor Bike Box Allan / Whiston Velo 01:28.7
11 Andy Nichols Langsett Cycles RT 01:29.0
12 Liam O'Toole Sheffrec CC 01:29.3
13 Anthony Bromley Barnsley RC 01:29.9
14 Connor Swift Bike Box Allan / Whiston Velo J 01:30.4
= Chris Metcalfe Matlock CC 01:30.4
16 Ben Lowe Nonna La Squadra V 01:31.3
17 John Johnson Matlock V 01:31.9
= Matthew Cosgrove SportCity Velo J 01:31.9
19 Daniel Featherstone Bolsover & District CC 01:32.3
20 Chris Pritchard Foreign (UCI registered) 01:32.4
21 Jack O'Neill Mike Vaughan Cycles 01:32.8
= James King Haribo Beacon 01:32.8
23 Steve Tait Mapperley CC 01:33.6
24 Callum Stewart Sheffrec CC 01:33.8
25 Adam Machan Sheffrec CC 01:34.4
26 Andy Hibberd North Hampshire RC V 01:35.1
27 Sam Clark Buxton CC 01:35.7
28 Nicholas Latimer Rutland CC 01:35.9
29 Paul Bailey Manchester Wheelers Club 01:36.2
30 Chris Dyke Manchester Wheelers Club V 01:36.6
31 Lee Brown Holmfirth CC V 01:37.2
32 Zack Williamson Clay Cross Road Team 01:37.4
= Darryl Wall Out of the Saddle 01:37.4
= Richard Teare Rutland CC 01:37.4
35 Jack Stephenson Out of the Saddle 01:37.7
36 Mark Cuckson Sheffrec CC 01:37.8
37 Henry Cash Holme Valley Whs SB 01:38.3
38 Tom Llewellyn Mansfield Road Club 01:38.3
39 Matt Lawton Macclesfield Wheelers 01:38.5
= Karl Baillie Haribo Beacon J 01:38.5
41 Chris Limberger Derby Mercury RC 01:39.0
42 Simon Warren Norwood Paragon CC V 01:39.1
43 Paul Newton Derby Mercury RC 01:39.9
44 Alexander Foster Border City Whs CC J 01:40.0
45 Alastair Hepworth Bike Box Allan / Whiston Velo 01:41.3
46 Tony Cope Leek Cyclists Club J 01:41.6
47 Jonathan Knapp Derby Mercury RC 01:42.8
48 Julian Ramsbottom Pedal Pushers V 01:42.9
49 Oliver Humphreys Shutt Velo Rapide 01:43.3
50 Cameron Orr Sherwood Pines Cycle Racing Team SB 01:43.4
= Neil Bentley Sheffrec CC V 01:43.4
52 Robin Mckinnon Harworth & District CC 01:44.0
53 Jamie Raven Rutland CC 01:44.3
54 Wesley Inskip Newcastle Racing Club 2001/Vekta Velosport 01:44.6
55 Graham Walton Common Lane Occasionals V 01:44.8
56 John Sanderson Manchester Wheelers Club V 01:44.9
= Brad Hatfield Out of the Saddle 01:44.9
58 Eamonn Cox Sheffield Sports Cycling Club V 01:45.1
= Courtney Blockley-Campton Leicester Forest CC 01:45.1
60 Arthur Green Matlock CC J 01:45.2
= Jonathan Harvey Dinnington Racing Club 01:45.2
62 John Smith Out of the Saddle 01:45.3
63 Matt Blythe Newport (Shropshire) CC V 01:45.7
64 Martin Smith Chesterfield Couriers 01:46.2
65 Dominic Watts Sheffield Sports Cycling Club V 01:46.4
66 Alan Holloway Sheffrec CC 01:46.6
67 Jim Brown Holmfirth C C SB 01:46.7
68 Alex Braybrooke Velocity WD-40 J 01:46.9
69 Alex Jones Team Cystic Fibrosis V 01:47.3
70 Paul Armstrong Sheffrec CC 01:47.6
71 Luke Allen Sheffrec CC 01:47.9
72 Daniel Kubon Birdwell Whs 01:48.1
73 Kieran Simcox Bike Box Allan / Whiston Velo J 01:48.7
74 Thomas Humphrey Kirklees Cycling Academy SB 01:49.2
75 Robert Howson Leek Cyclists Club 01:49.3
76 Keith Ainsworth Sheffrec CC V 01:50.1
77 Marc Hughes Sheffield Sports CC J 01:50.3
78 Sidney Wilson Derby Mercury RC J 01:50.8
79 Kevin White Matlock CC V 01:51.1
80 Andrew Cutts Birdwell Whs 01:51.5
81 Christopher Green Matlock CC V 01:51.6
= Stuart Kendall Mansfield Road Club 01:51.6
83 David Chapman Newbury RC 01:52.0
84 Lee Ibbitson Stocksbridge CC V 01:52.1
85 Paul Kippax Rutland CC V 01:52.2
86 Simon Hall Rugby Racing CC 01:52.5
87 Alex Kinderman Pedalsport CC J 01:54.7
88 Rupert Pearson Rutland CC V 01:55.0
89 Patrick Murphy Bolsover & District CC 01:55.1
= Martyn Sanders Barnsley RC V 01:55.1
91 Owen Mitton Huddersfield RC V 01:55.3
92 Xavier Scott Bolsover & District CC 01:55.4
= Lee Woodhead Sheffrec CC V 01:55.4
94 Matthew Withycombe Sheffrec CC V 01:55.9
= Ed Brown Clifton C.C. York V 01:55.9
96 Dan Ogden Shutt Velo Rapide V 01:56.2
97 Jessie Walker Matrix Vulpine L 01:57.0
98 Ian Shapiro Heanor Clarion CC 01:57.1
99 Richard Middlemiss Sheffield Sports Cycling Club V 01:57.2
100 Stuart Baker Buxton CC 01:57.5
101 Lou Collins Beeston RC L 01:59.1
102 Tom Lloyd-Hughes Common Lane Occasionals J 01:59.9
103 Andrew Benson Common Lane Occasionals 02:00.2
104 James Mappin Sheffrec CC 02:01.0
105 Pete Laud Common Lane Occasionals V 02:01.7
106 David Brearley Team Zenith – www.buzzcycles.co.uk 02:02.7
107 Nicola Soden gbcycles.co.uk L 02:03.2
108 Sam Smith Sheffield Sports Cycling Club J 02:04.1
109 Lewis Phillips Mansfield Road Club SB 02:05.6
110 John Jacobs Sheffield Sports Cycling Club V 02:05.9
111 Byron Buck Derby Mercury RC 02:07.0
112 Thomas Booth Stocksbridge CC SB 02:07.9
113 Helen Eborall Born to Bike – Bridgtown Cycles L 02:08.4
114 Stewart Bates Beeston RC 02:08.6
115 Bruno Schooling Rutland CC SB 02:09.4
116 Martin Rigby Mansfield Road Club V 02:10.1
117 Stewart Smith Team Swift V 02:11.3
118 Matthew Bacon Sheffrec CC SB 02:11.4
= Peter Morris Planet X Racing Team 02:11.4
120 Alan Bullock Stocksbridge CC V 02:13.6
121 Andy Middlemiss Sheffield Sports Cycling Club V 02:14.0
122 Iona Sewell gbcycles.co.uk L 02:15.2
123 Steven Hollowood Kiveton Park CC V 02:15.6
124 Neil Armitage Matlock CC V 02:17.4
125 Sandra Mackay gbcycles.co.uk LV 02:21.5
126 Nicola Holloway Sheffrec CC L 02:24.6
127 Jayati Hine RST Racing Team SG 02:28.9
128 Helen Ibbitson Stocksbridge CC LV 02:35.2
129 Paul Heggie Birdwell Whs V 02:37.1
130 Louise Kelly Mansfield Road Club L 02:37.3
131 Nicky Dick Matlock CC LV 02:46.1
132 Richard Thorpe Bolsover & District CC V 02:51.8
133 Emily Watson-Thoday University of Sheffield CC L 02:53.3
134 Jamie Flaxman Chesterfield Spire Cycling Club V 02:55.0
135 Brian Hygate Farnborough & Camberley CC V 03:18.2
136 Charles Rowe Stowmarket & District CC V 03:20.5
137 Louis Jacobs Sheffield Sports Cycling Club SB 03:59.7
Send your results as well as club, team & event news here
---
Other Results on VeloUK (including reports containing results)

---
Other News on VeloUK