Roger Hammond admits there's lots of talented riders but he was out to sign those with the right character to match their talent turning the pedals
Interview – Rider's Character Important says Hammond
NOTE: Send your results as well as club, team & event news here
Anyone looking at the Madison Genesis line up for 2015 will notice a lot of changes and reading between the lines, it feels like the end of the season may have been like a scene from Lord Sugar's Apprentice.
In that popular TV programme, Lord Sugar hasn't held back firing those he feels don't have the right character to be his partner in business. Listening to Roger talk about how his 2014 team, I got the feeling there were riders there that he felt didn't have the right character for what he wanted in the Madison Genesis team and so in some cases, new contracts were not on the table.
Only a few I assume (he wasn't naming names!) but as the rider who has stood on the podium in Paris-Roubiax explained, you can't always get through to a rider and it was time to have a change and sign those he felt had the attributes he needed to see in a rider.
Roger Hammond told VeloUK this morning – "We want to help young riders move to the next level and all I can do to is offer them my thoughts on what they need to be a professional bike rider".
Roger added he's after riders ready to absorb the guidance he can offer and added that while both juniors Tristan Robbins and Joe Evans for example, have shown their talent on the bike, there are a lot of talented riders in the UK.
"The guys we're looking out for are the ones with the whole package, the ones we believe can make it. The ones who can listen, learn and implement it and move on and that's what I have seen in these two guys."
"They are intelligent guys who seem like they are ready to learn and want to learn and with their ability on the bike, that's the start of having the whole package which is quite hard to find."
King of the Mountains – McNally Signed
Another of the signings is Mark McNally from Liverpool who is based in Belgium. I watched Mark show a lot of 'character' up against a lot of world class bike riders to clinch the King of the Mountains jersey in the Tour of Britain and it was that same quality that Roger Hammond saw as well that made him want to sign the former AN Post rider.
"I can't deny that his character was a huge feather in his cap as far as I was concerned and why he became a target on my list. We had a rider going for the same thing in the Tour of Britain and Mark showed he was a better rider and did a better job of it. Winning that was an indication of his character".
"There is not a lot of difference between the best and the worst pro bike riders in the world realistically and the ones who go on to be fantastic bike riders are the ones with the right character. That showed through in Mark in the situation he was in; pretty much the last race of the year for his team, knew he wasn't staying there, and he still came out and buried himself in the Tour of Britain".
"He could have reacted in one of two ways, gone to the Tour of Britain and rode round for fun or go there and make something of it and he did the latter. The Tour of Britain was confirmation for me on how he's ridden his entire career and as soon as he became available, we looked to sign him."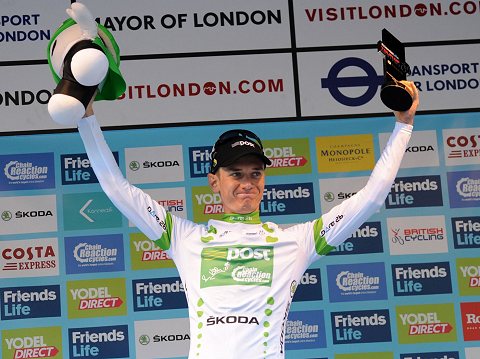 2014 Highlights
Finally, we asked Roger what were the highlights for him in 2014 with his team at Madison Genesis? "The Tour of Britain was fantastic for us. I really feel we came away from the race with a great deal of publicity for the riders and team and there wasn't a lot more we could do besides winning GC which was a tall order given the quality of the field and the terrain of the race."
"More than the result itself, it was more the way most of the team dived in and made it work and pay off. In the same vein as Mark McNally, the Tour of Britain for me was more of a confirmation for the way the majority of the team rode the entire year. The Tour Series was the same.
The Tour Series didn't really suit our team and we knew that and what we had to do there. With Rapha going so well at the Tour Series, it sometimes felt like a hapless task but week in, week out, the guys went there and raced their hearts out".
"That's what makes good bike riders and a good team. Although we didn't win it, I still feel we went there and came away with no regrets".
Looking ahead to 2015, Roger feels that his choice of starting the season late in 2014 paid off with the big races starting so late in Britain and it would appear that will be the same strategy again in 2015.
"I'm mindful of not doing too much in December and January when in August we have Ride London and then the Tour of Britain. We don't have 30 riders to play around with for a whole season like a WorldTour team".
"The British season is hugely crowded, and because its shorter, you get less opportunity to rest with more races and more travelling in a short space of time. That's very demanding for everyone involved".
Interesting words as ever from the former professional who as a junior was a World Champion in cyclo-cross. The season is a long way off and whilst there's a lot to do, he says he's looking forward to the World Cup in Milton Keynes. He stressed that the public and 'cross fans here have to realise that World Cups are a big deal in 'Cross and the spectators will be seeing the World's best just as they would at a World Championship.
He, like us all, has everything crossed that the cycling fans of Britain descend on Milton Keynes on November 29 to show their support for a sport where everyone on the day will have a great time with much more than a bike race going on to keep them entertained.
Thanks to Roger for his time.
Send your results as well as club, team & event news here
---
Other Results on VeloUK (including reports containing results)

---
Other News on VeloUK