The first commercial sponsors for the 2015 British Road Championships in Lincoln announced
News – British Road Champs Commercial Sponsors
NOTE: Send your results as well as club, team & event news here
EVENT PRESS RELEASE
2015 British Road Championships Feature (Schedule & Courses)
Twenty seven weeks to go sounds a long time but with an event of the magnitude of the British Road Championships, every day is a busy day as the countdown clock on the event web site remorsely ticks off the seconds left to the start of the first event at 12 noon on Thursday June 25th.
The basic structure of the four day Festival of Cycling, incorporating both the championships and the 60th Lincoln Grand Prix, is now well established and we are pleased to announce the first group of commercial sponsors without whom the events would not be a possibility.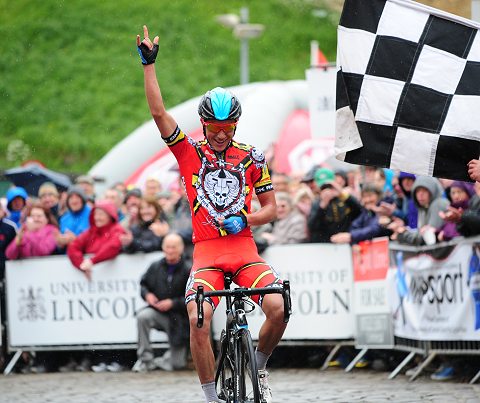 The 2014 British Road Race Champion Peter Kennaugh is a former winner of the Lincoln Grand Prix
We are pleased to announce that Plumbase are back with us again, not only supplying finance but also assisting in the provision of some of the infrastucture and safety equipment needed for the event.
Manging Director Andy Williams said 'Plumbase are absolutely delighted and proud to be one of the main sponsors of such a prestigious event in the UK.' Plumbase is a national plumbers' merchant supplying heating, plumbing, bathrooms, showers, renewables and boiler spares to professional trade installers – traditionally through a network of stores nationwide but now with an online offering. Their specialist buying teams work closely with a host of leading manufacturers to offer the latest industry innovations and high quality products at very competitive prices across all product ranges.
Joining the events for the first time is The Bishop Grosseteste University which is based in Lincoln and actually on the road race circuit in the City. As well as providing finance for the events, BGU will also offer a free of charge 'Park and Walk site' and some of the support vehicles needed.
Rob Jones, Director of Enterprise at BGU says "We're very excited about the 2015 British Cycling National Road Championships as the riders will be passing right in front of the Bishop Grosseteste University campus in Lincoln. For that reason and because sport plays such an important part in academic and extra-curricular life at our university, we're delighted to be supporting this event. We're looking forward to what will be an amazing spectacle and we wish everyone taking part the best of luck."
The University is an independent Anglican foundation beginning its life in 1862 with the mission of training Christian teachers for the diocese. Since those early days it has grown in reputation and size and today is very much an open and forward looking community that celebrates diversity, welcoming applications from students of any age, gender, ethnicity, sexuality, religious affiliationor or disability and continually seeking to make Higher Education more accessible to those presently under represented. In April 2006 it was awarded university college status in recognition of the excellent quality standards it achieved, then was able to drop the 'college' from its title in 2012 when the government lifted the number requirements for universities.
A four time winner, Russell Downing – can he make it five and win his second British RR title? 
Active Nation adds to their previous support in kind by becoming one of our main sponsors this year. The start areas for the championships and the Lincoln Grand Prix Championships Sportive are all at The Yarborough Leisure Centre and are managed by Active Nation who are enthusiastic about the championships being held at Lincoln and using one of their facilities. A free 'Park and Walk' site will also be at the Yarborough Leisure Centre together with the race headquarters.
Managing Director John Oxley said: "We are delighted and privileged to play a part in supporting the British Road Championships in Lincoln in 2015. The annual Lincoln Grand Prix has a rich heritage and we're hoping that seeing the very best of the country's exceptional cycling talent will inspire others to get out on their bikes and ride! "
Active Nation is a registered charity driven by its cause-led mission "to persuade the nation to be active". Our mission is driven by facts that include one third of children and two thirds of adults being currently overweight or obese, with a prediction that this will escalate to 50% of the UK population by 2050, and that physical inactivity currently contributes to 1 in 6 deaths in the UK.
This means that more and more are putting themselves at risk of contracting chronic illnesses, such as cancer, osteoporosis, type II diabetes and heart disease, all conditions associated with a sedentary lifestyle. We work to inspire people to participate in sport and physical activity and to remove the barriers that might stop this happening.
At present we're based at 15 sports and exercise venues across the UK, including gyms, swimming pools, studios, sports halls, and ski slopes. Working with 5 local authority partners, we deliver an abundance of innovative sport and exercise programmes to influence participation in sport and physical activity and the health of the UK's population.
Support will also be given both financially and logistically by Lincolnshire County Council, The City of Lincoln Council, East Lindsey District Council and West Lindsey District Council. These four authorities are fully supportive about the events taking place in their areas with the time trials opening the championships on June 25th in East Lindsey's Lincolnshire Wolds and the Cadwell Park motor racing circuit.
The road races on June 28th are based on the well known Lincoln Grand Prix circuit with opening loops taking the riders out of the City through the West Lindsey areas before returning to Lincoln to complete finishing laps of the 8 mile Grand Prix circuit.
More sponsors for the championships will be announced shortly.
Thursday June 25th 2015 – The British Cycling National Time Trial Championships (Men and Women) based at Cadwell Park
Sunday June 28th 2015 – The British Cycling National Road Race Championships (Men and Women) based in Lincoln
Supported Events
Thursday June 25th 2015 – The Cadwell Kermesses – Cadwell Park
Friday June 26th 2015 – The Uphill Dash – Lincoln
Saturday June 27th – The Lincoln Grand Prix Championships Sportive – Lincoln
Saturday June 27th – The Castle Criteriums – Lincoln
FURTHER INFORMATION – The courses for the event
Send your results as well as club, team & event news here
---
Other Results on VeloUK (including reports containing results)

---
Other News on VeloUK