We know the riders and races for 2015 and we know how the same riders fared in 2014 – so lets take a look at the season ahead
Team News – Looking ahead to the 2015 Road Season
Link: Teams for 2015 (still work in progress)
Link: Major British Races for 2015 (still work in progress)
There has been so much change yet again in team line-ups for the coming season, it's hard to know where to start! We have two new teams, Team Wiggo and One Pro Cycling, one less team with Giordana not sponsoring a men's team as far as we are aware and lots of changes to the other teams with the merry go round continuing in the same way it does every year.
NFTO will be looking to their new WorldTour signing Steele Von Hoff to replicate what Adam Blythe did. Anyone who can beat the likes of Ben Swift and Phillippe Gilbert is special and Von Hoff looks a great replacement on paper for Blythe. 
Let's face it, it would be boring if all the riders stayed in the same team for all of their careers!
Before we go through the teams, let's see who was successful in 2014. The best rider with 11 podiums in major events including five wins was Adam Blythe (NFTO) but he's going to the World Tour again. The next most successful was Graham Briggs who rides for the men in black again in 2015. In 2014, he had seven podiums in major events including three wins and that doesn't include that awesome win in France!
The third most successful rider based on stats, is Jon Mould who rode for NFTO in 2014 and has moved to the One Pro Cycling Team for 2015. Jon had four wins, three of them from the Tour Series and he's joined at One Pro Cycling by the fourth most successful rider in 2014, Chris Opie.
The fifth most successful, based on podium finishes , Alex Peters, goes to an Under 23 team in Holland whilst in 6th is Matthieu Boulo who goes back to France sadly, Kristian House and Tom Stewart. Ninth is George Atkins who goes to One Pro Cycling from Raleigh and Mike Northey who remains at Madison Genesis.
A winner in France and one of the most prolific winners in 2014, Graham Briggs.
So those are the ten most successful riders in 2014 according to the stats, the ones delivering results for their teams (see the full list here). But what of 2015, how does that look now after the cabinet reshuffle in the cycling hierarchy.
On one hand, the make up of the peloton will be pretty much the same as it has been over the years with a few surprise new comers and none more interesting that Steele Von Hoff from Australia who has signed for NFTO. He is sure to make a mark on the British scene in both the road and crits but it won't be easy.
An unknown in the NFTO line up will be how the first year senior Eddie Dunbar will adapt to the level in Britain. A noted climber, we may well see him make an impact on the early season races like the Lancashire GP which is bound to be hilly or the Tour of Reservoir which is very much hilly!
More interesting again is how the returning riders from German team Netapp-Endura get on. Both Erick Rowsell and Jonny McEvoy were successful in British racing before going to the ProConti team and the mix of McEvoy and Bibby together may see both of them return to getting their hands in the air.
There are though plenty of other interesting signings. As well as Erick Rowsell signing for Madison Genesis, Mark McNally too returns to the UK for that team after a key time in the Tour of Britain (King of the Mountains). But, let's not forget his ride in the CiCLE Classic where he was third. A sign of how much of an impact he may well make here in Britain being coached by Trainsharp's Jon Sharples.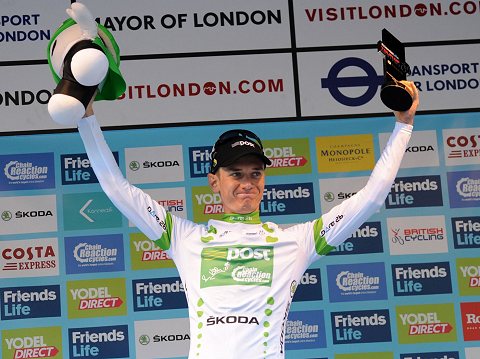 Tour of Britain king of the mountains, Mark McNally back racing in Britain.
The Madison Genesis team though have plenty of other surprises. World class track rider Martyn Irvine, experienced young road rider James Mclaughlin and first year senior, Tristan Robbins. Combine them with riders who have already proved themselves such as Tom Stewart, Mike Northey, Tom Scully and Tobyn Horton and Madison Genesis is sure to be a player on the roads of Britain in 2015. This could be their year!
Team Raleigh sees a lot of changes with Ian Wilkinson, Liam Stones, Morgan Kniesky and Evan Oliphant remaining but lots of new names coming in from overseas as well as other teams in the UK.
Calvin Beneke is a South African who rode for Europcar South Africa in 2014 with no eye catching results whilst Karol Domagalski rode for Caja Rural – Seguros RGA. His racing included the Tour of Spain where he finished 124th on GC and he rode a lot of other major races too but nothing in the stats to say how he will do here in Britain.
Finland's Matti Manninen however does have some eye catching results such as 5th in the European Under 23 RR Championship and 16th in the 2.1 Tour of Estonia. It shows he may be a player in the race for the podiums. Young former GB Academy rider Sam Lowe also returns from overseas and a spell in France.
The key for Raleigh will be a return hopefully to the top of the podium for Ian 'superman' Wilkinson and how well Morgan Kniesky gets on for his second season in Britain. Evan Oliphant is so consistent I predict he'll be winning a few races for the team in Red and Black. I hear a rumour their bikes will be something special too .. sssshh.
Ian Wilkinson will be looking to turn his 2014 season upside down and get those hands in the air for Raleigh. His final stage result of sixth in the Tour of Britain shows the speed and power he has. 
Men in Black
The men in black return with Graham Briggs, one of the leading riders in 2014. Tom Moses also had a good year for the team, especially early season here and in France and Felix English too showed glimpses of brilliance in the crits. Olympic hero Ed Clancy remains with the team too and so the winners of the Pearl Izumi Tour Series in 2014 will be favourites again but with hopefully more of a challenge coming from many of the aforementioned teams.
The team has been round for so long, as has their manager John Herety, of all the teams, JLT are probably the most solid purely because of them having ridden together for so long. They do have a strong development element and it will be interesting to see who shines out of that in a British scene that gets stronger every season.
Which just leaves the new teams; One Pro Cycling and Team Wiggo (not its real name perhaps!) Of the former, One Pro Cycling has two elements in Steven Benton and Yanto Barker that suggest it will be a very solid unit with riders like Jon Mould, Chris Opie and Marcin Bialoblocki, all proven performers and part of the Tour Series winning team in 2013 along with Josh Hunt, also part of the One Pro cycling squad.
Marc Hester is another one who could be a real surprise, especially in the Tour Series.
So it is a very solid squad. George Atkins and George Harper have shown they can get amongst the results in the top races and youngster Sam Williams is progressing rapidly. Former Sprints winner in the Tour of Britain, Pete Williams is also back in the mix which is great to see. The unknowns will be Jonny Bellis on the comeback and youngster Tom Baylis.
So finally, Wiggo's team. Not yet announced but the rider listing is quite probably correct and two riders really stand out, Mark Christian and Owain Doull. Christian blew me away in the manner he crossed to a break with Alex Dowsett and two other WorldTour pros in the Tour of Britain.
Mark Christian (above) has some fire power for sure and if he stays injury free, will be a hard rider to contain. Doull as well has shown he's world class and Jon Dibben is getting better with every season too and I expect them to figure on the podiums in 2015.
As a GB Development squad, the team cannot fail but to have talented riders and one of the most experienced racing in Britain is Andy Tenant. He'll be a very valued asset to help guide the others in the team who are as yet unknowns in the cut and thrust of British racing. Wiggo's team, being a UK Conti team, will be obligated to support the local scene like the Tour Series, the Prems and so on which means we'll get to see plenty of them.
The question mark is Wiggo himself. As part of Team Sky for the classics and perhaps Giro, he won't be able to ride the Prems as a World Tour rider in team Wiggo but there are ways that he could ride (national team for instance) and it will be interesting to see in the second half of the season post Roubaix and perhaps Hour record attempt, what the legend of British cycling will do.
The line ups of the UCI teams is below and whilst they will be the favourites to be on the podiums of the major British races, I am sure riders from outside these UCI teams will also be a force to be reckoned with as well.
See the full line up so far here on VeloUK. There will be other teams to add to that listing and some interesting names as well from riders with a rich pedigree in the sport and piling in the miles right now…
I can't wait for the 2015 season …
UCI TEAMS
2015 NFTO (not for the ordinary)
Dale Appleby
Tom Barras (joins from Wheelbase-Altura MGD)
Ian Bibby (joins from Madison-Genesis)
Edmund Bradbury (joins from Cambridge University RT)
Eddie Dunbar (joins from Kanturk CC)
Sam Harrison
Justin Hoy (joins from Felt-Colbornes-Hargroves)
James Lewis
Rhys Lloyd (joins from Metaltek)
James Lowsley-Williams
Richard Mardle (joins from Felt-Colbornes-Hargroves)
Zach May (joins from Metaltek)
Johnny McEvoy (joins from NetApp-Endura)
Rob Partridge (joins from Giordana Racing)
Steele Von Hoff (joins from Garmin-Sharp)
Hugh Wilson
Joe Wiltshire (joins from the NFTO Race Club)
DS: Dave Povall
Madison Genesis 2015 Team Line-up
Martyn Irvine
James Mclaughlin
Mark McNally
Tristan Robbins
Erick Rowsell
Tom Stewart
Mike Northey
Tom Scully
Matt Holmes
Liam Holohan
Tobyn Horton
Dom Jelfs
Joe Evans
Matt Cronshaw
DS: Roger Hammond
Team Raleigh 2015
Calvin Beneke
Karol Domagalski
Andy Hawdon
Morgan Kniesky
Steve Lampier
Sam Lowe
Matti Manninen
Brad Morgan
Evan Oliphant
George Pym
Liam Stones
Ian Wilkinson
DS/Owner: Cherie Pridham
ONE Pro Cycling 2015
Yanto Barker – Race Captain
George Atkins
Tom Baylis
Johnny Bellis
Marcin Bialoblocki
George Harper
Marc Hester
Josh Hunt
Jon Mould
Chris Opie
Pete Williams
Sam Williams
DS: Matt Winston
TEAM WIGGINS Development Team
(still to declare it s riders)
Steven Burke
Mark Christian
Jon Dibben
Owain Doull
Daniel Patten
Iain Paton
Andy Tennant
Michael Thompson
DS: Simon Cope.
JLT-Condor
Graham Briggs
Dante Carpenter (under 23)
David McCarthy (under 23)
Ed Clancy, MBE
Mike Cuming
Felix English (under 23)
Kristian House
Richard Handley
Richard Lang
Ed Laverack
Luke Mellor (under 23)
Joe Moses (under 23)
Tom Moses (under 23)
Harry Tanfield (under 23)
DS: John Herety
Send your results as well as club, team & event news here
---
Other Results on VeloUK (including reports containing results)

---
Other News on VeloUK