Adam Blythe, Peter Kennaugh & Lizzie Armitstead starring at Revolution 48 on Saturday at Manchester Velodrome
News – Revolution 48 this Saturday
NOTE: Send your results as well as club, team & event news here
A strong line up from both Team Sky and Orica-GreenEDGE will see the rivalry between the World Tour teams step up a gear at Revolution Round 3 on 3rd January. Pete Kennaugh and Luke Rowe return to action for Team Sky and Jens Mouris will be joined by new recruit, Adam Blythe, for Orica-GreenEDGE.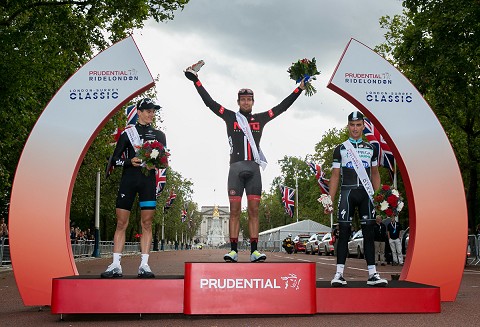 Adam Blythe, winner of the RideLondon Classic
It will be Blythe's debut appearance for the Australian squad and he'll be looking to move the team further ahead in the Championship with the help of Dutch powerhouse, Mouris. Equally, Kennaugh and Rowe have unfinished business after missing out on a victory at Round 2 and with the Elite Championship delicately poised every point will count.
Thanks to a strong performance from Scott Law at Round 2 Orica-GreenEDGE moved ahead of Team Sky into third place on 75 points with Team Sky in fourth on 72. Defending Champions Maloja Pushbikers lead on 103 points with Telegraph All Stars currently second on 85. At the mid-point of the season these gaps can be easily closed and Luke Rowe is up for the challenge:
"We'll be trying really hard to get one over on Orica at Round 3, it's great to have a win especially in our barn! That doesn't take away from the fact this is a gentlemen's sport and there's a huge amount of respect there between the teams."
Lizzie Armitstead, one of the worlds best female riders
"Adam and I are great friends and have been for as long as I've ridden bikes. He's an immensely talented ride, aggressive but also tactically very smart. It's nice to ride against a good mate but he's also a tough competitor. I couldn't be happier for him getting the move to Orica-GreenEDGE, he deserves to be in the Pro Tour and now he's back here where he belongs."
In other racing Lizzie Armitstead lines up against Jo Rowsell, Elinor Barker and Katie Archibald in the elite women's endurance whilst Jess Varnish and Vicky Williamson compete in an UCI Sprint and Keirin.
Tickets can be purchased on www.cyclingrevolution.com or by calling See Tickets on 0844 412 4650. TV highlights of Round 3 will be on Channel 4 at 7am on Saturday 10th January.
Peter Kennaugh, British RR Champion
WHERE: National Cycling Centre, Stuart Street, Manchester M11 4DQ.
SCHEDULE
START 1pm
Ev 1 UCI Sprint – Qualification 200m Time Trial – Women
Ev 2 Future Stars Madison – Girls 15km
Ev 3 Flying Lap 12 x 1
Ev 4 UCI Sprint – Quarter Final – Women
Ev 5 Future Stars Madison – Boys 15km
Ev 6 UCI Points Race – Women 20km
Ev 7 UCI Keirin First Round – Women
Ev 8 UCI Points Race – Men 30km
FINISH 16:02 (afternoon session)
EVENING 7pm
Revolution Introduction Sequence
Ev 9 UCI Sprint – Semi Finals – Women – Match A
Ev 10 Elimination Race – Women
Ev 11 UCI Sprint – Minor Final – Women
Ev 12 UCI Sprint – Semi Finals – Women – Match B
Ev 13 UCI Scratch Race – Men 15km
Ev 14 Future Stars Points Race – Girls 5km
Ev 15 UCI Sprint – Semi Finals – Women – Match C
Ev 16 Future Stars Scratch Race – Boys 5km
Ev 17 UCI Keirin Minor Final – Women
Ev 18 1Km Madison Time Trial – 1 – 1Km
Ev 19 UCI Sprint – Finals – Women – Match A
Ev 20 1km Madison Time Trial – 2 – 1km
Ev 21 UCI Sprint – Finals – Women – Match B
Ev 22 Future Stars Points Race – Boys 5km
Ev 23 Revolution Longest Lap
Ev 24 UCI Scratch Race – Women 15km
Ev 25 UCI Sprint – Finals – Women – Match C
Ev 26 Future Stars Scratch Race – Girls 5km
Ev 27 Team Elimination Race
Ev 28 Presentations – Winning Team & Future Stars
Ev 29 UCI Keirin Final – Women
Finish 22:25
RIDERS
1 Peter Kennaugh Team Sky
2 Luke Rowe Team Sky
6 Oliver Peckover Team Sky
7 Matthew Burke Team Sky
8 Shenna McKiverigan Team Sky
9 Connie Hudson Team Sky
11 Bobby Lea Maloja Pushbikers RT USA
12 Stefan Mastaller Maloja Pushbikers RT AUT
16 Sebastian Dickens Maloja Pushbikers RT
17 Hamish Turnbull Maloja Pushbikers RT
18 Sophie Capewell Maloja Pushbikers RT
19 Hetty Niblett Maloja Pushbikers RT
21 Ed Clancy JLT Condor
22 Oli Wood JLT Condor
26 Jack Plumley JLT Condor
27 Georg Mew Jenson JLT Condor
28 Rebecca Raybould JLT Condor
29 Eve Jefferies JLT Condor
31 Martyn Irvine Madison-Genesis
32 Mark Christian Madison-Genesis
36 Etienne Georgi Madison-Genesis
37 Alistair Fielding Madison-Genesis
38 Emma Pitt Madison-Genesis
39 Pfeiffer Georgi Madison-Genesis
41 Owen James Team USN
42 Joe Holt Team USN
46 Rhys Britton Team USN
47 William Roberts Team USN
48 Jessica Roberts Team USN
49 Elizabeth Bennett Team USN
51 Alastair Rutherford Rigmar Racers
52 Phil Trodden Rigmar Racers
56 Matthias Barnet Rigmar Racers
57 Lewis Stewart Rigmar Racers
58 Amber King Rigmar Racers
59 Rosa Martin Rigmar Racers
61 Mark Stewart Team Scotland
62 Fraser Martin Team Scotland
66 Danny Mulholland Team Scotland
67 Grant Martin Team Scotland
68 Jenny Holl Team Scotland
69 Rhona Callander Team Scotland
71 TBA NFTO
72 Sam Harrison NFTO
76 Tom Pidcock NFTO
77 Jake Dobson NFTO GBR
78 Eleanor Dickinson NFTO
79 Henrietta Colbourne NFTO
81 Adam Blythe Orica Greenedge
82 Jens Mouris Orica Greenedge NED
86 Alex Jolliffe Orica Greenedge
87 Mitchell Powell Orica Greenedge
88 Sophie Williams Orica Greenedge
89 Megan Chard Orica Greenedge
91 Marc Hester Telegraph Allstars DEN
92 Elia Viviani Telegraph Allstars ITA
96 Fred Wright Telegraph Allstars
97 Ethan Hayter Telegraph Allstars
98 Rachel Jary Telegraph Allstars
99 Lauren Murphy Telegraph Allstars
101 Jake Womersley Team Polypipe
102 Owain Doull Team Polypipe
106 Jamie Ridehalgh Team Polypipe
107 Matthew Draper Team Polypipe
108 Anna Docherty Team Polypipe
109 Georgia Hilliard Team Polypipe
111 Andy Tennant Team Ignitr
112 Jon Dibben Team Ignitr
116 Reece Wood Team Ignitr
117 Theo Hartley Team Ignitr
118 Lauren Bate-Lowe Team Ignitr
119 Monica Dew Team Ignitr
WOMENS ENDURANCE
121 Lizzie Armitstead Boels – Dolmans
122 Jo Rowsell Pearl Izumi Sports Tours Int
123 Katie Archibald Pearl Izumi Sports Tours Int
124 Katie Curtis Pearl Izumi Sports Tours Int
125 Emily Nelson Team USN
126 Ellie Coster Team USN
127 Charline Joiner Team WNT
128 Abby Mae Parkinson RST Racing Team
129 Leire Olaberria Spain ESP
130 Elinor Barker Wiggle – Honda
131 Abbie Dentus Team DeVere
132 Megan Barker Fusion RT
Female Sprint
151 Jess Varnish Great Britain
152 Vicky Williamson Great Britain
153 Danni Khan Great Britain
154 Rosie Blount Great Britain
155 Katy Marchant Great Britain
156 Shanne Braspennincx Holland NED
157 Yesna Rijkhoff Holland NED
160 Helena Casas Roige Spain ESP
163 Neah Evans Scotland
164 Eleanor Richardson Scotland
Send your results as well as club, team & event news here
---
Other Results on VeloUK (including reports containing results)

---
Other News on VeloUK