2015 is a big year for the British Road Race Champion Peter Kennaugh as he aims to continue his winning form after his best season so far
Feature Interview – Peter Kennaugh
NOTE: Send your results as well as club, team & event news here

In so many races I have had the privilege of watching Peter Kennaugh racing from the back of a motorbike, I have seen his 'all guns blazing' approach. It doesn't always bring him the result the effort deserves like in the Commonwealth Games where the field was shredded chasing him for most of the race.
But in the British Road Race Championships however, his efforts helped reduce the front group down to just two riders, him and Ben Swift, and in the sprint for the title, after too many silvers in the championship, Kennaugh got to the line first and finally won the title we all knew he was capable of winning.
Peter, who's still only 25, said there was no doubt that 2014 was his best season so far, one where he finally got the results for the team on the road.
"After having put the road career on hold at times for the track stuff, it was great to finally become a winner out there as a professional and not just be another pro in the peloton" he explained to VeloUK at Revolution 48 on Saturday night.
"My performance at the World Road Race championships where I was in the mix at the sharp end of the race was very satisfying as that had been a goal of mine" Peter said. He added it was also good to have been consistent working for Chris Froome throughout the Vuelta and that event rounded off a consistent year for him on the road."
After the win in the British Road Race Championships in June, Peter followed in the wheelmarks of Wiggins, Thomas, and Stannard to name but three riders who have taken the champion's jersey into the pro peloton in Europe.
Peter said he felt a massive difference on the bike going into his first race wearing the British Champion's stripes. The winner this year of the Coppi e Bartali & Tour of Austria stage races as well as stages in those races, added "You get such a boost in confidence and a feeling of belonging in the peloton in the jersey".
"I really enjoyed the win in Austria because I won the first stage in the National Champs jersey and then took the leaders jersey which I held until the end. It was a weeklong race so it was a long time to defend it each day so it was a real team performance and not just down to me."
"On the first second and second stages, maybe a few teammates didn't yet have that belief in me but still did the job because they had to but then you could see the support turn around after the third day when they could see the shape I was in and how I was fully committed to it and what I was a willing to give to stay in the jersey."
"So, seeing the way the team committed to me and how riders sacrificed their own race for me meant a lot. I think the team performance in the Vuelta was very satisfying too. From day one there was pressure but I definitely took a lot from that race".
"With the Tour de France not going so well for the team, Dave (Bralisford) had a chat with us at the start telling us we needed to go out there with a positive outlook and the intent to do well. So from day one there was massive pressure to do everything right ."
"I remember coming onto the bus and saying to Dave that I wasn't sure I could keep that up for three weeks but he came up to me ten days later and said that putting that effort in on those early stages really helped because we got into the second and third weeks doing everything sub consciously and gelling as a team effortlessly rather than having to think about what we were doing."
"So he was right and it was a really good team performance."
Forcing the selection at Celtic Manor in the British Road Race Championships 2014.
For Peter, his role in Sky changes from race to race and we hope will continue to do so, going from a domestique to a team leader as he was in Austria for example. Asked about making that adjustment from going from carrying bottles to carrying the hopes of the team in a race, Peter explained "it is strange at first when you have elders in the team who have been around longer than you, to have them working for you even when they may not like it. But as long as I have good form and I know I am going well, I enjoy being a team leader and I get a lot of confidence seeing the guys ride for me."
"I would never put it on the line if I did not have the legs. I'd be the first to say I haven't got it today and let someone else go for it but as soon as I know I am in good form, I believe in myself and have the confidence to say to the guys 'can you help me out'".
"Hopefully next year, especially after this year, if we go into a race and I am going really well, I will have that respect and commitment from the team".
Tour Winner?
One thing Peter wasn't going to commit to though was winning the Tour de France or a Grand Tour. Not yet at least. There was a time when Dave Brailsford talked of winning the Tour de France way before Wiggins and Froome had showed they were capable of such a feat and Peter at the time was a rising star with a lot of fans and supporters.
He was one of the names touted as a possible Tour winner but that sat uneasy on his shoulders as he explained. "I didn't enjoy the press putting that idea out there. I had done nothing in the pro races at that point and I don't think it's really fair on the rider when these things are said".
"It's taken me five years to win a five day stage race. I'm miles off winning a Grand Tour at the minute. I'm still at that level where to win a week long World Tour stage race like Paris-Nice or Tirreno-Adriatico is not a million miles away as I could probably get a top 10 or feature in the GC. It's those sort of races and one day events that I'd target. But the Grand Tour, for the time being, I'd say I am quite happy to go into them in a supporting role and maybe go for a stage."
"I am confident I can win a stage in a Grand Tour because in the Vuelta I reckon I was capable of doing it but to get in the top three or top ten, I'm a few years off targeting that".
Tour versus the Vuelta
For us on the outside, it is perhaps difficult to appreciate how big the Tour de France is for a rider and Peter explains that it is bigger than any other race. "I'd say so with the press side and the spectators and how intense it is mentally".
"There is no getting away from it because it is in your face all the time. The nervousness in the peloton is unbelievable. In most races, the break goes and the peloton sits up, relaxes a bit as a team rides on the front and it takes that pattern but in the Tour, the break goes and everyone still wants to be at the front. So getting through that first week unscathed and with no time lost, is a massive achievement just because of the crashes, pressure and how dangerous the race is nowadays."
"The Vuelta and the Giro are getting to be like that as well. I did the Vuelta in 2010 and did it last year and in those four years it has become a lot more stressful. I think there is certainly more pressure on everyone to perform now. Even the smaller races like Ruta de Sol are being talked up as a clash between Froome and Contador, Quintana and Valverde. But that is the way the sport is becoming with pressure all year round and not just at the Tour or the classics".
The 2015 Season
"For me, 2015 is about getting in the Tour de France team again. That will be a big focus and then in the classics, the Ardennes Classics, I'd like to go well in them this year. I got it a bit wrong last year but I can learn from that. I'll also have a go at making the team for Flanders and San Remo as well. I have always wanted to do Flanders and hopefully I can make the team and it would be amazing to ride that race in the national stripes."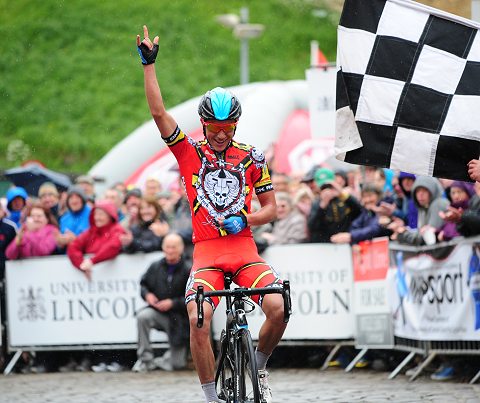 Winner in 2013 of the Lincoln Grand Prix – this year the British Champs jersey is at stake and the course is well suited to Peter.
"I sat down with Dave and he asked what am I passionate about, what excites me, because it is about that too. You do this for so many years, the last thing you want it to become is monotonous and the same old, same old every day".
"Which is kind of why I am going to Australia this year instead of doing the Majorca camp. I have been doing that for six or seven years and so I'll be going to Australia with Luke Rowe. It's got to a point where I needed to change things and mix the race programme up".
Another race Peter will be well up for is the British Road Race Championship which is on a similar course he won the Lincoln Grand Prix on a few years ago wearing the Isle of Man jersey. "Any national race on any course is hard to predict because anything can happen" said the rider who had four times been on the podium before winning the Elite Men's jersey in 2014.
"It's down to you at the end of the day. If you're not going in those moves, then you have less chance of getting in the one that sticks. I think it's about putting yourself out there and making sure you get in the moves and also forcing them".
"On the Lincoln course, it's a great one to do that on. It's a hard course although it may not be as tough as Lincoln because we do those early loops but eight laps on that course is still hard and I think it's going to be bloody exciting because it's so electric up that climb as I found when I won there."
Rio Olympics
Looking ahead to 2016 as so many of the top British riders are and the Olympics in Rio, Peter admits he hasn't given it a great deal of thought yet. "You have to put so much effort into doing well in the here and now and so I am not really looking past this season."
"It's my contract year as well so it's a big year for me. So I need to get the most from this season and get it done properly and then sign a new contract. I love being at Sky, it suits me well and I feel I have a good place in the team now. So it's a case of getting the results and signing a contract so I can look forward to the years after that."
"Once I have re-signed and know who I am riding for, I can then set the objectives for 2016 and onwards. Whether that's the track or road, I don't know…"
Good luck to Peter, one of the most exciting riders in the peloton and a rider deserving of being a team leader more often… thanks for the chat!
Send your results as well as club, team & event news here
---
Other Results on VeloUK (including reports containing results)

---
Other News on VeloUK