Australian Rohan Dennis, who is tackling the hour record, showed the form is good with a win in the Tour Down Under, Wouter Wippert wins crash affected stage
Tour Down Under – Win for Dennis
NOTE: Send your results as well as club, team & event news here
Australia Day came early in Adelaide with Rohan Dennis heading a clean sweep of the podium in the Santos Tour Down Under.
Racing in front of a crowd of 115 thousand fans, the South Australian from the BMC Racing team can now boast of a UCI World Tour victory after claiming the Santos Ochre Leader's jersey by a two-second margin over Tasmanian Richie Porte (Team Sky).
Wouter Wippert (Drapac Professional Racing) wins the Be Safe Be Seen MAC Stage 6 of the 2015 Santos Tour Down Under in Adelaide. Photo – Regallo 
Dennis finished 20 seconds clear of team-mate and compatriot Cadel Evans, who after a 20 year professional cycling career ended his final World Tour event in overall third place. "It's an incredible feeling to win the Santos Tour Down Under," said Dennis. "Doing it with Cadel during his last World Tour race took a lot of pressure off me but I was not comfortable at all in this last stage.
"I was following Richie Porte in the sprints in case he'd go for the (time) bonus but I didn't have to worry because my team rode awesome. I couldn't fault them, they sat at the front and made sure I was out of the wind," Dennis said. "Even when I got pushed back someone always dropped back and pulled forward."
"They have really helped me win this and made it a lot easier." It was a deserved win for the 24-year-old who has won world titles on both the road and track as well as Commonwealth and Olympic Games silver medals in his short career.
Santos Tour Down Under winner Rohan Dennis (BMC Racing). Photo – Regallo  
With only two seconds separating Dennis from Porte at the start of the day, there was an opportunity for Porte to try and grab some bonus seconds during the race but it's a hard ask on the final stage especially with a super attentive BMC Racing team on the alert to protect their race leader.
For Porte coming so close to the top step of the podium was bitter sweet but he was content to be in the placings and to have won yesterday's 'Queen' stage. "I am happy," he said. "I enjoyed it. It was a great week of racing. It's just incredible to see the growth of racing in Australia."
"It's a massive confidence boost," Porte explained. "I won the same stage (stage 5) last year, but this year, I feel I have a lot of motivation back, and I am looking forward to having a big season."
Stage 6 was raced over 20 laps of a 4.5 kilometre circuit that this year extended from Elder Park up through North Adelaide and back before sweeping up through the city along King William Street to Victoria Square. The stage is traditionally an all-up massed sprint and it looked set to be so again until a nasty crash on the final lap took a host of favourites out of contention.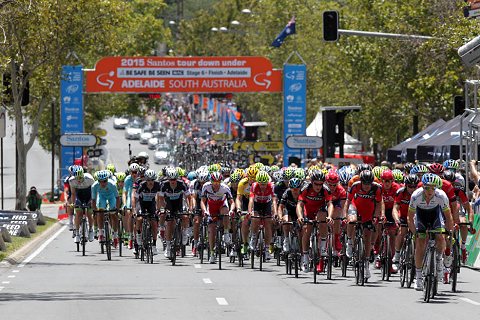 Be Safe Be Seen MAC Stage 6 of the 2015 Santos Tour Down Under in Adelaide. Photo – Regallo  
That opened the way for Dutch sprinter Wouter Wippert to snatch the win edging out Australian road champion, Heinrich Haussler (IAM Cycling) with Belgian Boris Vallee (Lotto-Soudal) third across the line. "It was a really nervous race," said Wippert. "The team rode all day in the front (but) I was a bit tired and I decided to go back but a teammate of mine took me to the front again ahead of the final sprint.
That was fortunate for him because he was in front of the crash and able to ride on to the finish without mishap. "I saw a crash happening but not much because the race was so fast," he said. "It's fantastic to win here, being part of an Australian team in Australia for a World Tour race."
On lap ten and fifteen of the 90 kilometre stage the riders contested a Category 3 Subaru King of the Mountain climb. The first time under the arch it was Lars Boom (Astana) ahead of Peter Kennaugh (Team SKY) and Michael Schar (BMC Racing). Boom again took the maximum points on the second climb but this time Denmark's Lars Bak (Lotto-Soudal) was second and Kennaugh third.
The climbing results today had no impact on the race for the Subaru King of the Mountain jersey that began the day on the shoulders of Jack Bobridge (UniSA-Australia) and went home with him as well. His final tally of 36 points was two ahead of Dennis with Porte well back in third on the climber's classification with 22 points.
"I didn't crash but I was caught behind the crash," said Bobridge after the stage. "It's just bad because I wanted to help Steele von Hoff in the final sprint. "But the whole week has been fantastic and I couldn't ask for much more," said Bobridge who on top of his Subaru KOM win also won the opening stage and wore the leader's jersey for two days.
Race leader Rohan Dennis (BMC Racing)  in the Be Safe Be Seen MAC Stage 6 of the 2015 Santos Tour Down Under in Adelaide. Photo – Regallo   
The stage also featured two iiNet intermediate sprints, the first at the end of lap eight and the second at the end of lap twelve. The Orica-GreenEDGE team of iiNet Points leader Daryl made sure his hold on the jersey was secure by sending several team-mates with him in an early break.
The South African locked up the lead with a win in the first intermediate sprint ahead of his team mate, Australian Mathew Hayman and Schar, who was policing the break for BMC team, in third place. At the second intermediate sprint Bak was first ahead of American Alex Howes (Trek-Cannondale) and Boom.
When the points were tallied at the end of the stage, Impey finished with 55 points well clear of Italian Niccolo Bonifazio (Lapre-Merida) on 39 points with Evans third in the iiNet classification with 37 points.
Results Snapshot – Be Safe Be Seen MAC Stage 6
Be Safe Be Seen MAC Stage 6 Winner – Wouter Wippert (Drapac Professional Racing)
Santos Tour Down Under Winner – Rohan Dennis (BMC Racing)
iiNet Points Winner– Daryl Impey (Orica-GreenEDGE)
Subaru King of the Mountain Winner – Jack Bobridge (UniSA-Australia)
Virgin Australia Winning Team – Movistar
Cycle Instead Young Rider Winner – Rohan Dennis (BMC Racing)
Europcar Most Competitive Rider of the Day – Manuele Boaro (Tinkoff-Saxo)
Tanya Denver Award (Highest Placed South Australia) – Rohan Dennis (BMC
STAGE 6
1 WIPPERT Wouter DPC 01:56:09
2 HAUSSLER Heinrich IAM @ st
3 VALLEE Boris LTS @ st
4 BRUTT Pavel TCS @ st
5 IMPEY Daryl OGE @ st
6 BONIFAZIO Niccolo LAM @ st
7 VON HOFF Steele AUS @ st
8 TLEUBAYEV Ruslan AST @ st
9 SELIG Rudiger KAT @ st
10 CHAVANEL Sébastien FDJ @ st
11 MEERSMAN Gianni EQS @ st
12 NIZZOLO Giacomo TFR @ st
13 DUMOULIN Tom TGA @ st
14 PANTANO GOMEZ Jarlison IAM @ st
15 SCHÄR Michael BMC @ st
16 SANZ Enrique MOV @ st
17 POZZOVIVO Domenico ALM @ st
18 IZAGUIRRE INSAUSTI Gorka MOV @ st
19 TCATEVICH Aleksei KAT @ st
20 FERNANDEZ Ruben MOV @ st
21 EVANS Cadel BMC @ st
22 LAMPAERT Yves EQS @ st
23 BERARD Julien ALM @ st
24 PORTE Richie SKY @ st
25 RENSHAW Mark EQS @ st
26 BENNETT George TLJ @ st
27 KLUGE Roger IAM @ st
28 DENNIS Rohan BMC @ st
29 GRMAY Tsgabu Gebremaryam LAM @ st
30 SUTTON Christopher SKY @ st
31 DOCKX Gert LTS @ st
32 HENDERSON Greg LTS @ st
33 ROY Jérémy FDJ @ st
34 DILLIER Silvan BMC @ st
35 WYSS Danilo BMC @ st
36 BOUET Maxime EQS @ st
37 DE KORT Koen TGA @ st
38 VELITS Martin EQS @ st
39 CLEMENT Stef IAM @ st
40 ELMIGER Martin IAM @ st
41 KOHLER Martin DPC 5
42 GESCHKE Simon TGA @ st
43 PINEAU Cédric FDJ @ st
44 HAYMAN Mathew OGE 9
45 REYNES MIMO Vicente IAM 20
46 THOMAS Geraint SKY 22
47 PUCCIO Salvatore SKY @ st
48 HEPBURN Michael OGE 29
49 ROWE Luke SKY 32
50 BEWLEY Sam OGE 36
51 SERRY Pieter EQS 44
52 MEYER Cameron OGE 45
53 HANSEN Adam LTS 50
54 DIDIER Laurent TFR @ st
55 KEIZER Martijn TLJ @ st
56 MOSER Moreno TCG @ st
57 SANCHEZ GIL Luis Leon AST @ st
58 STANNARD Ian SKY @ st
59 ALAFACI Eugenio TFR 56
60 CIMOLAI Davide LAM 01:01
61 BROWN Graeme DPC 01:06
62 BAK Lars Ytting LTS @ st
63 HANSEN Jesper TCS 01:14
64 ROGERS Michael TCS @ st
65 HANSEN Lasse Norman TCG @ st
66 HAIG Jack AUS @ st
67 DE GENDT Thomas LTS @ st
68 MACHADO Tiago KAT @ st
69 DE LA CRUZ MELGAREJO David EQS @ st
70 MCCONNELL Daniel TFR @ st
71 ROULSTON Hayden TFR @ st
72 VILLELLA Davide TCG @ st
73 LASTRAS GARCIA Pablo MOV @ st
74 LAGUTIN Sergei KAT @ st
75 KERBY Jordan DPC 01:21
76 CLARKE William DPC @ st
77 EDMONDSON Alexander AUS 01:25
78 FERRARI Roberto LAM @ st
79 BOARO Manuele TCS @ st
80 GOUGEARD Alexis ALM 01:46
81 DUMOULIN Samuel ALM @ st
82 RIBLON Christophe ALM @ st
83 STETINA Peter BMC @ st
84 DOMONT Axel ALM 02:36
85 TANNER David IAM 03:03
86 MALACARNE Davide AST 03:22
87 BOBRIDGE Jack AUS 03:29
88 ROE Timothy DPC @ st
89 MARKUS Barry TLJ @ st
90 LINDEMAN Bertjan TLJ @ st
91 POWER Robert AUS @ st
92 SCOTSON Miles AUS @ st
93 ZAUGG Oliver TCS @ st
94 FLENS Rick TLJ @ st
95 HAAS Nathan TCG @ st
96 HESJEDAL Ryder TCG @ st
97 HOWES Alex TCG @ st
98 DURASEK Kristijan LAM @ st
99 WATSON Calvin TFR @ st
100 BOOM Lars AST 04:01
101 KITTEL Marcel TGA 04:11
102 TIMMER Albert TGA @ st
103 KADRI Blel ALM @ st
104 HAGA Chad TGA 04:28
105 KENNAUGH Peter SKY @ st
106 JUUL JENSEN Christopher TCS @ st
107 BONO Matteo LAM @ st
108 CARUSO Giampaolo KAT @ st
109 BELKOV Maxim KAT @ st
110 HERRADA LOPEZ José MOV 05:47
111 CATALDO Dario AST @ st
112 LOBATO DEL VALLE Juan Jose MOV @ st
113 CAPECCHI Eros MOV @ st
114 DURBRIDGE Luke OGE @ st
115 VAN DER PLOEG Neil AUS @ st
116 DE VREESE Laurens AST @ st
117 WESTRA Lieuwe AST @ st
118 ISAYCHEV Vladimir KAT @ st
119 ROOSEN Timo TLJ @ st
120 CLARKE Simon OGE @ st
121 VEIKKANEN Jussi FDJ @ st
FINAL OVERALL
1 DENNIS Rohan BMC 19:15:18
2 PORTE Richie SKY 2
3 EVANS Cadel BMC 20
4 DUMOULIN Tom TGA 22
5 FERNANDEZ Ruben MOV 24
6 POZZOVIVO Domenico ALM 31
7 IMPEY Daryl OGE 35
8 IZAGUIRRE INSAUSTI Gorka MOV 52
9 PANTANO GOMEZ Jarlison IAM 53
10 BENNETT George TLJ 57
11 GRMAY Tsgabu Gebremaryam LAM 01:00
12 MACHADO Tiago KAT 02:00
13 SANCHEZ GIL Luis Leon AST @ st
14 ROGERS Michael TCS 02:14
15 BOUET Maxime EQS 02:28
16 HAIG Jack AUS 02:31
17 HANSEN Adam LTS 02:33
18 GESCHKE Simon TGA 02:41
19 ROY Jérémy FDJ 02:43
20 BERARD Julien ALM 02:46
21 MOSER Moreno TCG 02:51
22 VILLELLA Davide TCG 03:33
23 BAK Lars Ytting LTS 03:47
24 DE LA CRUZ MELGAREJO David EQS 03:57
25 LAGUTIN Sergei KAT 04:19
26 MCCONNELL Daniel TFR 04:35
27 DIDIER Laurent TFR 05:10
28 STETINA Peter BMC 05:19
29 DUMOULIN Samuel ALM 05:23
30 VELITS Martin EQS 05:29
31 CLEMENT Stef IAM 06:05
32 THOMAS Geraint SKY 06:06
33 REYNES MIMO Vicente IAM 06:32
34 ROULSTON Hayden TFR 06:55
35 LINDEMAN Bertjan TLJ 06:57
36 MEYER Cameron OGE 06:59
37 LASTRAS GARCIA Pablo MOV 07:14
38 CAPECCHI Eros MOV 07:17
39 HAUSSLER Heinrich IAM 07:41
40 HANSEN Jesper TCS 07:48
41 POWER Robert AUS 07:59
42 DURASEK Kristijan LAM 08:06
43 JUUL JENSEN Christopher TCS 08:20
44 HAYMAN Mathew OGE 08:21
45 SCHÄR Michael BMC @ st
46 DOCKX Gert LTS 08:36
47 TANNER David IAM 08:38
48 WESTRA Lieuwe AST 08:43
49 ELMIGER Martin IAM 09:33
50 MALACARNE Davide AST 10:32
51 CLARKE Simon OGE 10:48
52 CARUSO Giampaolo KAT 10:53
53 PINEAU Cédric FDJ 11:05
54 ZAUGG Oliver TCS 11:10
55 STANNARD Ian SKY 11:43
56 MEERSMAN Gianni EQS 11:52
57 HERRADA LOPEZ José MOV 12:03
58 ROE Timothy DPC 12:26
59 ROOSEN Timo TLJ 12:37
60 HAAS Nathan TCG 12:42
61 BOBRIDGE Jack AUS 12:47
62 VON HOFF Steele AUS 13:06
63 DURBRIDGE Luke OGE 13:15
64 KEIZER Martijn TLJ 13:16
65 HESJEDAL Ryder TCG 13:45
66 TCATEVICH Aleksei KAT 15:19
67 BRUTT Pavel TCS 15:24
68 CATALDO Dario AST 15:42
69 BOOM Lars AST 15:59
70 VEIKKANEN Jussi FDJ 16:13
71 KADRI Blel ALM 16:24
72 BELKOV Maxim KAT 17:34
73 DE GENDT Thomas LTS 17:55
74 HOWES Alex TCG 18:03
75 KLUGE Roger IAM 18:10
76 WYSS Danilo BMC 18:16
77 CLARKE William DPC 18:52
78 DE VREESE Laurens AST 19:02
79 HAGA Chad TGA @ st
80 CHAVANEL Sébastien FDJ 19:19
81 SERRY Pieter EQS 19:29
82 KENNAUGH Peter SKY 19:49
83 WATSON Calvin TFR 19:59
84 BONIFAZIO Niccolo LAM 20:04
85 DE KORT Koen TGA 20:37
86 HENDERSON Greg LTS 22:28
87 DILLIER Silvan BMC 22:40
88 LAMPAERT Yves EQS 22:41
89 ROWE Luke SKY 23:22
90 TLEUBAYEV Ruslan AST 23:58
91 RENSHAW Mark EQS 24:12:00
92 ALAFACI Eugenio TFR 24:52:00
93 PUCCIO Salvatore SKY 24:55:00
94 SCOTSON Miles AUS 25:36:00
95 BOARO Manuele TCS 26:09:00
96 CIMOLAI Davide LAM 27:00:00
97 BEWLEY Sam OGE 27:05:00
98 KOHLER Martin DPC 27:21:00
99 EDMONDSON Alexander AUS 27:42:00
100 TIMMER Albert TGA 28:08:00
101 ISAYCHEV Vladimir KAT 29:41:00
102 BROWN Graeme DPC 30:51:00
103 LOBATO DEL VALLE Juan Jose MOV 31:49:00
104 FLENS Rick TLJ 31:56:00
105 HANSEN Lasse Norman TCG 32:16:00
106 HEPBURN Michael OGE 32:47:00
107 SANZ Enrique MOV 33:30:00
108 SELIG Rudiger KAT 34:28:00
109 BONO Matteo LAM 34:42:00
110 VAN DER PLOEG Neil AUS 37:25:00
111 RIBLON Christophe ALM 39:59:00
112 KERBY Jordan DPC 41:46:00
113 FERRARI Roberto LAM 42:44:00
114 WIPPERT Wouter DPC 46:55:00
115 GOUGEARD Alexis ALM 47:54:00
116 SUTTON Christopher SKY 53:18:00
117 KITTEL Marcel TGA 54:29:00
118 MARKUS Barry TLJ 54:52:00
119 DOMONT Axel ALM 55:10:00
120 VALLEE Boris LTS 55:43:00
121 NIZZOLO Giacomo TFR 59:29:00
Send your results as well as club, team & event news here
---
Other Results on VeloUK (including reports containing results)

---
Other News on VeloUK