A rider who made himself a proper legend in 2014, Matt Bottrill, talks to VeloUK about fast courses, enjoyable courses and just going fast
Time Trial – Matt Bottrill Talks Courses
No ordinary record breaker, Matt is juggling a new business (coaching), a full time job and a young family!
The road season approaches when weekend after weekend of time trials up and down the country will be held. Time trialling is probably the most popular form of racing on the road and the season is not far away. As well as the blogs from Billy Oliver, we talk to the rider who turned the sport upside down in 2014, Matt Bottrill.
Training less than ten hours a week, Matt set comp records and won the blue ribbon events in time trialing, the 10 and 25, whilst juggling a full time job and a young family. He showed that even 'amateurs' can make their mark on the sport in a big way and will be back in 2015, looking to conquer new challenges.
When planning a season of time trialling, many riders will look to enter events on the fastest courses for many reasons. To set a personal best for instance or to set a time that will get them into the major events.
Others however just like winning no matter what the course so the time, as long as it's the fastest, doesn't matter so much.
Matt is one who enjoys the circuit series type courses but also rides fast courses. When asked does he still chase fast times on courses when he doesn't need to having comp records to his name, Matt replies "I would not say I chase them, I just enter the events when I have the time free and if it looks like a good day and the form is there, I go for it!
When asked to name some of the fastest, he starts by saying the V718/1 (10 mile) where the RTTC 10 champs were last year and he set the second fastest ever time for the '10'. The course, on the A63 – South Cave – Welton – South Cave, is mostly dual carriage way but includes some single lane technical bits which makes the time of Matt's all the more special. "Everybody seems to love that course" says Matt.
The F11/10 (Aston Clinton & Tring bypass) is another of the fastest 10 mile courses Matt added. When it comes the 25 mile time trial, Matt says the course in Wales (nr Port Talbot, R25/3L), is one of the fastest and is where the comp record has been broken in the past with David McCann and last year by Matt himself.
The course has a great surface and is a popular place for riders to set quick times. The course starts in Glenyneth (South Wales) and is on an out and back circuit. The course 'gifts' riders with a fast start providing a gift downhill section where riders hit speeds of over 50 mph. Once the riders are down in the valley however, they are vulnerable to the wind. For Matt's record ride though, it was a perfect day for racing with very little wind and warm temperatures.
The A25/11 (Etwall – Uttoxeter, A50) is another 25 course that Matt says is super quick.
Asked what are the four fastest 10 or 25 courses he has ridden in his career, Matt says:
10: V718
10: F11/10
25: R25/3L (where he broke comp record)
25: A25/11
Matt, who is now coaching riders (Matt Bottrill Performance Coaching) also gives a special mention to the E10/2 where Alex Dowsett broke the 10 comp record.
But fast courses are only one piece in a complicated jigsaw. There are courses which lend themselves to being fast because of many factors such as the road surface, how 'flat' they are, and how straight forward they are as well. But such courses can also come with some 'cons' like very fast moving traffic and because of that, not everyone likes the super fast courses, many of them dual carriageways with traffic traveling at 70mph or faster.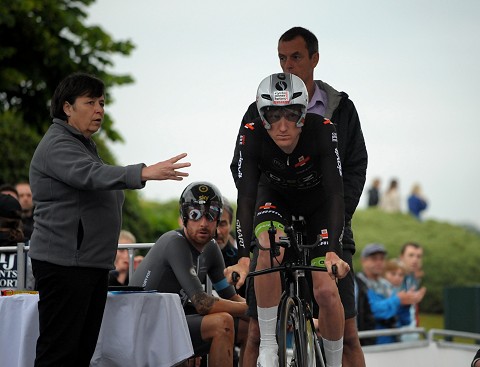 Matt Bottrill, with less than 10 hours a week to train, gets ready to take on the rider watching him, Bradley Wiggins, who has won the Tour de France and later in the year the World Time Trial Championship to add to the Olympic title.
In fact, some riders hate them and only ride them when they have to in championships etc. So when asked what courses he enjoys, Matt replies "For me, it's the type of courses in the RTTC time trial series. I love that sort of course. Obviously I have done the fast courses on dual carriageways but I love events like the Buxton Hilly for instance."
"The most enjoyable ones of all are the ones I train on and so are familiar with".
Like Griffydam (a hamlet in Leicestershire) where Matt won the RTTC Circuit Time Trial Championships last year. "It has its undulations and is a bit more technical" explained Matt.
When asked what makes a fast course, Matt says it doesn't have to be a dual carriageway and a lot of it comes down to the weather (temperatures and air pressure) and wind direction. "The road surface is really important too" Matt added. "The roads in the UK tend to be quite dead whilst you can go abroad and find the road surfaces tend to be a mile an hour or more faster".
"The key to going fast is also aerodynamics. If you have optimised your position on the bike, then that is a key as well".
On the subject of roads though and rolling resistance, another factor is the tyres used. "Working with Simon at the Drag2Zero wind tunnel, we have probably done more research than anybody into this" Matt says. "Getting the tyre to fit the profile of the rim for example is important as tyres are getting wider."
"I'm using 22 to 23mm tubulars on the Enve wheels and the advantage of the wider tyres is the better rolling resistance, the aerodynamics is better and so is the handling".
Anyone who has been following one of Matt's protégé's Billy Oliver's blog will realise the complicated process that is required to go fast. Billy is finding that having Matt coach him is a big part of going fast along with a load of other things.
So fast courses are certainly a part of that process but unlike your position on the bike and finite improvements like that, a fast course can be a slow course on the wrong day. But, on the right day, as Matt found last year, they can be the final box ticked in setting a time that will put a big smile on a rider's face.
Our thanks to Matt for his help in this article. If you have a favourite course and want to tell us what it is, where it is and what makes it special, then email VeloUK …
Send your results as well as club, team & event news here
---
Other Results on VeloUK (including reports containing results)

---
Other News on VeloUK