Henry Sheldon, James Bradley, Joshua Outram & Abigail Dentus winners at round 7 of the Imperial Winter Series at Hillingdon on Saturday – report, results & photos
Report, Photos & Results – Imperial Winter Series 7
(thanks to Lucy Collins)
NOTE: Send your results as well as club, team & event news here
Round 7 | 31st January 2015 | Photos:Â Antony Edmonds
Early morning snow cleared but the air was cold with the wind across the circuit biting which meant one of two things – cling to warmth from the mass of the bunch or break clear and hope the extra effort ensured you forgot how cold it was! Fortunately a few opted for the latter and this made for a number of exciting races.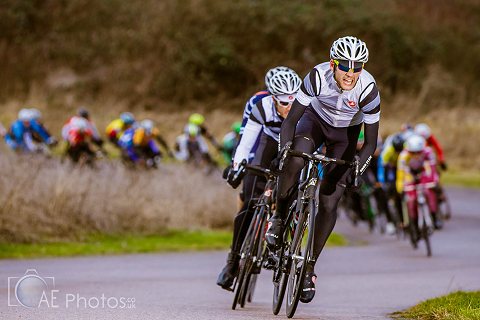 A smaller group of 123 Women lined up and then lined out as a number of early attacks primarily from the Les Filles girls countering DeVer Cycles' Abi gail Dentus – accompanied by her lovely pink Colnago – split the group into two.
The two Helens from Les Filles – McKay and Ralston – worked hard but Dentus was clearly confident and rightly so winning from Ralston and Anna Marie Hughes (Bonito Squadra Corse).
Henry Sheldon dominated the 4th cat race with a clear game plan to attack after 25 minutes and hold on – this he did initially riding with Sam Calder (Beeline Bicycles RT) then alone to win by 5 seconds. Thomas Whately (Paceline RT) won the bunch sprint from consistent Andy Fleet (Hemel Hempstead CC).
Elliot Banks (Imperial College Cycling Club) wins the Imperial Cycles random prize (35th place) and still has time to get down to Imperial Cycles for a tune up in time for the final rounds of the series!
Graham Crow (Handsling RT) eager to maintain his overall position kicked off the E123 race and a number of attacks followed with Twickenham CC riders prominent as well as Junior Joshua Outram (SP-Torm). Most of these were short lived owing to the vigilance of the overall series contenders and strength of other potential winners.
This allowed James Bradley (Twickenham CC) to break clear alone and establish a lead of nearly 30 seconds at one point. His catching looked inevitable with four laps to go until Outram jumped clear again and joined him, just adding enough impetus to keep them away. Bradley had enough in hand to attack again on the last corner to take a fine win.
Jamie Pine (Pedal Heaven RT) brought the bunch in from Vince Halpern (Handsling RT) and Lawrence Kirby (Welwyn Wheelers) closely followed by Tom Hargreaves (London Dynamo), Liam Yates (Catford CC Equipe/Banks) and Alex Tinsley (Twickenham CC).
4th Cat winner Henry Sheldon and winner of the 3rd cat race Joshua Outram (Sp-torm) get their choice of a Ritchey handlebar/stem combo or saddle courtesy of Aprire Bicycles.
On a sad note
We'll be setting the 4th cat race off as a slow lap with the London Dynamo riders at the front as a small mark of respect to Akis Kollaros who was sadly killed on his bike on Monday. He raced last Saturday and in his usual way came over to thank us for putting on the race. We'll miss him.
RESULTS
E/1/2
1st James Bradley Twickenham CC
2nd Jamie Pine Pedal Heaven RT
3rd Vincent Halpern Handsling racing
4th Laurence Kirby welwyn wheelers
5th Tom Hargreaves London Dynamo
6th Liam Yates Catford Equipe Banks
7th Alex Tinsley Twickenham CC
8th Jo Skelton Look Mum No Hands!
9th Daniel Tamplin High Wycombe CC
10th Jerzy Kuzminski London Bicycle Workshop
11th Graham Crow Handsling RT
12th Matthew Bone Danny Shane – Storck Racing
13th Pete Wager Felt Racing
14th Phil Dempsey Aprire Bicycles
15th Ryan Visser Danny Shane Racing
16th Michael Skipsey Tmg horizon
17th Helen Ralston Les Filles RT
3rd cats
1st Joshua Outram Sp-torm
2nd Adam Thompson Reading CC
3rd Gareth Dickinson Farnborough and Camberley CC
4th Arjan Planting Dulwich Paragon
5th Chris Jubb pearson cc
6th Sam Henning Catford CC
7th Kevin Chandler Watford Velo Sport
8th Neil Heffernan unattached
9th Laurence Mccall London Dynamo
10th Duncan Rimmer Morden CRC
11th Peter Cole Handsling Racing
12th Charlie Taylor North Hampshire Road Club
13th Will Ranoe VCGH
14th Jack Freeman Alton Cycling Club
15th Andrew McCombe NHRC
16th Basil Adamo London Phoenix
17th Ralph De Kanter Norwood Paragon CC
18th Oliver Nixon Sussex Revolution VC
19th Nick Davis Kingston Wheelers CC
20th Ben Mckie VC Londres
21st Andy Berridge Pearson Cycling Club
22nd Richard Bradfield Dulwich Paragon CC
23rd Anthony Lazarus Velosport CC
24th Daren Austin Twickenham CC
25th Luke Danckert Cycle Club Ashwell (CCA)
26th Justin Lord G.S. Henley
27th Robin Basford Wyndymilla
28th Andy Hibberd North Hants RC
29th Peter Hair Kingston Wheelers
30th Tristan Natolie Evans Cycles RT
31st Mario Manelfi Blazing Saddles
32nd Jason Hales unattached
33rd Carl Jolly Hillingdon Slipstreamers
34th Paul Bennett unattached
35th James Gray VCL
36th Russell Jones Matador
37th Harriet Mellor Hillingdon Slipstreamers
4th Cats
1st Henry Sheldon unattached
2nd Thomas Whatley Paceline RT
3rd Andrew Fleet Hemel Hempstead CC
4th Joseph Gillies Twickenham CC
5th Kenny Henning London Dynamo
6th Robert Abbey Hemel Hempstead Cycling Club
7th Oliver Gill Dorking CC
8th Alex Elferink Serpentine
9th Andy Taylor London Dynamo
10th David Loveman Verulam CC
11th Rob Saunders Rapha Cycling Club
12th Matthew Downie unattached
13th Timb Hiscocks Banbury Star CC
14th Stuart Gillies Twickenham CC
15th Greg Russell TMG Horizons
16th Carlisle King Imperial College Cycling Club
17th Thomas Mead-Herbert WatfordVeloSport
18th Andrew MacKay Sotonia CC
19th Nicholas Palmer Islington CC
20th Mark Hughes G.S.Henley
21st Alan Nixon Amersham RCC
22nd Iain Campbell VC Londres
23rd Edward Roll unattached
24th Tom O'Connell London Dynamo
25th Sam Calder Beeline Bicycles RT
26th Adam Taylor Twickenham CC
27th Samuel Doll Islington CC
28th Matthew Rayner Maidenhead CC
29th Nicholas Bland Twickenham CC
30th Andrew Haigh Brixton
31st Amey Gokarn LFGSS
32nd Jacob Bridges Kingston Wheelers CC
33rd Alex Turner SD Racing
34th Andy Hancock Twickenham CC
35th Elliot Banks Imperial College Cycling Club
36th James Spackman London Dynamo
37th David Hales Panagua CC
38th Nick Clarke Berkhamsted Cycling Club
39th Mark Tonge Kingston Wheelers CC
40th Lawrence Hayes unattached
41st Spencer Wilson Berkhamsted CC
42nd Steve Edwards unattached
43rd Jonathan Singh unattached
44th Dominic Thomas Twickenham CC
45th Pasquale Chionchio The 5th Floor Cycling Club
Women 1/2/3/ cats
1st Abigail Dentus De Ver Cycles
2nd HelenRalston Les Filles RT
3rd Anna Marie Hughes Bonito Squadra Corse
4th Gabriella Nordin GB Cycles.co.uk
5th Helen McKay Les Filles RT!
6th Emma Towers Twickenham CC
7th Natasha Reddy RP Racing Team
8th Lucy Harper Aprire RT
9th Tracy Corbett Les Filles RT
10th Nicole Oh Les Filles RT
11th Emma Clarke RP Racing Team
12th Helen Gravatt Twickenham CC
Overall standings
1st Tom Hargreaves London Dynamo 1050
2nd Vincent Halpern Handsling racing 920
3rd Graham Crow Handsling RT 880
4th Alex Tinsley Twickenham CC 880
5th Jerzy Kuzminski London Bicycle Workshop 860
6th Jo Skelton Look Mum No Hands! 860
7th Will Ranoe VCGH 690
8th Adam Thompson Reading CC 670
9th Laurence Kirby welwyn wheelers 650
10th Jamie Pine Pedal Heaven RT 380
Women 1/2/3 Overall standings
1st Anna Marie Hughes Bonito Squadra Corse 210
2nd Abigail Dentus De Ver Cycles 200
3rd Helen Ralston Les Filles RT 180
4th Detta Guerrini London Dynamo 170
5th Clemence Copie Pearl Izumi Sports Tour 160
6th Gabriella Nordin GB Cycles.co.uk 130
7th Helen McKay Les Filles RT 100
8th Rose Osborne Team WNT 90
9th Lucy Harper Aprire RT 80
10th Emma Towers Twickenham CC 70
Round 8
7th Feb 4th cats & women 3&4 cat Start 13:10 followed by Prize presentation for the Womens 3&4 cat series in the club house. E12&3 cat start 14:20
Round 9
14th Feb 4th cats & women 123 cat Start 13:10, E12&3 cat 14:20 followed by Prize presentation in the club house.
Send your results as well as club, team & event news here
---
Other Results on VeloUK (including reports containing results)

---
Other News on VeloUK