15 juniors from the North West Region get together for Training and Development day15 juniors from the North West Region get together for Training and Development day
News – NW Juniors Training Day
This week saw 15 Junior riders from the NW Region get together for the first Training and Development day organised by Regional Team Manager, Tom Leivers.
The event was funded by prize money won by the Regions Junior team at last season 'Heroes of Tomorrow Race' hosted by the Norwegian Cycling Federation in the artic city of Tromso. The day began with a coffee and introductions of our guest riders, Ex National Circuit Champion Dean Downing from Trainsharp, top CX, MTB and road racer Annie Simpson, and IKON-Mazda team rider Bex Rimmington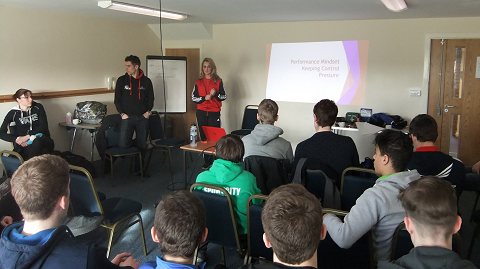 In dry, but slightly blustery conditions the group then had ride into the Ribble Valley to take in a lap of the Bashall Eves circuit, on which some will be riding the Clayton Spring Classic Race on Sunday. The group then returned to the venue at Preston via a climb over Longridge Fell.
Over lunch the young riders had chance to quiz Dean, Annie and Bex on various aspects of their cycling careers. These ranged from how to do juggle education and training to choosing teams and getting noticed by managers. Annie then gave a Diet and Nutrition workshop on behalf of OTE Sports to dispel some of the myths around what to eat as a high performing cyclist. Having just returned from a training camp with the UCI team Lotto NL-Jumbo Annie was able to give first-hand accounts of what it's like amongst the Pro peloton. Dean and Bex were also on hand to give advice and tips.
The group were then joined by the final speaker, Jennifer Lace, Sports Psychologist from Burnley FC. Jennifer, herself and ex National level gymnast, gave an interactive workshop on Chimp Management and dealing with pressure. Again Bex and Dean were able to add their experiences from racing and training.
Rosie, from Southport said 'Thank you for the session today I thoroughly enjoyed it. Even though I found the ride physical challenging, I was pleased to be able to see the progress I have made from starting the sport last season. I found both the nutrition and psychology workshops interesting and very beneficial, I learnt new things from all of the coaches today and really appreciated all their advice.'
It's hoped that this event can be repeated next year and help retain Junior riders in the Sport. Thanks to Dean and Trainsharp, Annie and OTE Sport, Bex Rimmington and Jerrod Hartley.
Send your results as well as club, team & event news here
---
Other Results on VeloUK (including reports containing results)

---
Other News on VeloUK