Scot Auld talks about the strict regime for the riders in Team Zappi to be ready for racing UCI events abroad
Blog – Scott Auld: Chasing The Dream
[pullquote]"Every single day you wake up, if your going to have energy, if your going to have passion, if your going to have drive every day you wake up you have to start with your vision! Just as a mentality like, you got to live this, you got to eat this, every single thing you do… its not a cute saying, it is a way of life. It got to possess everything you do, its got to own you!" Eric Thomas-Motivational Speaker[/pullquote]
Scott writes … For those of you unfamiliar with Flavio Zappi. Flavio turned professional when he was 19 in the 80's, he got 12th in Milan-San Remo and 18th in the Paris-Roubaix. He also wore the king of the mountains jersey in the Giro D'Italia before losing it on the last mountain stage to Laurent Fignon.
He cut his career short because he didn't want to dope like a lot of the guys at that time. Anyway, he has a similar sort of mentality as Sir Dave Brailsford in thinking that you don't need drugs to be better than the competition. Everything we do during a normal day is to improve our performance marginally and hopefully when it all comes together, it will make more than a marginal difference in the race.
We start every day at 7:40 being woken originally by the dreaded whistle from kill bill, however it has recently been changed to the more popular 'I need a dollar' by Aloe Blacc. Then the usual morning weigh in and blood pressure/resting heart rate gets taken and noted.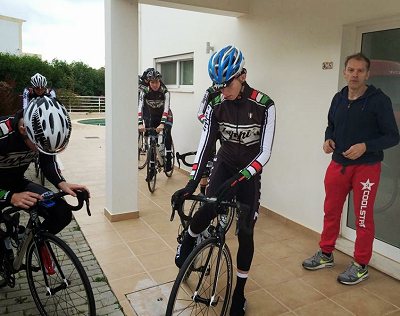 We go for a morning pre breakfast walk, training the body to burn fat before glucose. These can vary from 20 minutes (usually a race day) to 1 hour on an easy day. Once we get to Italy, pre breakfast rides begin which I am not looking forward to. We then return to breakfast ready for us straight away. A good mix; muesli with a banana, egg, yoghurt, some bread, orange and some days we will get figs or avocados to have with. Also a nice glass of milk for me and the rest of the boys have green tea.
Riding usually starts around 10-10:30. Training is different everyday ranging from skills training on cobbles or on the makeshift crit course to doing motor pacing and sprint/hill efforts or doing tempo/long miles. We also do some more unorthodox training such as regular yoga and swimming (to help breathing control).
As well as focussing on the actual training itself, we really try to focus on eating and drinking enough to keep the body fuelled well. When we return, we have a big glass of milk so the muscles can begin rebuilding straight away and after a particularly hard session, in the pool but only up to the top of the hips (to get the top of the hamstrings and glutes cooled as well) then have lunch following a shower.
Lunch is the same everyday with one small variable… which fish. It is a salad consisting of apples, carrot, cucumber, sweetcorn, chick peas, figs, beetroot, cabbage, spinach and rocket. On the side of that we will have fish, rotating everyday from tuna, mackerel and sardines. On the side of that, we will have some bread and oil and a glass of water. On odd days when Flavio is feeling generous, we have a healthy lump of ricotta cheese to replace the fish.
After lunch, it is the norm to have a 20 minute nap. The rest of the day is spent doing mostly what we like. I'd usually clean my bike ready for the next days training. Then wash any kit that needs a wash. After that its mainly time to relax and recover, spending most time on the internet browsing, watching films and reading. Evening meal at around 7 with plenty of protein and carbs. We all also have daily jobs such as washing up and preparing the meals.
I look back at the decisions I have made and am 100% confident I have made the right one. Riding for Zappi's, I feel like a different rider and have come on leaps and bounds since 2014. The whole compilation of living and training as a team on a strict regime along with the excellent calendar that we take part in (we have already rode in more UCI ranked races that some British pro teams race all year) has been the best choice for progression in my career.
This weekend, we will be racing the UCI 2.2 GP Liberty Seguros/Trofeu Do Sudoeste e Costa Vicentina. This will be our hardest challenge yet riding 410km in two days. Many prolific teams from nine different country's including USA's Optum Kelly benefit strategies and Axeon cycling team, Russia's Lokosphinx and Poland's ActiveJet.
Read more on Scott's blog – http://scottauldcycling.blogspot.pt/?m=1
Send your results as well as club, team & event news here
---
Other Results on VeloUK (including reports containing results)

---
Other News on VeloUK